"Though there's a lot of talk about female emancipation today, I believe it's a hard time for women this century. They need to be clever, to look beautiful, be in shape and be able to manage all this with a smile."
So says celebrated portrait artist Lita Cabellut, talking to me at the opening of her new exhibition entitled Impulse at London's Opera Gallery.
The false concept of ultimate beauty as represented by the glamour model espoused in contemporary media and through art down the ages, and the intimidation of women into accepting it as their highest value, is the central theme of this show.
Cabellut has invited glamorous women from different parts of the world to sit for her. Each has a different expression but she has reflected what she calls the violence towards women by way of unrealistic expectations placed upon them.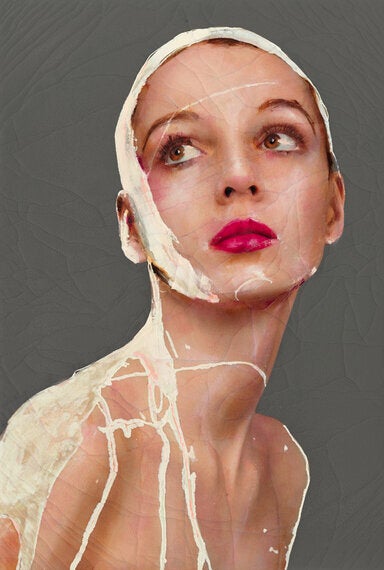 Impulse 15 (above) is typical in that it has been painted in almost photographic detail. It shows a beautiful woman with innocence reflected in her eyes but whose beauty is defiled by the splashes of white paint.
"We are confusing beauty with the expectations of an idol created from an image," says Cabellut. "It's just an illusion of ours that we create about women. So I'm trying to break this illusion and to see how beautiful the truth really is."
To emphasise the vulnerability of women and the imperfections of all human beings, beautiful or not, Cabellut's technique is to use up to 10 layers of oils, together with at least two layers of varnish and ingredients she refuses to divulge for professional reasons, in order to provoke a chemical reaction that causes pitting on the skin of the painting along with cracks in the canvas.
As with Impulse 9 (above) the cracks appear on the flesh tones like veins. The cracks are part of life, those imperfections, the results of experience, that are part of the deal for all human beings. The vulnerability is accentuated by the larger than life-size canvases, mostly two and a half metres high by two metres wide. The grey background helps accentuate her vivid colours.
Impulse 9 is in sharp contrast to the previous picture in that black predominates. This is a very personal feature for Cabellut. The model is of Turkish Gipsy origin. Cabellut is also from Gipsy stock.
She was born in 1961 to a Gipsy family in Barcelona and, according to her official biography, lived in orphanages and on the street to the age of 12 when she was adopted by a well-to-do family. Her imagination and ambition were first fired by a visit to the Prado in Madrid where she viewed masters such as Velasquez, Goya, Ribera and Rembrandt. Their influence is clearly apparent in her work today.
She spent four years in classical training and had her first exhibition in Barcelona at the age of 17. She left Spain for the Netherlands two years later to study at the Rietveld Academy in Amsterdam. She has remained in the Netherlands ever since and her exhibitions have been staged all over the world, her paintings fetching high prices.
The black in the painting reflects the stigma attached to gipsies and the Roma community. There's a clear relationship between this stigma and her view of inaccessible beauty.
"I'll be honest. My hair is often unkempt, I walk with comfortable shoes, sometimes with no shoes at all. When I walk into a shop, I can see people thinking 'what is she going to steal'? I can afford to buy the whole shop! What we are seeing here is black. So everything that doesn't conform to this ideal model of femininity is black and ugly."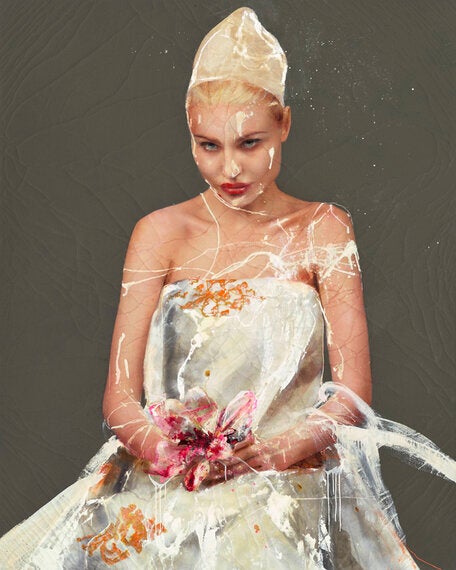 The extraordinary emotion that Cabellut achieves in the expressions in her portraits is wonderfully illustrated in Impulse 1 (above). The bride, with the way she looks up from her bowed head, conveys to me a sense of apprehension, that by marrying I am being asked to conform to a certain role in the same way that I must aspire to physical beauty as the ideal. Cabellut's message is for women not to succumb to this "violence" of false expectation.
Impulse runs at the Opera Gallery, 134 New Bond Street, LondonW1S 2TF until 31 October 2015.
All images are used with the permission of the artist and gallery.
Popular in the Community