According to British sculptor Michael Sandle, Tony Blair and George W. Bush should be serving jail sentences for war crimes. So you know exactly where he's coming from.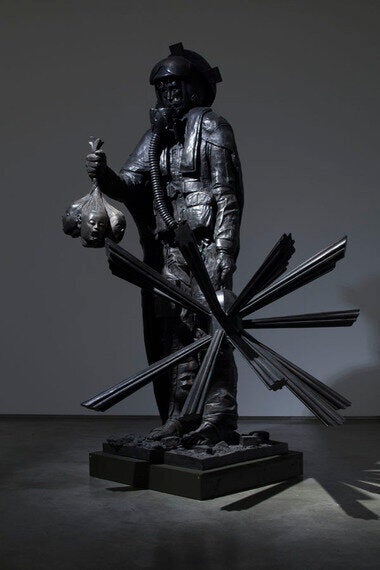 Likewise, his mainly bronze sculptures in this part retrospective, part new show at the Flowers Gallery, pull no punches. As Ye Sow So Shall Ye Reap: An Allegory (Acknowledgements to Holman Hunt) above, for example, with the ghastly depiction of a soldier seizing five dead children by the hair amidst explosions, was inspired by the story of how a father lost five daughters to an Israeli missile attack on a house in Gaza.
"It's about our hypocrisy in foreign policy," he tells me as we wander around the exhibition. "We cut heads off not with knives like ISIL but we cut them off with drone strikes and air strikes". Sandle draws no distinction between deliberate acts of savagery and deaths of civilians caught in the crossfire of modern conflict. "When you shoot Hellfire missiles you burn people alive and blow them to bits."
The theme of mortality has exercised Sandle throughout his career. "I was terrified of death as a child. I worked out all sorts of strategies to get over it". He was a war child, and his family home in Plymouth was bombed during World War II.
He grew up on the Isle of Man and studied art there and later at the Slade School in London. Tomb art became a fascination - he believes it is the root of sculpture. He is best known for his public memorials most notably his large bronze statue of St George and the Dragon in London's Dorset Rise, the International Seafarers Memorial on London's Albert Embankment and The Malta Siege Memorial, an award-winning monument on the Grand Harbour in Valetta that contains a huge bell that tolls at midday. It's the work of which he is, rightly, most proud.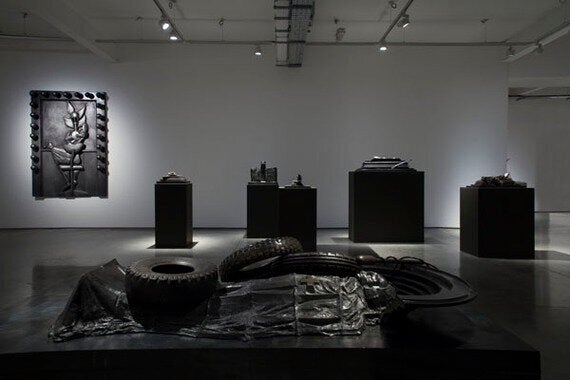 Catafalques with an anti-war theme populate this exhibition that is not aimed at the faint of heart. Caput Mortuum: A commentary (in the foreground, above) depicts a makeshift tomb inspired by the Falklands War. Around the dead soldier lies the debris of war. Tyres garland the dead body next to which lies a boom microphone, a comment on authorities' control of the media in conflicts.
There's a complex play on words here. Sandle is fluent in German having been professor of sculpture at Pforzheim, Germany in 1973 and at Karlsruhe in 1980. The German word for tyres, reifen, bears a similarity to the English word wreath, hence the choice of symbolism. Caput Mortuum is the name of a pigment, it also means death head and also worthless rest. "Once a soldier has done his job he becomes worthless. Look at how badly the veterans in Afghanistan have been treated," he protests.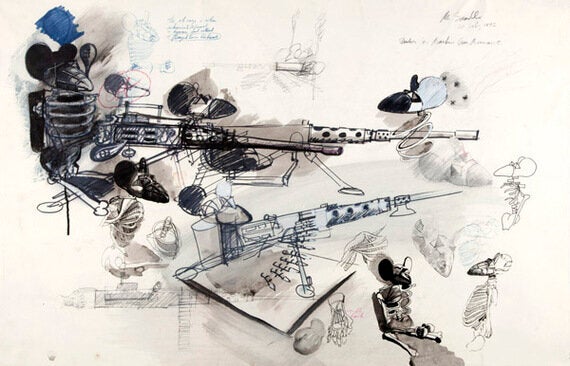 One of his best known works is his so-called "anti-memorial", A Twentieth Century Memorial in the Tate Gallery that depicts Mickey Mouse firing a machine gun, with all the symbolism that embodies. Among the exhibits at this show are working drawings of this and other works that were ways to explore ideas for his sculptures. Study for Machine Gun Monument (above) incorporates different drawing styles and offers a fascinating glimpse into Sandles's artistic process.
Now in his 80th year, Sandle's strong views show little sign of moderating. We see depictions of Hitler with a dunce's cap, of innocent mothers and children being tortured and animals exploited for use in war. He says he inherited this forthrightness from his mother. "By Christ she had a strong personality. I spent all my youth fighting her. And I'm grateful to her."
He dismisses most of contemporary art as rubbish and is happy being described as a "radical traditionalist". The sculpture I admire most in London is the Royal Artillery Memorial by (Charles) Jagger. I think art is about communication and you know what that monument is exactly about. I was influenced by him as a student."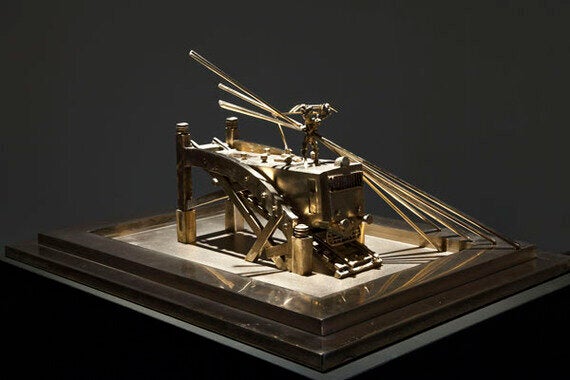 This show is not completely about war though gruesome elements remain. A new bronze sculpture, The suicide/He took the A Train (above) recalls a story he read in the Vancouver Sun when he was living in Canada some 43 years ago. A man had killed himself by climbing on top of an electric train and came into the station with his body on fire. "I thought it was pretty Wagnerian," he says. He made drawings of it some years ago, which are exhibited here, and finally had it cast in bronze for this exhibition.
Wagner, and music in general, helps Michael Sandle during his bouts of depression. He has been diagnosed as bi-polar but refuses any treatment. "I think it goes with the territory," he insists. "Mr Nice Guy and Mr Norman Guy does't do stuff like this."
Time, Transition and Dissent is showing at the Flowers Gallery, 82 Kingsland Road, London E2 8DP until 20 February 2016.
All images are © Michael Sandle, Courtesy of Flowers Gallery London and New York and used with their permission.