Throughout his prolific career, Pablo Picasso made literally thousands of drawings. Some were sketches of ideas that would later evolve into paintings, others were complete in themselves and then there were those dedications - scribbles really - that were handed out to lucky recipients.
A mixture of all these are to be found in the 30 to be shown at the Omer Tiroche Gallery in Mayfair. The earliest stems from 1905 in Picasso's so-called Rose Period.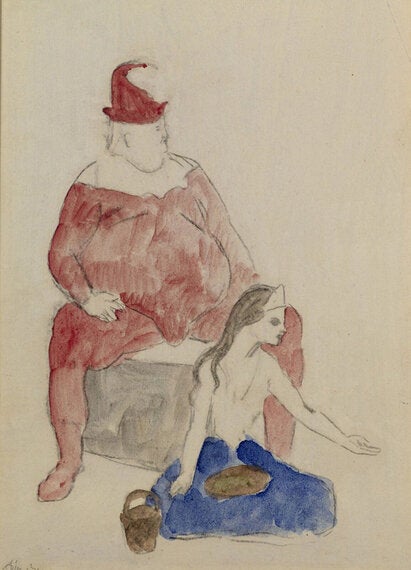 Saltimbanque et Jeune Fille (above) is a tender illustration that heralded his many full paintings involving the circus performers that he so admired and took inspiration from but also found enigmatic. This was an era in which Picasso was enjoying the café society in Montmartre in the company of other artists, writers and poets with whom he was constantly exchanging ideas. The colours are bright, the atmosphere optimistic.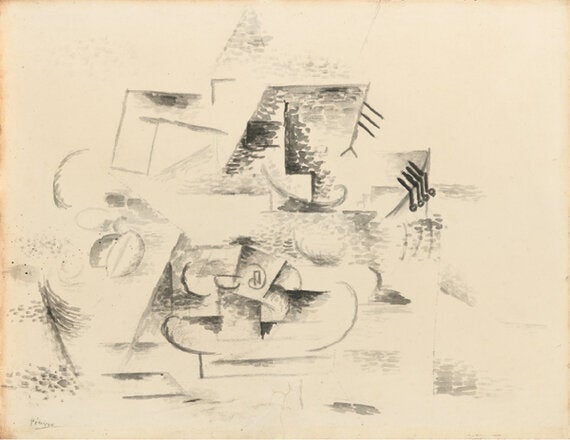 Yet this still life Nature Morte Cubiste (above) from 1910, well into his analytic cubist period, was, according to gallery owner Omer Tiroche, anything but a study for a painting.
"We can see the strings of a guitar but around it we really don't know what's going on. There could be a vase or a piece of fruit. This is certainly a finished piece."
Reclining female nudes are a recurring theme of this exhibition and tell an engrossing story of Picasso's life and attitude to women. He once referred to women as either goddesses or doormats. There are nudes in provocative poses that some at the time regarded as pornographic. There are various drawings of artists and their models in both figurative and cubist styles.
Picasso had a voracious sexual appetite and kept a variety of mistresses even during his lengthy relationships and marriages. It's said that women defined his various artistic periods. In 1927, he met 17-year-old Marie-Therese Walter when he was 45 and began a secret affair with her while he was still married to the Russian ballerina Olga Khoklova. The exhibition devotes a wall to Marie-Therese with drawings that are flowing and exude joy.
Opposite is another wall devoted to the photographer and painter Dora Maar who became his lover in the late 1930s. He met her in the Paris café, Les Deux Magots while she was playing a game involving sticking a knife between her gloved fingers. His pictures of her are more angular with rigid forms, jagged edges. They suggest a more tempestuous relationship with a woman more intellectually and emotionally challenging.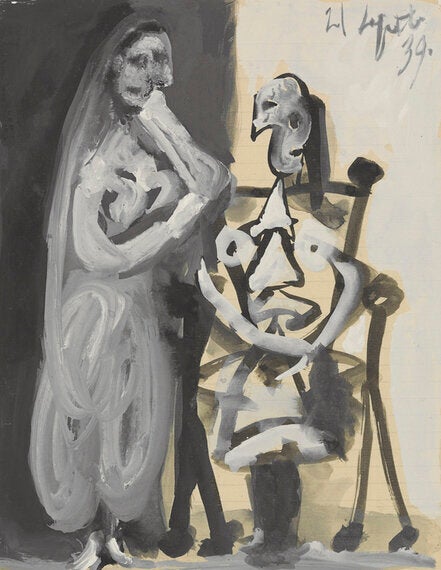 Femme Debout et Femme Assise from 1939 (above) has the two women standing next to each other. It's from a series he repeated both on canvas as well as paper.
"You can see Marie-Therese standing in white with a veil almost like a bride's and next to her Dora Maar in her famous bulbous armchair sitting with jagged lines," says Tiroche. "You can almost see the dissatisfaction in her face with such distortion."
The drawing was inspired by an accidental meeting of the two women in Picasso's studio. A catfight ensued which Picasso let happen, marvelling at the thought of two women fighting over him. Marie-Therese eventually hanged herself four years after his death. Dora Maar had a nervous breakdown when Picasso left her. Another of Picasso's wives, Jacqueline Roque also killed herself.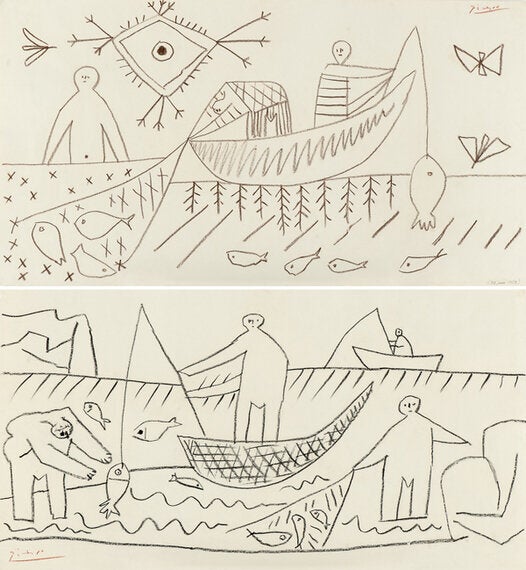 Placed next to the Dora Maar wall is a drawing entitled Fishermen (above). A Norwegian friend and artist named Carl Nesjar developed a technique called sandblasting which enabled him to recreate drawings on to buildings. The Norwegian government commissioned him to sandblast some murals on to an office block in Oslo.
Picasso agreed to draw this and other maritime scenes that referenced both Picasso's surroundings at his then villa in Antibes and to the fjords, waterfalls and coast of Norway. Nesjar then duly sandblasted them on to the building and they remain there to this day. Nesjar gave the drawings to the building's architect whose descendants sold them after his death.
The back wall of the exhibition is dedicated to dedications. Picasso was famous for scribbling pictures for people on backs of envelopes, scraps of paper or whatever was at hand. One such item in the show is a till receipt for 500 francs. It's on sale now for £12,000.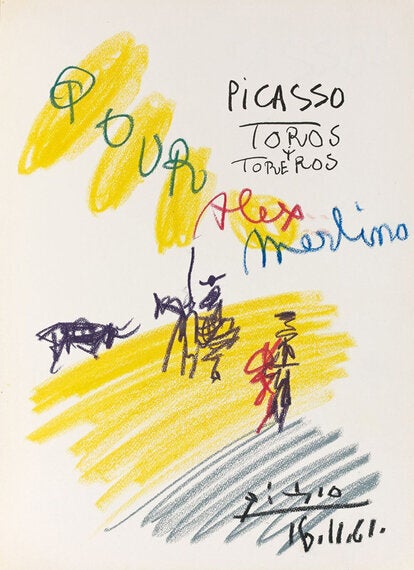 The lucky man dedicated on the picture above, Scene de Tauromachie, received a wonderful series of scribbles that so beautifully encapsulate the bullring which Picasso first began drawing at the age of 10.
Picasso on Paper gives an intriguing and intimate glimpse into the life, thoughts and techniques that made Pablo Picasso the most innovative and influential artist of the 20th century.
It runs at the Omer Tiroche Gallery, 21 Conduit Street, London W1s 2XP from 4 October-16 December 2016.
All images are used with the permission of the gallery.