As a taster to the grand Abstract Expressionism exhibition opening later this month at the Royal Academy, the Bernard Jacobson Gallery is hosting another show that highlights a selection of work from one of this movement's pre-eminent members, Robert Motherwell.
Actually, it's less of a taster, more of a "smack" to the RA, as Bernard Jacobson tells me. He feels Motherwell is under-rated by the art establishment. He has been doing his best over many years to redress this notion. Certainly, Motherwell's work today fetches very high prices.
For Jacobson believes Motherwell, along with Willem de Kooning, was the giant of the Abstract Expressionist movement that also included such as Jackson Pollock, Barnett Newman, Clyfford Still and Mark Rothko. He has become an authority on the artist, not only by buying up much of his work but by also penning an accomplished biography, Robert Motherwell, The Making of an American Giant from 2015.
"Though Motherwell was the youngest, he knew more than the others and he was using everything. His pictures are loaded with so much more than what you see," says Jacobson.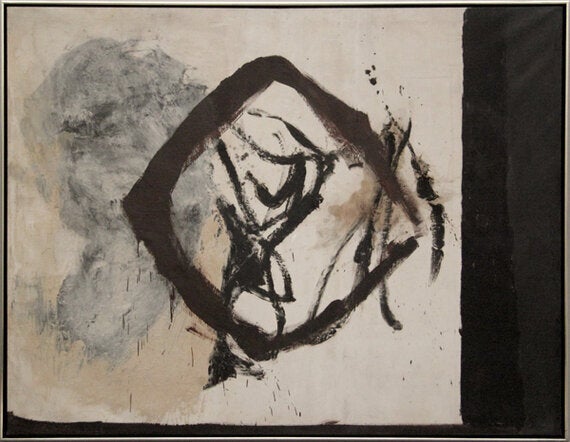 A View No.1 (above) is a case in point. Motherwell described it as his most abstract expressionist painting. The grey area to the left resembles the shadow of what he called an Elegy, a motif that occurs again and again in his oeuvre. It became a metaphor for a meditation on life and death, originally inspired by the horrors of the Spanish Civil War.
"For me," says Jacobson, "This is more powerful than any Rothko or Barnett Newman because there's an inner life in it. When you look at a Rembrandt self-portrait, you can never ever get to the end of it...and I think Motherwell has that ability."
The mainly monochrome of A View No.1, contains reflections on life's moral issues conveyed in abstract form through geometric patterns and improvised swirls that delve into his subconscious. Motherwell was a great intellectual steeped in philosophy, psychology and literature as well as art. He studied at Stanford, Harvard and then Columbia and absorbed many influences including that of the Surrealists.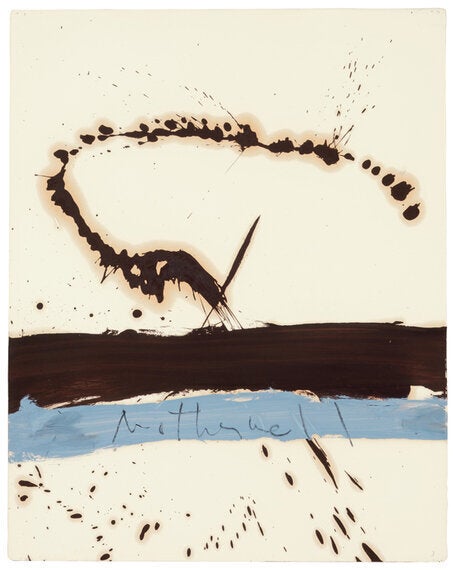 The Surrealists' practice of automatism, in which marks are made spontaneously, can be seen most simply in Beside the Sea No.3 (above), one of a series of works Motherwell painted at Provincetown, Massachusetts while on honeymoon with the artist Helen Frankenthaler. He watched waves crashing against a breakwater and to record the experience, he created this abstract picture by throwing the paint at the canvas in imitation of the ocean.
The New York School, a title Motherwell himself coined for the Abstract Expressionists, took on the European avant-garde from where they left off. While Europe dwindled in the grey aftermath of World War II, '50s America was a burgeoning power, full of confidence, energy and a willingness to experiment further. The group's work became brasher, bigger in scale, using the floor as well as the easel, and collage as well as pictures.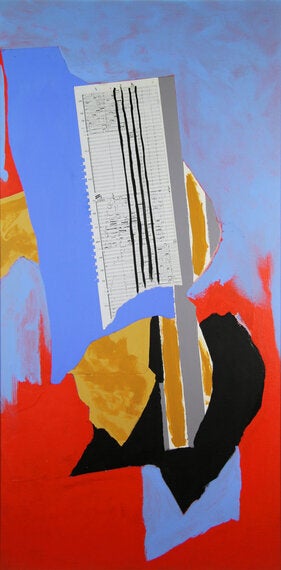 The exhibition features two collages, the first he made and the last. The Blue Guitar (above) was completed just before he died in 1991, aged 76. It was inspired by TS Eliot's allusion-rich poem, The Blue Guitar and by Picasso's The Old Guitarist, painted during his so-called Blue Period. Despite Motherwell's ill-health, the piece is full of joy and colour. The guitar becomes a manuscript, music being another of Motherwell's passions.
Motherwell took to collages in a way that fellow Abstract Expressionists like Jackson Pollock did not. The medium was handed down to the pop artists that came after. Both the Color Field and Minimalist movements were also direct spawns of the New York Movement, confirming that America had become pre-eminent in modern art.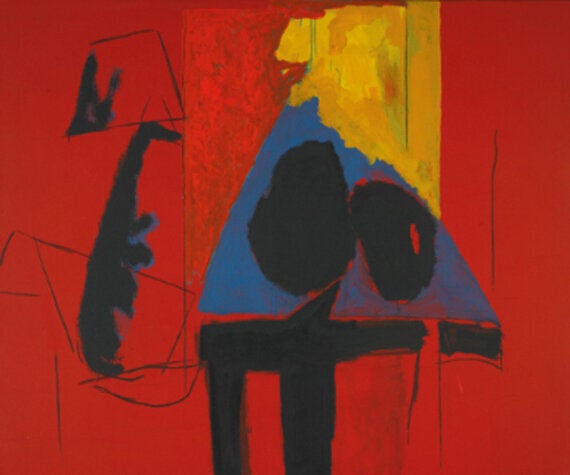 Yet throughout his career, Robert Motherwell harked back to Europe, and in particular, to Spain. The Studio (above) from 1987, painted at night when everyone had gone, references Lorca, Picasso as well as Matisse. In the centre are bull's testicles or an Elegy, or both. It's another reflection on life and death and can be read as a self-portrait with the artist sitting in his studio with a recognisable seat and lampshade opposite. Its bold colours are those of optimism and hope.
Robert Motherwell: Abstract Expressionism also contains examples from the artist's Elegy and Open series. It runs until 26 November 2016 at the Bernard Jacobson Gallery, 28 Duke Street, St James, London SW1 6AG.
The images are used with the permission of the gallery.