Two Truths refers to the Buddhist doctrine that differentiates between two levels of truth: relative and absolute. The exhibition at The Griffin Gallery in west London is less a philosophical exploration of how six different artists view their versions of the truth in the way they relate to and interpret the world around them. More, it's an interesting contrast between how culture is affected by displacement.
For the exhibition features the work of six Japanese artists, three of whom are young, emerging figures based in Japan. The others decided early in their careers to move to, and settle in, London.
Pairing them was the idea of curator and Griffin Gallery director, Becca Pelly-Fry, who had learnt from past experience that featuring the work of unknown Japanese artists alone proved difficult to stir interest within London's thriving art scene. The gallery has a joint venture partnership with a Japanese company that runs a similar competition for emerging artists to the Griffin Art Prize.
"I liked the idea of seeing life viewed through two different lenses from opposite sides of the planet.", says Pelly-Fry. "They came from the same place but have ended up in different parts of the world. How much might that have changed the way they view the world? I think every artist is seeking truth in some way."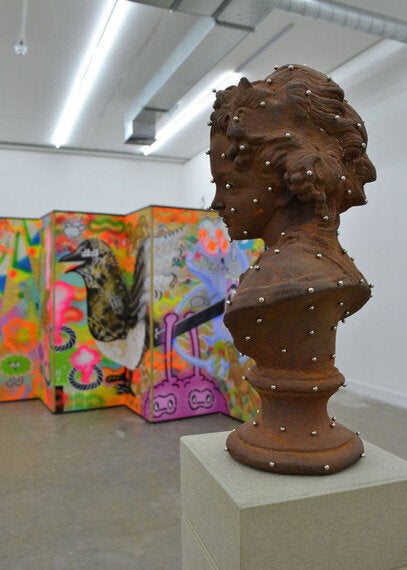 One of the striking differences between the young Japanese-based exhibitors and the older exiles is the energy and vibrancy in the colour of the former. In the background in the picture above, for example, ICHASU has painted a traditional Japanese screen in the the brightest of hues. Its almost graffiti-like nature has paired various objects and animals in order to give them an interaction. The idea of "celebration" is a key theme of her work, in particular ceremonies such as weddings and graduation. There's a bold, confidence in her Japanese identity.
In contrast, Kazuya Tsuji's wooden sculpture in the foreground is more studied and contemplative. He is interested in the displacement of everyday materials and placing them in different contexts whether by simple juxtaposition or, as in this case, changing them by the addition of magnetic studs. It's a common theme I've noticed among many artists based here.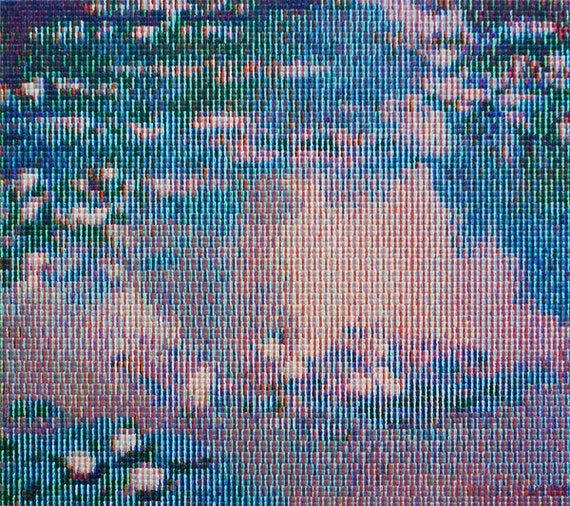 Nympheas 1905, 1914 (above) is part of a series of works by Japan-based Keisuke Katsuki featuring well-known western paintings, in this case Monet. He has googled the artwork, zoomed in on a section of it and recreated the pixels in acrylic. Gerhard Richter and Barbara Kruger are given the same treatment though others are so blown up as to be unrecognisable. It's a comment on the effects of the digital age, doubtless influenced by the plethora of huge screens present on the streets of his native Tokyo.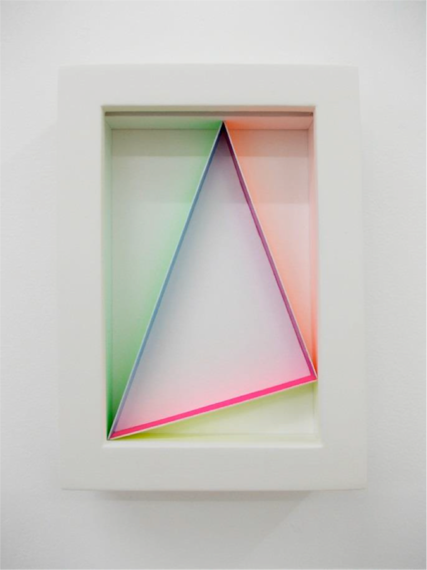 Yukako Shibata also uses vivid colours. Yet, as in Shade Triangle, 2014 (above), they cast soft reflections. Each gives a sense of calmness, of gentle emotions; pastels achieved by the vivid. The same can be said of the work of the other London-based artist, Miho Sato.
"The three from London are a lot quieter, a lot simpler with a kind of poetry about their work. It's a lot more understated," agrees Becca Pelly-Fry.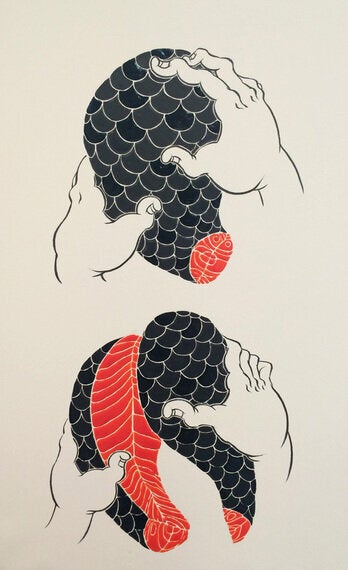 Perhaps the most characteristically Japanese exhibits are by Yuka Kurita. Untitled (above), is a traditional paper printed on woodblock. Her image of pieces of salmon is a playful look at Japan's obsession with fish and the way lines and lines of salmon are displayed in Japanese supermarkets.
There's a degree of confidence in the three visiting artists' Japanese identity which is less apparent in those based here. The latter have been exposed to different themes, cultural, political, even philosophical. Yet, as Yukako Shibata explains, her character remains intrinsically Japanese and living away from her country of birth has actually given her a renewed sense of her Japanese identity, one which this exhibition has reaffirmed.
"When I was living in Japan I was looking outwards, more interested in what was happening in Europe where contemporary art was much stronger than in Japan where the market is very small. When I left, I began looking back at Japanese culture more, partly because people asked me and I had to think more about it."
Two Truths is showing at the Griffin Gallery, 21 Evesham Street, London W11 4AJ until 11 July.
All images are courtesy of the artists and Griffin Gallery.