I have read many an interview with the world's most credible and era-defining fashion designers and often they're unrevealing. Not so with Hussein Chalayan.
Hussein's myriad of professional responsibilities include designing eight collections per year for Chalayan and seasonal collections for Vionnet, and in addition he is Head of Fashion at the University of Applied Arts, Austria. This year he presented his latest project, a contemporary dance piece entitled "Gravity Fatigue" (almost two years in the making), opened his flagship store and gave a TED talk. He is full of energy, by his own admission and speaks with definite authority on the notion of overworking and keeping a balance between earning and living. He said he sometimes thinks it's a stupid thing to be busy - although it's a choice - and the quality of his life has been terrible this year because of his workload.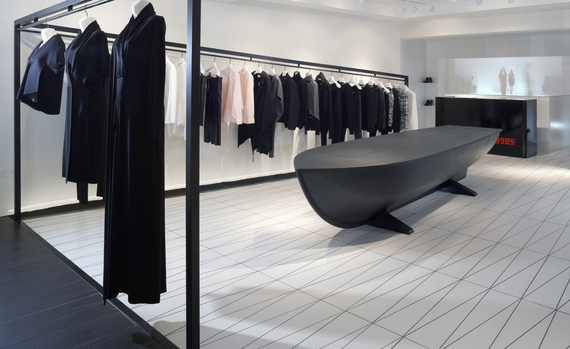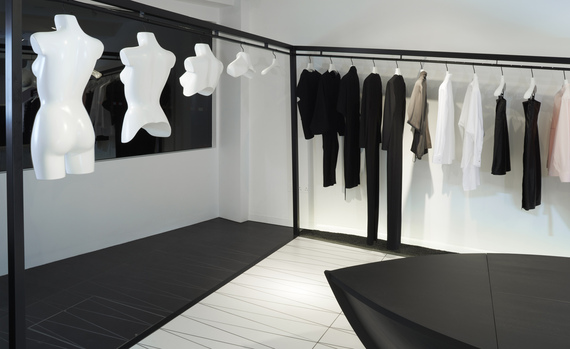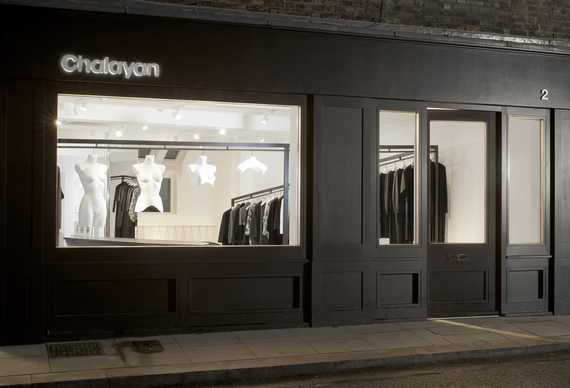 Hussein Chalayan's flagship is primarily a store, but will also host events, dinners and shows on a yearly calendar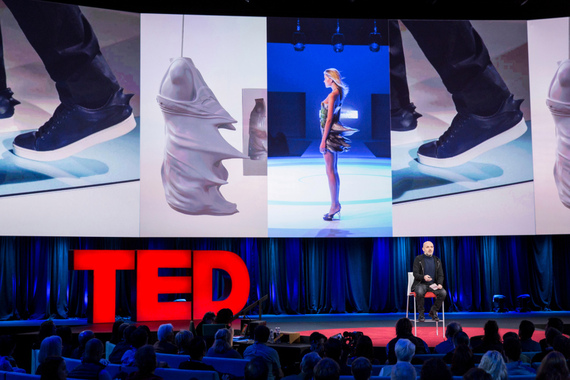 Hussein Chalayan speaks at TED2015 - Truth and Dare, Session 11, March 16-20, 2015, Vancouver Convention Center, Vancouver, Canada. Photo: Bret Hartman/TED
"Gravity Fatigue"is a feat in movement, sound and costume. It was borne of dormant ideas Hussein has kept in files from the past decade and beyond. This makes complete sense given that the piece plays out as a series of scenes, each with it's own style and narrative. Hussein explains that the ideas are a combination of notes, sketches and subjects sparked by his interests. Citation of specific sources is impossible because the organic, evolutionary nature of his work, coupled with his broad interests, leading to an intersection somewhere between sociology, architecture, art and the world's sciences. Hussein sums up the collection of proposals for "Gravity Fatigue" as originating from a "World View" collated from his 21 years working in the creative industries.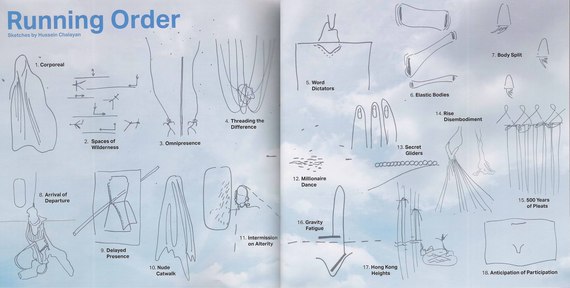 The "Gravity Fatigue" running order, from the Sadler's Wells show program
What's so ambitious about Gravity Fatigue, beyond the fusion of contemporary dance, costume and fashion design, is that Hussein directed the piece - a completely unorthodox approach in which most choreographers would refuse to partake. "Usually the choreographer is King" states Hussein. However choreographer Damien Jalet accepted this role reversal. The creation of the piece began with four workshops (the exploratory phase) followed by two months of intense rehearsals giving rise to many a creative and technical challenge and many tears.
The fact that Hussein's initial ideas and premises are those expressed in the final piece is testament to the dedication of his collective team, including Jalet and the thirteen dancers, to realise what he had envisaged for up to a decade or more in his thoughts, notes and sketches. Hussein explains the challenge ran so deep and so intense that he and the team are experiencing a severe anticlimax now that it has ended.
The collaborative nature of "Gravity Fatigue" required integration of costume design in the Chalayan studio with prototypes built by outside specialists, followed by movement back and forth between teams until the desired aesthetic and function were achieved. It's a dizzying thought, considering the number of people and specialisms involved.
There are scenes driven by technology, like "Secret Gliders" where the dancers recoil in response to the sharp movements of their draped dresses careering along the floor, orchestrated by invisible mechanics from below the stage. This scene makes me think of wireless puppeteering - It's a struggle and a fight between the movement of the body and the costumes, which are being manipulated by an invisible third object or force. The piece as a whole is at its most captivating when this tension between the body, its movement and the costumes is ramped up.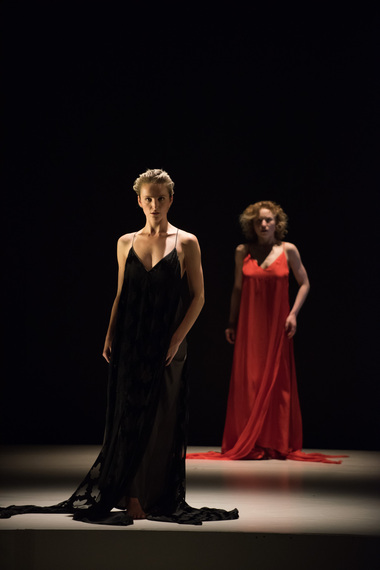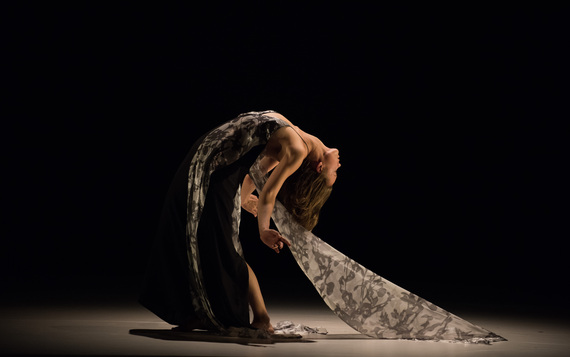 Gravity Fatigue
My thoughts jump to the final scene transforming from "Hong Kong Heights" to "Anticipation of Participation" - a group fabric and clothing orgy with dancers dipping their toes into a pool before intertwining and being sucked into a turbulent centre. Grabbing at each other and failing attempts to escape, it was a tense and disturbing close to a show of many ideas and concepts executed as a number of parts on multiple journeys, rather than a narrative whole. Again, this is in bold contrast to the usual contemporary dance offering and demonstrates how Hussein Chalayan's work innovates and pushes boundaries.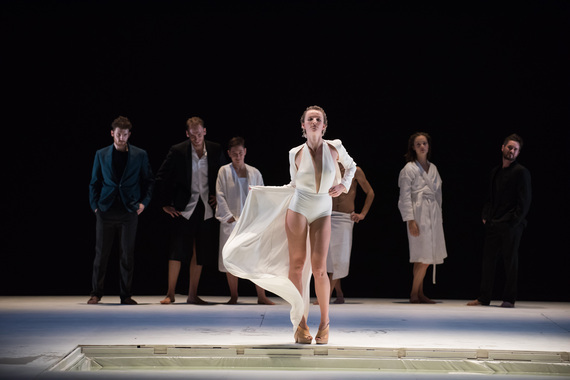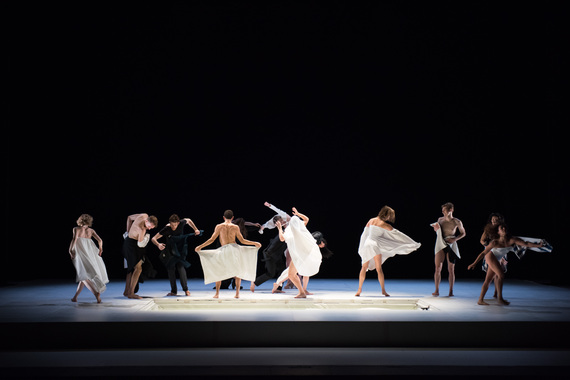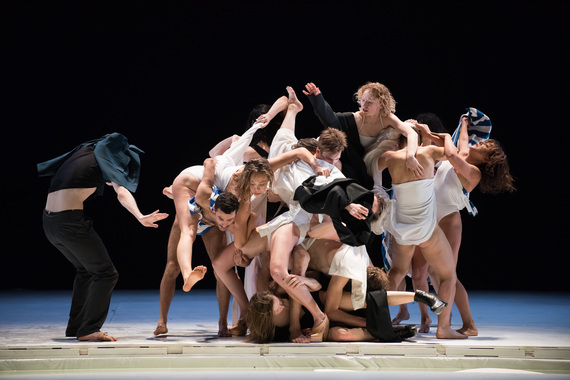 Gravity Fatigue
On the night, reflecting on the crowd and the lively chatter outside the theatre, it's clear that "Gravity Fatigue" was a challenging piece. By breaking free of the usual continual narrative of contemporary dance Hussein created a piece led by diverse and broad ideas, bringing a crowd of people who are appreciators of his fashion design to Sadler's Wells - perhaps a first for many. It's important to reflect on how this can catalyse further cross-disciplinary work and stoke the fire for fashion designers to look beyond fashion, both in terms of inspiration and practice. Hussein was amongst the crowd outside the theatre afterwards. It occurs to me at this point that Hussein's work is so influential and important because it invites dialogue - provoking questions and offering unexpected answers.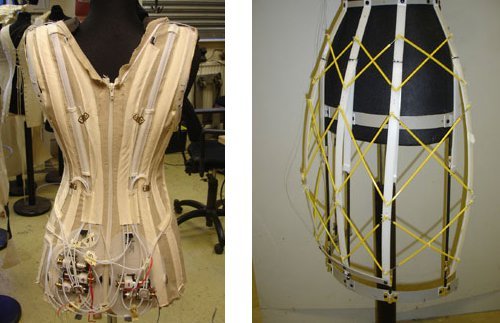 The technical underpinning of a dress from Hussein Chalayan's SS07 collection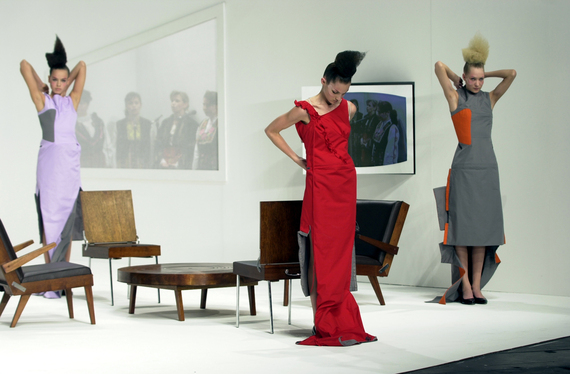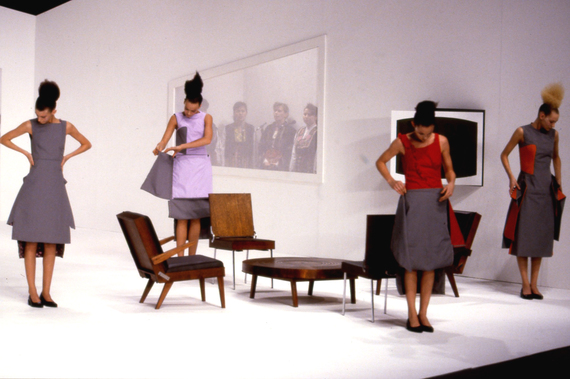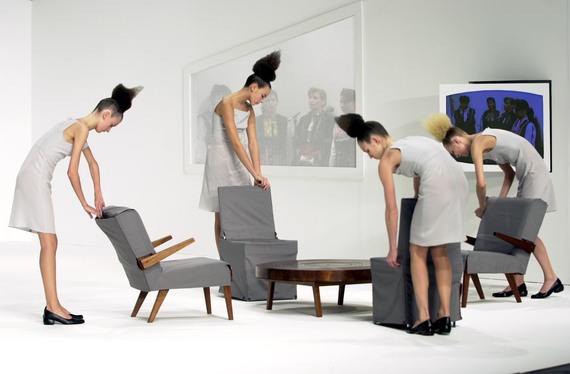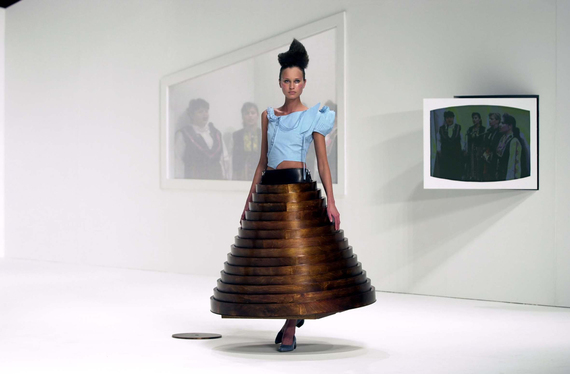 Chalayan A/W00 Photographs Chris Moore
On the subject of digital media Hussein says it's democratising effect is both good and bad. It's good in the sense that anyone can access a breadth of information. It's bad in the sense that information becomes disposable, having a cheapening effect. It also doesn't allow exploration, says Hussein, "you can just Google anything and you'll find it, so you don't research and appreciate it". We discuss the process of library-based research taught traditionally in fashion degrees where exploration is done through books in a broad sense before later developing, curating, fusing and refining ideas to bring a unique perspective - the hallmark of individuality sought by designers aiming to express a personal point of view and grow throughout the design process.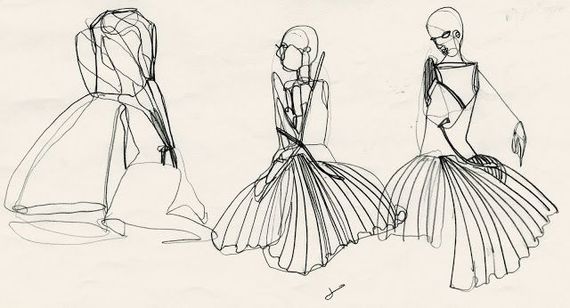 Sketch by Hussein Chalayan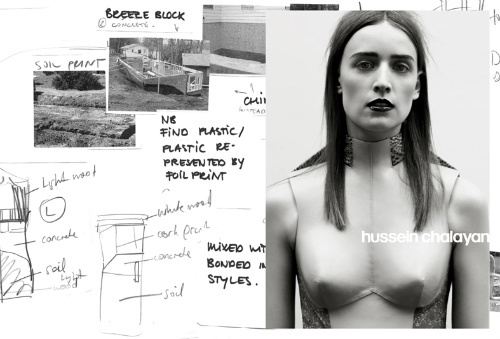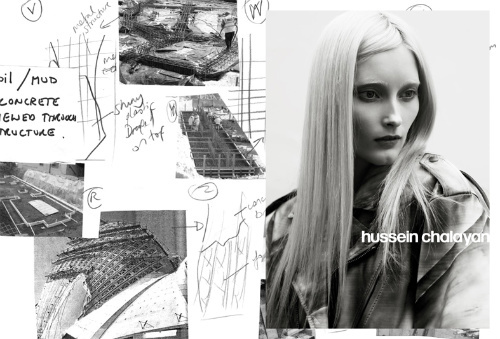 Images from Hussein Chalayan's first print campaigns
I ask Hussein "Why fashion?" - It's his love of movement, of clothes and how they can alter and re-appropriate the body. "I think the body is the ultimate cultural symbol in the world" he says. It is Hussein's belief that you can work like an artist when making clothes. He sees it as a study and although he participates in the fashion discourse, he views fashion as a broader activity. He does not see fashion as a frivolous thing sometimes brought about by celebrity "nonsense", by which he means celebrities claiming to be designers overnight and cheapening the industry. Why doesn't that happen with other disciplines like architecture, he asks? You can't become an architect overnight, so why a fashion designer? Fashion is a hub with many sides, but most people know the tabloid or popularist side and for that reason it's thought of as frivolous. He cites fashion academics Caroline Evans and Judith Clark as spokespeople for the credibility of fashion and feels that if more people like Caroline and Judith were involved in the fashion discourse, the collective opinion of fashion may change and it's view would be held alongside disciplines like architecture. He believes fashion is as valid as any other discipline in which the discourse is more serious, it's just that those who cheapen the fashion industry have a loud voice.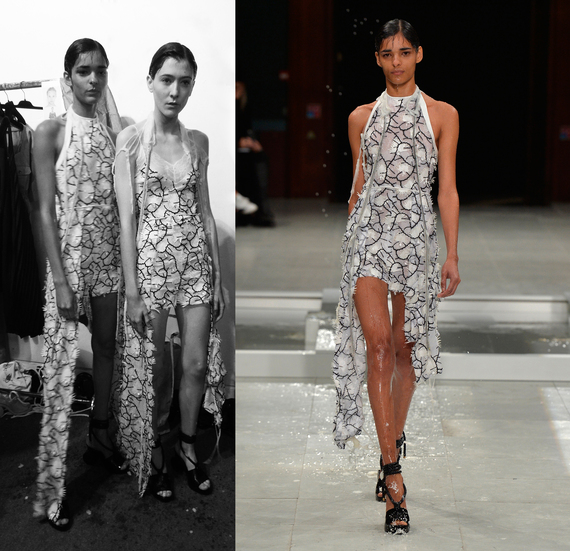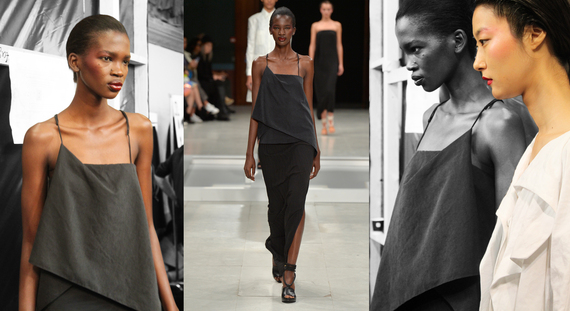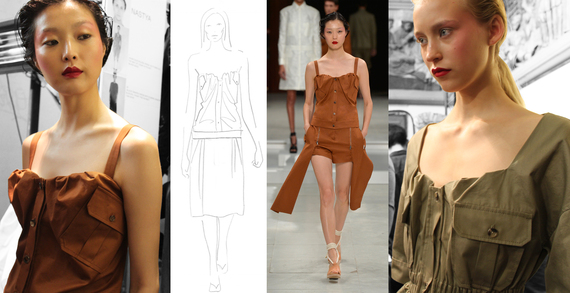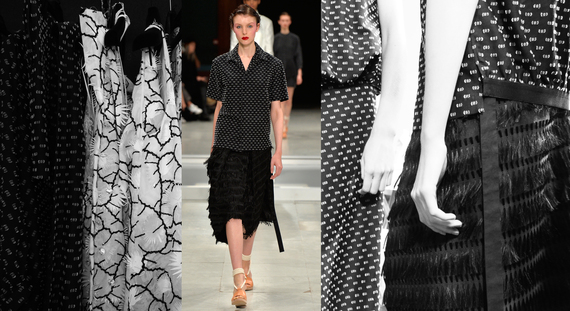 Chalayan S/S16
Interviewing Hussein Chalayan is like fashion nourishment - stimulating, illuminating and enlightening. I thought of a dozen more questions I'd like to ask Hussein after I left the Chalayan studio, but will patiently add them to a filed list, neatly in keeping with Hussein's penchant for filing ideas, notes and sketches for a later date. But let it not be a decade or more before I have the chance to ask them.
Gravity Fatigue is going on tour. Keep up to date with news, launches and events here>>Chalayan website, Twitter and Instagram.
Follow me: Twitter @Thetechstyler and Instagram @techstyler