I've made the claim previously that fashion is most powerful when it has something to say, and London Fashion Week Mens shouted angrily to this end.
Brexit and the election of Donald Trump as the US president have resonated with a swathe of London-based mens fashion designers, including Liam Hodges and Christopher Shannon, resulting in their angry bid to assert their voices of creativity, diversity and civil rights via fashion. They channelled the UK's (and perhaps the world's) bleak political canvas into a colourful, textural backlash, with Liam Hodges asking where to find a "vocation in the decline of civilisation" (in this sector, fashion tech and materials science?) and an emblazoned sweatshirt with the parental warning "Our following EVENTS have been approved for ALL AUDIENCES by the International campaign for fear and Hysteria... PG-13: Parents strongly cautioned" via his Dystopia Lives! collection.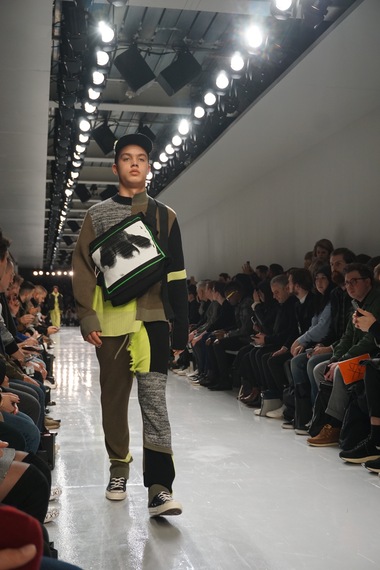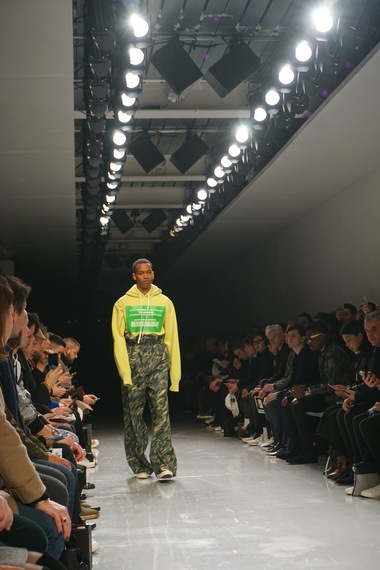 Liam Hodges: Dystopia Lives A/W 2017
The opening pastel-tinged denim of Christopher Shannon's A/W 2017 show lulled me into a false sense of security (in the form of appreciation of the neat jean) before the flag-laden faces in collaboration with Rottingdean Bazaar and the slogan sweats transforming benign fashion branding into statements on the current political state of affairs - Boss became "Loss" and Timberland became "Tumbleweed" - showed Shannon's serious and stinging intent, ramping the show up to an outspoken and bold level.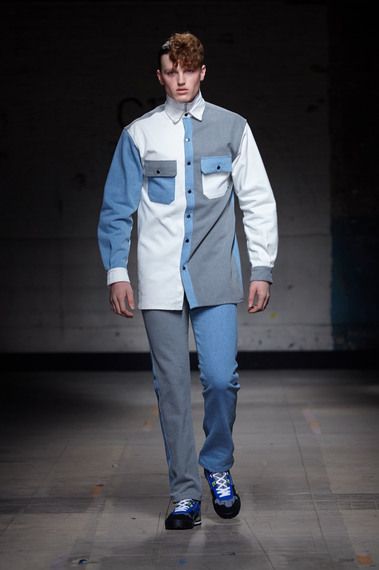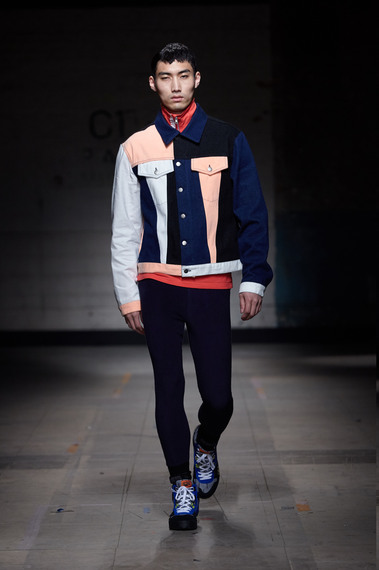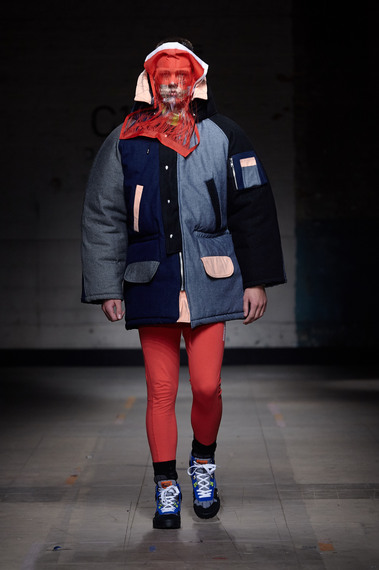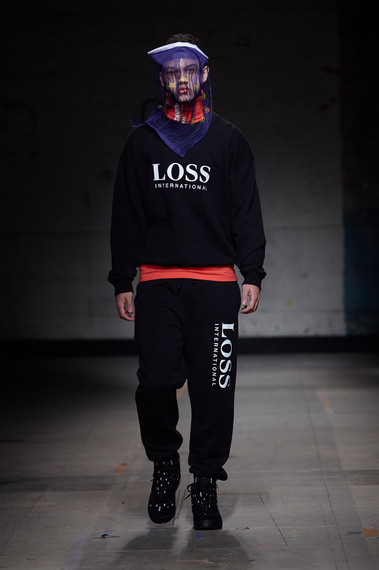 Christopher Shannon A/W 2017 - Photos: Village
Defiant slogans they might be, but that wasn't at the expense of wearability and seriously well made clothes. I won't venture into critic territory about garment structure, textiles and details, not because I didn't think they were extremely well constructed, but because fashion is subjective and this is simply commentary and reflection, I'm not a critic, rather a designer, writer and appreciator, and I'd wear the lot.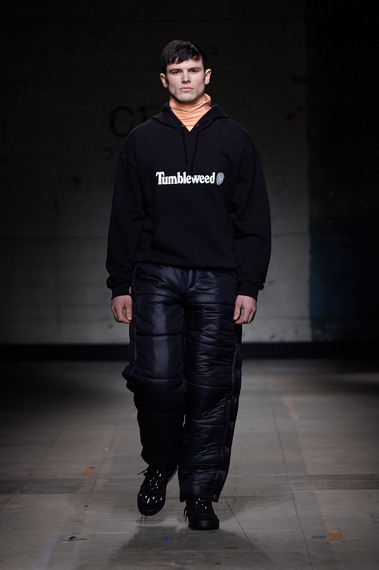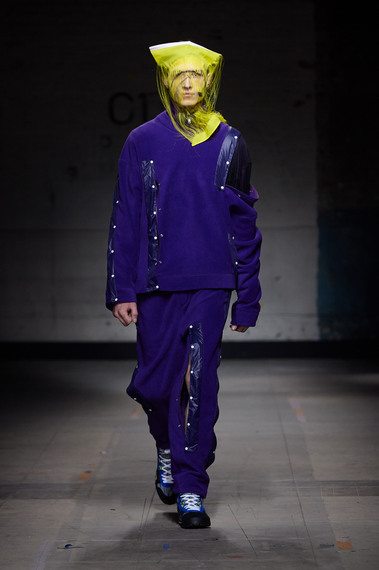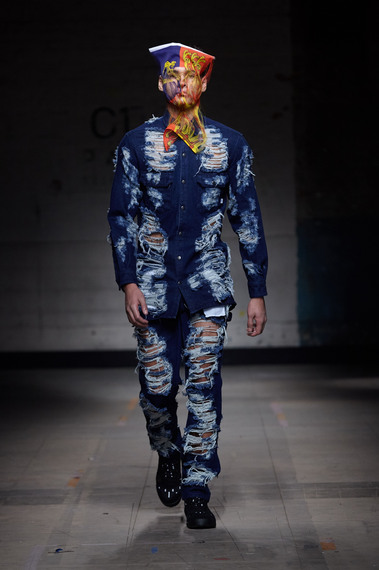 Christopher Shannon's AW17 collection in conjunction with Village, Hi-Tec, Revlon and Topman Photos: Village
Shannon's show notes cite photographer Oliviero Toscani and art director Tibor Kalman, "founding editor of the pioneering COLORS magazine, which was at the forefront of embracing diversity in fashion" as sources of inspiration. Judith Joy Ross'sLiving with War also influenced the collection.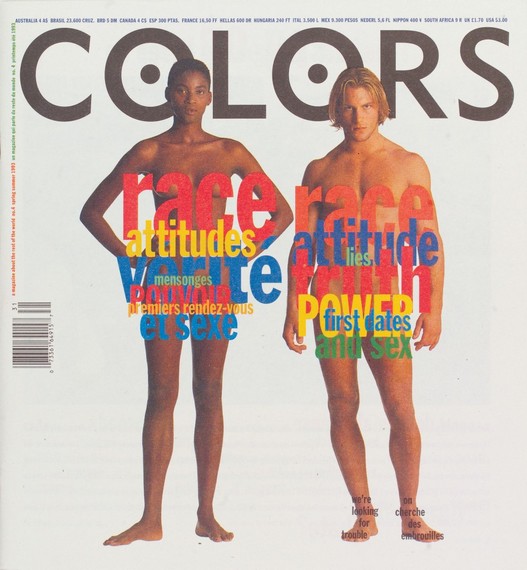 Colours Magazine, 1990, editor Tibor Kalman
I'm thinking back to Ashish's brave and passionate political show at LFW for Spring Summer 2017 and hoping that this resonates through womens fashion week this coming season, as it has mens. I contemplate the upcoming New York Fashion Week and wonder whether there will be any similar sentiment shared by designers there facing an era of challenging, nasty politics under the new Trump administration. Will Putin get a (not so honourable) mention?
It's brave for a designer to be so gobby, especially with the pressure of commercial sales targets and constant burden of turning a profit and keeping the wheels turning, but Shannon's line of thoughtful and clever sloganeering is somewhat proven, with his current and previous collections bearing a corruption of Sports Direct as "Lovers Direct" and "Haters Direct", currently in store at Selfridges.
Fashion that provokes questioning and contemplation and contributes to social and political discourse gets my vote. Slogan up!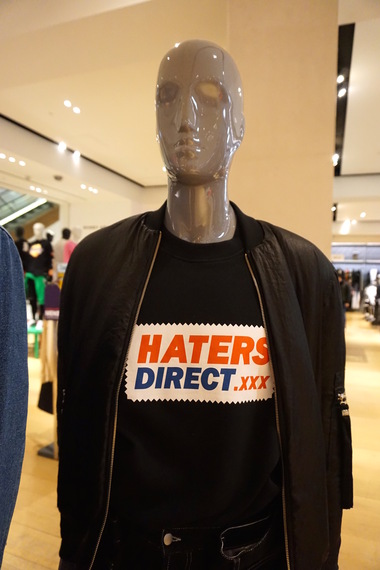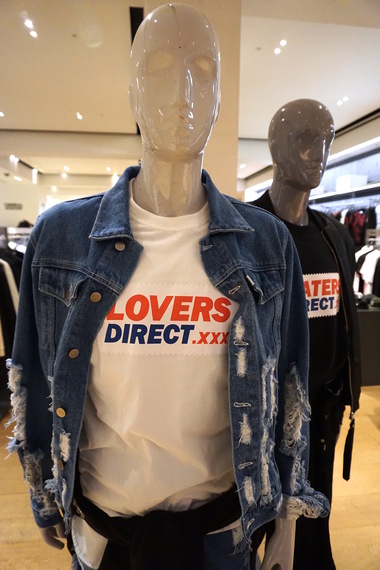 Christopher Shannon show credits:
Styling: Max Clark assisted by Julie Velut and Louis Prier
Hair: John Vial at UNIT 30 for Revlon at SALON SLOANE
Makeup: Andrew Gallimore and team at CLM Hair & Makeup
Face: Rottingdean Bazaar
Footwear: Christopher Shannon for Hi-Tec
Soundtrack: Maxwell Sterling
Models: Select
Special Thanks: Laura Davidson at Marks & Spencer
Dedicated to Richard Nicoll
First published on Techstyler.fashion
All photos by Techstyler except where credited
Follow Techstyler on Instagram and Snapchat
This post has been published on The Huffington Post's blogging platform. The views and opinions expressed in this blog are those of the author and should not be taken as those of The Huffington Post. The Huffington Post does not allow bloggers to acquire products, access or accommodation for review in the site's name.