'Fashion tech' and wearables are often described as solutions looking for a problem. The fashion industry is, paradoxically, resistant to change, while science and technology exist to pose and answer questions and catalyse change. As a radiographer turned fashion designer, science, technology and fashion have always been interlinked in my work and I have always believed that they are not only complimentary but that their fusion can be brilliantly exciting, inspiring and crucially, from a business perspective, commercially successful.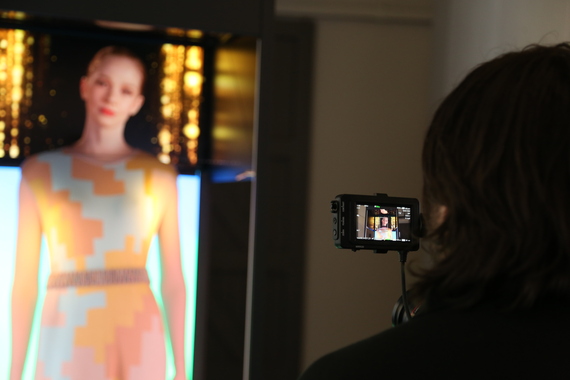 Being commissioned by the Mayor of London's promotional agency, London and Partners, to curate the Fashion Tech installation launching London Technology Week has given me the opportunity to showcase fashion and technology projects and products in which science and technology work sympathetically and intrinsically to elevate design and functionality. These fashion tech fusions are borne out of curiosity, creativity and collaboration. My aim was to showcase the brilliant minds and makers at work in London and the UK and to excite the imagination of the delegates, so that they dream of what fashion tech can be, not just what it is right now. The key motivation has been to demonstrate the symbiosis of fashion and technology and highlight why London is a world-leader in this exploding sector.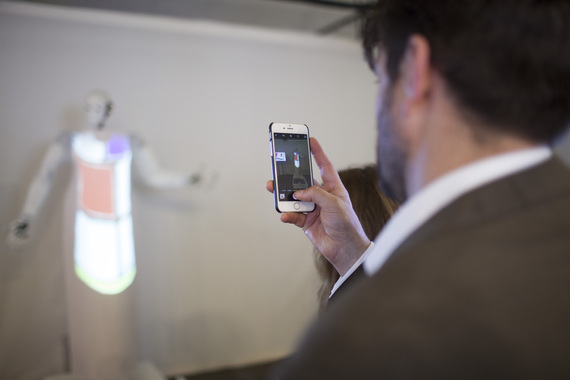 Set to an ambient and tech-driven soundscape by London composer Rupert Cross, the installation opened with Headworks, the world's first holographic mannequin, invented and built by animator Dominic Faraway. Dominic sees Headworks as the potential bridge for fashion retailers between in-store tech interfaces and shoppers. Shoppers shy away from screens, but Dominic's holographic mannequin is weirdly enticing and has huge interactive and data capture potential.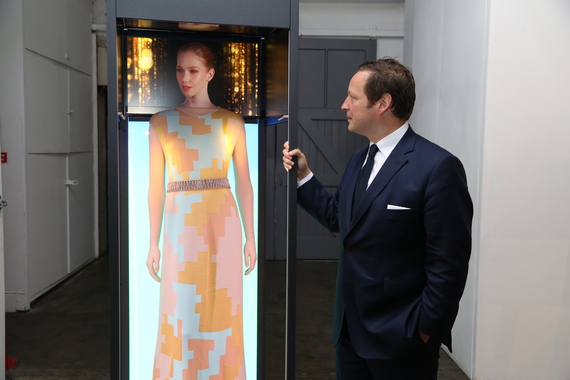 Ed Vaizey, Minister for Culture and the Digital Economy, with Headworks
Making its global debut was my own collaborative Project "FashBot R(evolution)", which presented the world's first open source 3D printed robot, 'wearing' projected fashion illustrations of iconic dresses through the ages, created by digital agency Holition in collaboration with my team from Brooke Roberts. The project proposes a new way of presenting fashion and fuses the humanity of carefully hand-drawn iconic dresses projected onto the InMoov robot, created by sculptor Gael Langevin.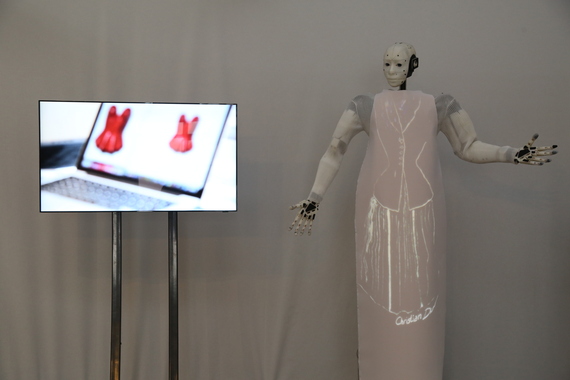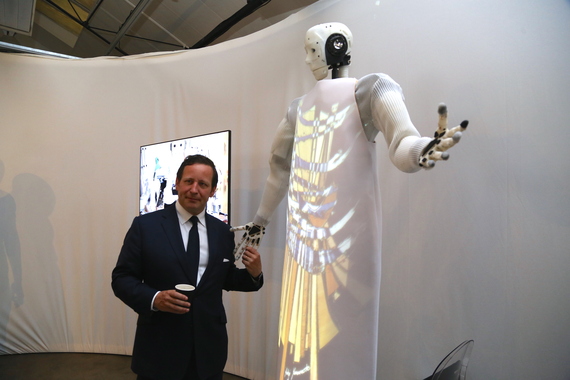 Ed Vaizey with FashBot R(evolution)
There was also a Bruise suit on display, which is a sports wearable that contains removable panels that change colour with an impact sufficient to cause injury. The suit gives an immediate visual notification to athletes with disabilities and loss of sensation in limbs who would not otherwise know they may be injured. The Bruise suit team paired up with London-based fashion designer Mary Benson to take their white prototype into a fashion realm, creating a multicoloured lycra version using Mary's signature vinyl surface detailing.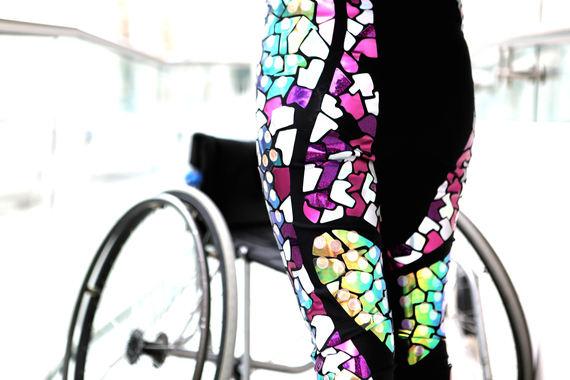 Explaining the Bruise Suit to Ed Vaizey
Infi-tex sits firmly in the wearable category too and allows devices to be controlled from pressure sensors embedded in clothing. The versatile sensor technology embeds seamlessly and discreetly into the garment, avoiding the 'stuck on tech' appearance that hampers some wearables. Some say the best tech is invisible when it comes to fashion applications. I tend to agree.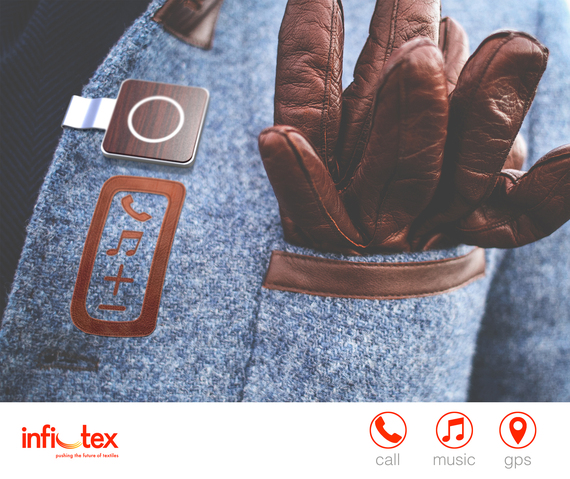 Infi-tex sensor technology
Also presented alongside the Bruise suit and Infi-tex jacket is the Brooke Roberts digital fashion knitwear that I have created from medical scans, utilising my previous career as a radiographer, which drives my fashion fabric designs and garment construction techniques. Having studied fashion design at London College of Fashion and Central Saint Martins after completing a science degree in Sydney, my resulting designs are a hybrid of both disciplines.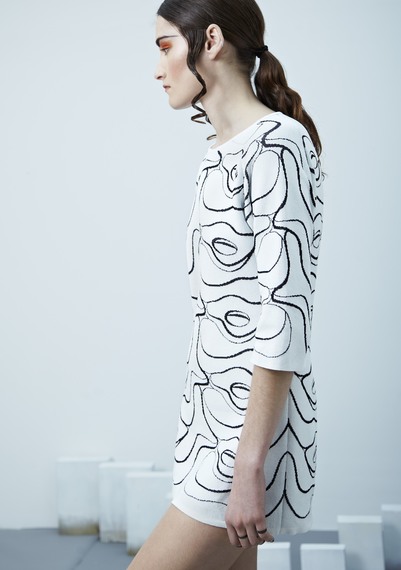 Brooke Roberts medical scan knitwear
Want to go to fashion week? Then stay right there. Village, in collaboration with Alligator, have created a 360 degree VR film experience, taking viewers behind the scenes and into the front row at London Fashion Week. All the fun, none of the queues and chaos. Totes amaze, as they say!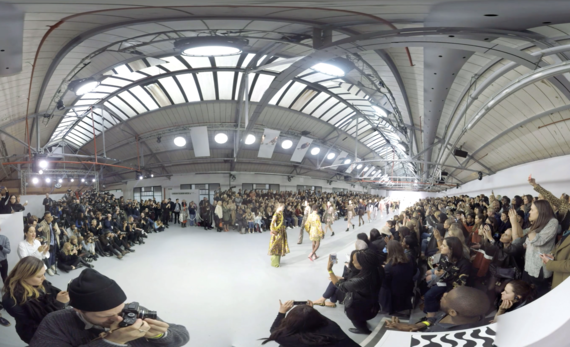 Village 360 VR London Fashion Week Film
Modeclix takes 3D printed fashion into a new realm with a revolutionary mesh that drapes like a traditional woven or knitted fabric, with the contours of the body. Where the work of fashion designer Iris Van Herpen has fascinated and inspired us, her 3D printed sculptural pieces are largely conceptual, using additive 3D printing to create solid forms. Modeclix solves this problem of rigidity, making a 'fluid' 3D printed fabric that is also fully customisable in terms of sizing with interlocking links added and removed accordingly. Suddenly 3D printed fashion seems a leap closer to commercial viability. The creators, Shaun Borstock and Mark Bloomfield, have already teamed up with BMW on a monogrammed dress and created a Swarovski encrusted headpiece which will have any tech geek/Game of Thrones fan reaching for their home 3D printer and handful of crystals (me included).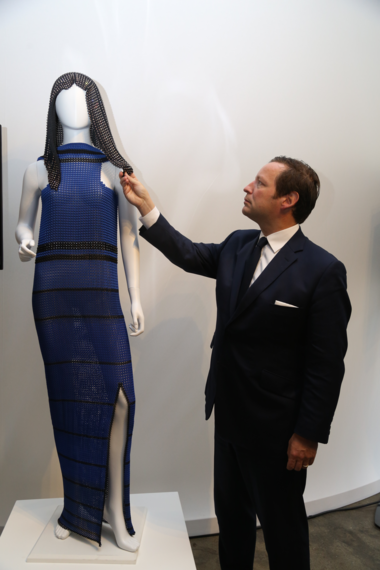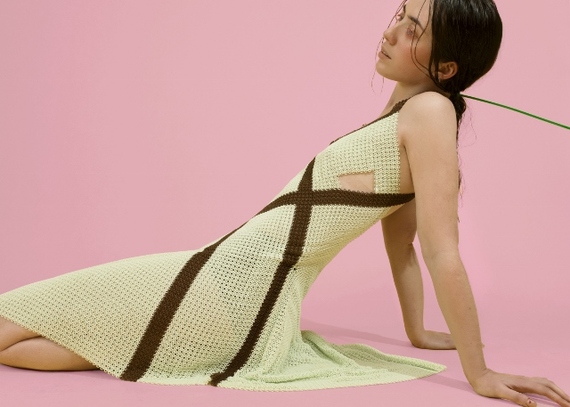 Modeclix, by Shaun Borstock and Mark Bloomfield
The installation drew media coverage from all over the world and was attended by many key figures from both the fashion and technology industries in London, as well as the Minister for Culture and the Digital Economy, Ed Vaizey, who opened the panel discussions at the launch event for London Technology Week. As London Technology Week continues we look forward to a future of fashion tech driven by London's creative collaborators resulting in smarter, more sustainable design for many years to come.
For more of Brooke Roberts-Islam's fashion tech articles see Techstyler
Follow Techstyler on Instagram