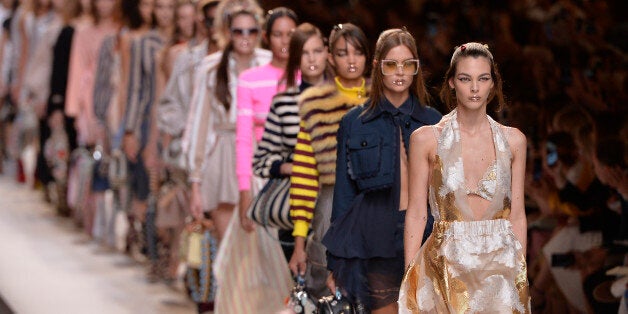 Vogue Editors Sally Singer, Sarah Mower, Nicole Phelps and Alessandra Codinha have unleashed a scathing attack on 'fashion bloggers', thinly veiled as a review of Milan Fashion Week on Vogue.com which has led to a fiery row online. Their comments were at best a defensive attempt to justify their own positions in the ivory tower that is Vogue - their motivations perhaps to maintain (or reclaim?) the relevance of their voices, and at worst, nasty slurs of patronising condescension toward any girl representing fashion brands or expressing herself through personal style at fashion week.
As I read the comments, including Sally Singer's "Note to bloggers who change head-to-toe, paid-to-wear outfits every hour: Please stop. Find another business. You are heralding the death of style." I couldn't help but think that a blogger or influencer representing a brand and getting paid for it is simply advertising, which is what Vogue does - it's exactly the same transaction. The main difference with Vogue is that it then champions those same brands that buy advertising in its editorial pages. If you are a fashion designer not buying advertising you are very unlikely to be featured in a Vogue editorial. I learnt that as an emerging fashion designer. On the contrary, bloggers like Susie Lau, aka Susie Bubble, championed my brand and helped me gain enough visibility to secure meetings with buyers and land my first retail account. In fact, Susie has been so instrumental in the rise of emerging fashion designers that she has been included on judging panels for major industry prizes, including BFC NEWGEN and the LVMH Prize. She has made a significant contribution to the industry by unearthing designers who are all but completely overlooked by the glossies, such as Vogue, making this attack on bloggers unjustified and to quote Sarah Mower, "pathetic".
Sarah patronisingly declared that "the professional blogger bit, with the added aggression of the street photographer swarm who attend them, is horrible, but most of all, pathetic for these girls, when you watch how many times the desperate troll up and down outside shows, in traffic, risking accidents even, in hopes of being snapped." has clearly forgotten that fashion is for everyone. Fashion is an industry based on desire and aspiration. These girls love fashion. They want to be "in" fashion. What's the harm? Deriding these girls doesn't make Sarah's words any more relevant than those of a blogger. Everyone has jumped through hoops to get to where they are. Whether they were Vogue shaped or street style shaped hoops makes little difference, ultimately.
Following on from Sarah, Nicole Phelps unleashed this comment about the "street style mess" - "It's not just sad for the women who preen for the cameras in borrowed clothes, it's distressing, as well, to watch so many brands participate." Borrowing clothes is standard practice at any fashion magazine, for stylists pulling together "looks" for editorial shoots and lucky editors and junior editors who can borrow/are gifted clothes from the famous "cupboards". This comment carries a particular air of nastiness by suggesting that someone who borrows clothes so they can participate in fashion is "sad". Only if you're not working at Vogue, apparently.
This group of Vogue editors have successfully demonstrated an ugly detachment from what's happening in fashion where it really counts - on the street and on social media. This serves to illustrate that their voices are not relevant outside of their inner circles. I'm off to check my Instagram and see what Susie's been wearing at Paris Fashion Week...
Related