A handful of London's most exciting mens and womenswear designers are throwing a bargain-laden bash in East London's Vyner Street this weekend for our fashion-loving pleasure. It'll be a haven of treasured one-off garments and samples as well as a lucky chance to grab pieces from Louise Gray, who has taken a break from producing collections for several seasons. It's a chance to purchase iconic and rare pieces from some of East London's most talented and experimental fashion designers. I'm thinking of it as Frieze for Fashion: wearable art. Go explore!
Louise Gray: Exuberant and playful. Want to look like fun? Louise will make it happen.
Liam Hodges: A crafty collage of urban sportswear with more edges than a dodecahedron. Printastic!
Lou Dalton: Menswear that's beautifully crafted and mighty desirable.
Sibling: Knitters who don't take knit one purl one too seriously. Obviously I'm a fan (and friend).
Noel Stewart: Hatter of glorious extremes (sporty/glam/classic) for men and women.
Horace: Balinese handcraft + British cool = Horace, for boys and girls.
Sue Tilley Tees and prints: Oft referred to as 'Lucien Freud's muse, Big Sue', Sue is an artist and print maker in her own right.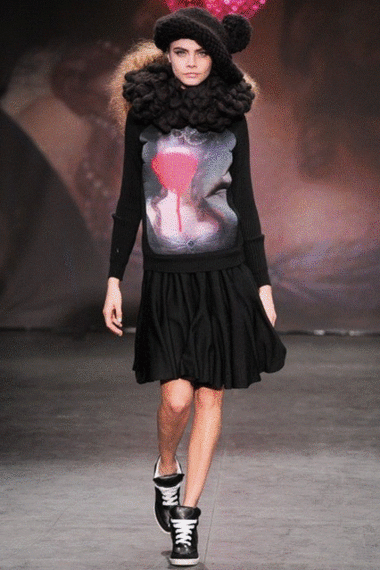 A selection of pieces from Lou Dalton, Sibling, Louise Gray and Noel Stewart on sale at the event
Event details: 11am - 8pm, Saturday 17th and Sunday 18th October, 25B Vyner Street, Hackney E29DG. Prices from around the cost of a weekly travelcard. Shop and strut, people. It's a steal!
Popular in the Community