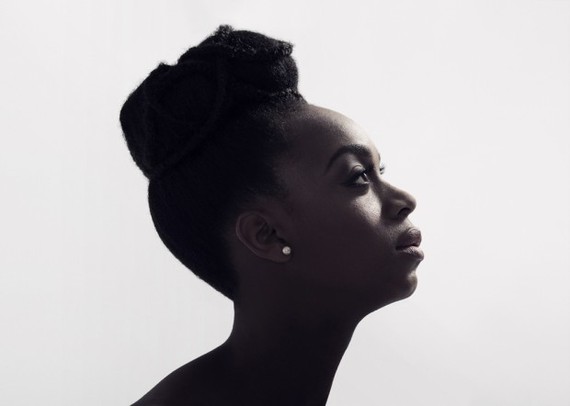 Meet Ayanna Witter Johnson, not just a vocally gifted vocalist and songwriter but a classically trained cellist to add to her already impressive musical resume.

Her name and face may not be familiar yet, but she has already caused tremors on the music industry circuit by being nominated for a MOBO Award in 2012 and orchestrating the BBC Symphony Orchestra on Urban Classic, the sonic fusion of classical instruments with some of the UK's biggest urban artists.
Hi Ayanna, first of all congratulations on playing a major role in orchestrating the well-received Urban Classic concert; how did that came about?
Thank you very much. Initially, when it first took place in 2006, I was actually binding scores and couriering the parts to the orchestra and there was too much for the main composer to do. So I was given the opportunity to score a few pieces for DaVinche and then asked to be co-orchestrator when I took place again a few years later.
How old were you when you first started playing the cello?
I was 13 years old
Did you always set out to become a singer or was that secondary to playing the cello?
I considered myself primarily as an instrumentalist but I always sang at school, both in a choir and as part of a Motown a capella trio I had with my two girlfriends.
You've already played in major venues around the world including The Apollo Theatre in New York, how was that experience like so early on in your career?
Looking back, it was most certainly the best training I could have had in terms of building confidence and understanding how to captivate and entertain a crowd. Knowing that you could be booed off stage at any moment was very scary but also amazingly exciting!
Having played alongside great musicians such as Jamie Cullum, Courtney Pine and Omar, Who has been the most influential to work with?
Being a part of Courtney Pine's Afropeans Jazz Warriors really opened my mind to idea of being a composer performer and how to ensemble a group of musicians to create powerful music. He gave me the opportunity to arrange my own music for the band, and touring that show around the UK at such a young age, gave me confidence in my original material. He was an excellent mentor.
Tell us about your 2012 MOBO Award nomination
... It was the biggest surprise of the year! I had absolutely no idea that it was coming. Someone told me on Facebook that they had seen my name on the nominations list. I was so happy and thankful. The night itself was a lot of fun. Duro Olowu gave me a dress to wear which was incredible and Dionne Warwick, came over to my table to congratulate me personally!
What musical direction will you be taking with your forthcoming Black Panther EP?
The Black Panther EP is a collection of soulful acoustic songs, with the voice and cello at the heart of the sound. There are influences from the blues as well as classically inspired string parts. Working with a band on some of the songs meant that I could really bring out the groove in the music, which was essential to the way I wanted those songs to feel.
Do you feel classical-influenced music can be fully accepted in the mainstream music market?
Absolutely! And today more than ever where the crossing and blending of musical genres is so widely accepted. People are open-minded and if the music touches them, they'll enjoy it.
Which music artist could you see yourself working with?
Janelle Monae. Listen to Ayanna Witter-Johnson's Black Panther on her Soundcloud
HERE
@AyannaWJ
|
ayannamusic.com
| Watch
Black Panther
video
HERE!