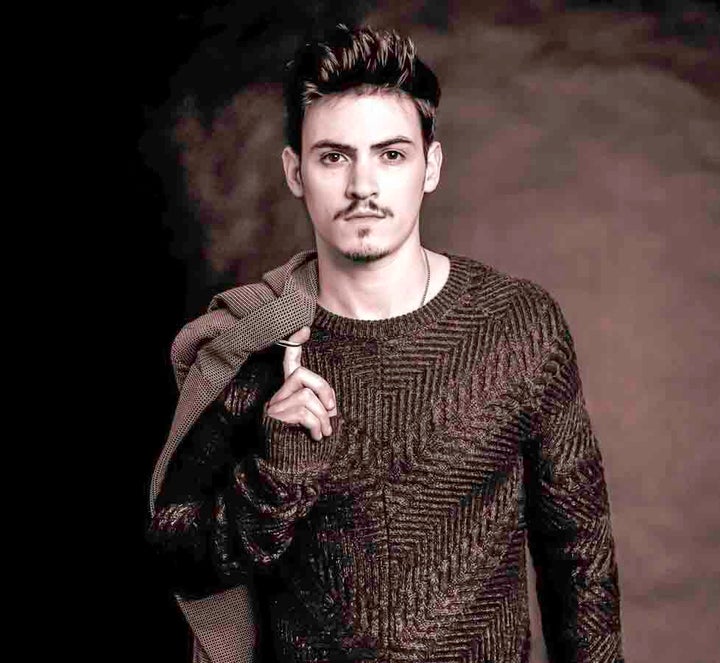 If you were to cross the looks of 80s Johnny Depp with present day Orlando Bloom, add a stage-resonating voice spawned from cruise ship performing parents, finish off with the talents of a drummer, guitarist and pianist, then Voila! you'd have David Stewart.
The music industry is by no means a new playing field for the London multi-talented artist. Having already supported Example on tour as part of his band, David Stewart breaks down how he plans to use his smooth melodic voice to move from the back of the stage, to the front.How did you first get into music?
My folks work in the industry, so it was kind of a natural progression, there was always drums and guitars lying around the house. My dad is an entertainer on the QE2 and I use to go on with him, and sing 'Sorry Seems To Be The Hardest Word', as a 12 yr old in a little suit! I'd go on to play drums for a couple of tracks and then walk off!
Are you musically trained?
No. I cant read a note. I'm very confident at playing drums and guitar, but if you put sheet music in front of me I can not tell you one note, I do everything by ear!
For a new artist you've already worked with a lot of established acts, how did that come about?
I was on the road with Example for the past 3 years playing guitar and singing in his band, that kind of opened up a lot of doors, We had Ed Sheeran, (on tour) Wretch32 came and supported us, Yasmin came and supported so it was natural, it just came together.
You have a distinctive British accent how important is it to represent that your a Brit in your music?
I sing how I speak to be honest, I think its important to soften your words and not try to pronounce too many T's.
Who were your influences growing up?
When I first started it was The Beatles, (Rolling) Stones, (Led) Zepplins, these old school greats. My dad use to play Celine Dion, Whitney Houston and because both my folks were in the industry and both on stage I use to go and watch them do shows and that, funny enough, started influencing me a lot now.
When you hear my new material its quite dramatic sounding, a little bit theatrical but very cool.
Your single 'Pouring Rain' has a very pop feel that we haven't heard since the late 90's early 2000. Is that your sound?
When I'm making music I just make what I feel right at the time. The past couple of releases, I put out, 'Late Night Viewing' and an EP after that called 'Dark Side Of Paradise' were what I was going through at the time, 'Late Night Viewing' mixtape it was quite laddie, talking about girls, me on tour. Then with 'Dark Side Of Paradise' i was going through some very strange relationship with an ex girlfriend. Now, this (Pouring Rain) is what I do best which is pop music but still very cool.
Who has been the best artist you've collaborated with thus far?
Elliot (Example) he became like an older brother to me. To see him grow and suddenly turn into this massive star it was like whoa! this guy is serious.
We use to sit in his room at the back of the bus, write these tracks and I'd make the beats at home.
Who would you love to collaborate with that?
I really want to work with A$AP (Rocky). With this new record I'm working on at the moment it would make sense to have someone like him on it, I think it would be kinda cool.
You sing, write, play instruments and produce, in this industry do you feel there is pressure to deliver the goods as a multifaceted artist?
I love the pressure. Pressure makes me work better. Soon as I have someone saying you need to deliver, that is when I come to life so its all about motivating and trying to get the best out of myself.
Having been on tour with Example and seen the stage set up, what would your own show be like?
Its going to be like If you were in Vegas in the 70's. Big bands with percussion, backing singers, something really slick. I love the drama you see from a musical and that's the way I want to approach it but still has to be kept cool.
Where do you want to be in 3 years?
I'd like to have a deal, have my record out and definitely be headlining my own shows and starting to make my second record.I recently had the opportunity to catch the electric guitar swinging, pretty fly for a white guy, David Stewart headline at Freedom IN Soho. David dazzled the crowd with a strong six track performance. Hitting us with a sweet cover of my favourite ex boyband singer, Justin Timberlake - 'Senorita', he had the crowd of predominately women loving him and the fellas singing along breaking the artist/audience barrier and just relaxed everyone in, then mixing up the styles of songs keeping us interested enough to introducing three of his own songs. 'Sun Dream City' reminds me of the 1970's band KISS without showing an ungodly long tongue and wearing wrestling makeup. 'Ice Cold' was just that... Ice Cold, it had a nice vibe with a story and concept we all can relate to in one way or another, within that record he did also display his technical ability on his suave guitar. Swiftly ended the night as the final performer with his upcoming single ' Pouring Rain'. Overall, he was a very good, confident performer and he demonstrates his level as an artist throughout his set.
'Pouring Rain' is available to pre-order from iTunes HERE (Out August 12th 2013)
Keep up to date with David's journey below..