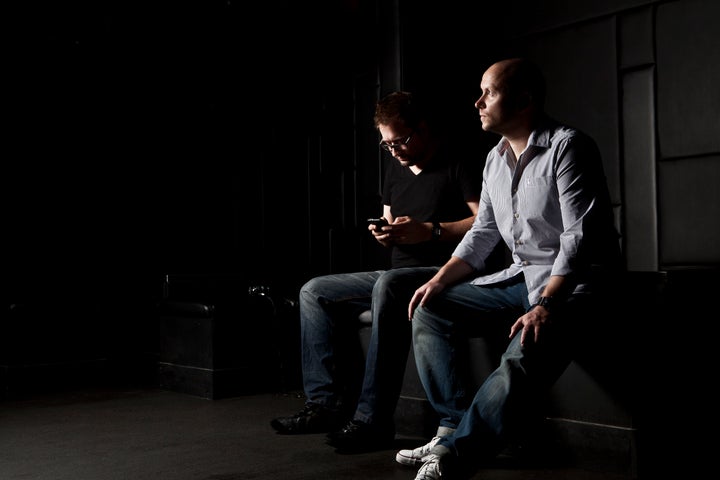 DEVolution is Pete Devereux & Tom Devos, (see what they did there?) a pair of bass bumpin', busy bodies who just can't seem to take a breather from making bangers. Regulars at the you've-made-it-as-a-DJ super club, FABRIC, we sat down to find out more about their latest E.P, Transition.It's nice to meet you both. First question: Who came up with the name DEVolution?It was Google actually. Both are surnames are Dev: Devereax and Devos. And we thought it would be really original to base it on 'Dev.' So we literally typed in 'words beginning with Dev' into Google. We got over 200 words back, and DEVolution stuck.Any other names jump out at you?Devoid (laughs). There were some good words but DEVolution stuck out.So it was literally just a Google search and choose the name that stuck out?It was that creative! It's not a very deep answer but we have to be honest.How did you two meet?Tom: We both knew a guy named Alex, who was an MC in Southampton. And I'd done some tracks with him over the years. I mean, everyone in Southampton has worked with each other at some point. And Alex had also worked with Pete on quite a few things, so he just suggested we try something out together. And we did, and it was just a good fit from the beginning. The things I can't do, Pete can, and the other way around.How long have you guys been together as a group?Pete: I think it's coming up five years.Tom: No, its four.Pete: Five years next year.Pete, you worked with Craig David?Pete: YesHow long ago was that?Pete: That was 15 years ago. This was when he was bunking off electronics to come to the studio. I think it was his first year at college, he was 16/17. He won a competition, and I think the prize was he got to record a track that would be the B-side of Damage's single. He needed somewhere to record it, and he chose my then-partner Mark's studio. And, in a nutshell, when Artful dodger began we didn't have anyone to write songs. And Craig was just there, a 16 year old kid bubbling with energy.

That was when garage music was really up and coming. How was it working with Craig at that time?Pete: It was a great time when garage came through. It was a new genre, exciting, something we hadn't heard before, a different way of doing things. And it just captivated the nation ultimately. Craig David's first album was fantastic. The rest of it is a bit forgettable. And I dunno what he's doing now except bodybuilding (laughs). If he spent as much time in the studio as he does in the gym, the world would be a better place.Do you still keep in contact with him?Pete: No, I haven't seen him. Our paths just don't cross.Tom: There was talk of a possible Artful Dodger reunion a couple years ago.Pete: I think it was the tenth year of out album or something. They talked about a reunion and I was like "no!"Tom: It was nearly finalised though.Pete: It was. MistaJam was quite keen.You didn't want to at all?Pete: I mean, I'd love to see Craig again. He's one record away from being amazing again. His first album was amazing. But enough of Craig!

Enough of him! He's not here. Tom, you were under the label Size Records. How was that for you?Tom: It was really good! And it was a strange way to get into that label, because obviously Steve and Sebastian, who run that label, came to be Swedish House Mafia, conquering the world. But I met them in Southampton, when they came over from Sweden, and lived on the same road as me for six months. A friend of mine gave a CD to Sebastian, and they wanted to see me straight away and sign me. But its crazy how big they became after that, coming from the little bungalow they were renting in Southampton. And if I tell people, "those were they guys that signed me. They used to live on my road in Southampton," no one believes me.Pete: It's just bizarre that they chose Southampton to come over for those six months.Tom: It was really great working with them. It was noticeable how talented they are. They were really precise about what they wanted. I remember the songs I gave them, they changed in such subtle ways, so they knew exactly what they wanted. They would change the sounds very slightly, and it would make a big difference. The level of detail they went in to. So I'm not surprised how big they became afterwards.Ok. Lets talk about DEVolution. Can you describe your sound in one sentence?Pete: Garage-infused house. Full Stop.I like it. Nothing to add?Pete: Nope. Annie Mac coined itTom: And we stole it. We did an interview with her, and people would always ask "how do you describe your music." We'd always waffle. And Annie said "and of course, your music is garage-infused house," and we were like "yes. Yes, that's right. Thank you." It's better than anything we would say.You have a four-track EP coming out soon, Transition?Tom: There is possibly a fifth free track as well, which is kinda part of the EP.
Pete: So it's a five-track EP. It was due out on our own label a couple weeks ago, but people have reacted to it, particularly blogs. And MistaJam slammed it from day one on 1Xtra. It's just grown and grown, and MistaJam is now going to put it out on his Speakerbox label.Did that come out literally because he was a big fan?Pete: Yeah. He heard Admire and Too Much Heaven. Then he heard the whole EP, and saw the reaction it was getting online. And he's a big MNEK fan.Tom: Yeah, so he said he's like to have a conversation about putting it out on my label. So we're maybe a month or so from releasing it.Do you have a confirmed date for its release?Pete: We haven't got a solid date.But we can expect it soon?Pete: We're on tour with Speakerbox, starting in a couple weeks, and it (EP release) will be while we're on tour.
Tom: But we're still trying to nail a firm date.Who else are you touring with?Tom: Shy FXPete: Fresh and Shy FX are at the London show. Majestic is on there.
Tom: It's kind of the whole Speakerbox family. That's kinda how they do things.
Can you tell me a bit more about the tracks on your Transition EP? Can I get a concept behind some of the tracks?Pete: First up is Admire.Tom: Yeah, that was just written to go straight into our sets. We just wanted another song to put in our sets, and it was written to go straight into the clubs.Pete: The lyrics were written by MNEK, and sung by Aaron Soul. Aaron taught Craig to sing. He and Craig were best friends, and if Craig is a 6/10 singer, Aaron is 9.9. All the little sing-raps that Craig does, he learnt from Aaron.How did you get Aaron on the track?Pete: Well MNEK put the hook down for Admire and said "I don't see myself singing it." He just wanted to be on Too Much Heaven. And Aaron was the first voice we could think of. It's crazy, actually, how similar Aaron and MNEK's vocals are.Tom: There's another track called With You, which uses an old Smokey Robinson acapella.Pete: We just wanted to get more ownership on that song, and not just have a typical bootleg. And Aaron came in on that as well, and sang it so beautifully.Tom: With You is more for the daytime festival sets. It's a bit deeper, not so In your face. It's a nice early set opener.Pete: So there's two songs featuring Aaron, and a track is called Push Up.Tom: That came about when we'd been doing sweaty dirty gigs, and we just wanted something to push up. And that is a much more bass-led, dirty bass track.Pete: So there's a balance on the EP. Their a four tracks, which is nice, and takes the pressure of a one-or-two track EP. There's something for everyone, something to buy into. But ultimately, we're making records for the club. We love DJ'ing, we love doing shows, and we love getting a reaction. I mean, who wouldn't.

Are there any other artists that you would like to collaborate with?Pete: There's loads. Probably loads of unrealistic ones. I mean, MNEK was the one we both wanted. We got Sinead Hart coming down in the next few weeks.Tom: We'd like to see if we can get John Legend. We've just done a remix with him, mostly with the intention of getting him to hear our stuff, and make him pick up the phoneWhat's the biggest fantasy collaboration you can think of?Pete: I think Michael Jackson might be pretty unrealistic? I was a huge Jackson fan.Tom: What about Prince?Pete: Yeah Prince would be cool.
Tom: Stevie Wonder would be a good one, if we ever had the chance.Pete: I'd like to get Mick Jones on a record. He was in The Clash. That would be very different.My last question: What can we expect from you guys in the near future? What do the cards hold for DEVolution?Pete: More of the same I guess. Do another EP after Transition.Tom: We've already started a new EP. We've got two tracks with MNEK, just from the one session we did. We've been doing a lot of vocal recording recently, so probably a few vocal tracks to come.Pete: We wanna launch our label this year, and do some co-production.Tom: And we're just looking to be on the road as much as possible, because the more we gig, the more it fuels what we're writing. So the main thing you can expect is to see us out there more. Everytime you hear us play a show, you will be hearing tracks that will be on the next EP. The Transitions EP, we've been playing those tracks for six or seven months now.Pete: We're not particularly upfront or underground DJ's, so you can bet your bottom dollar, if you hear something from us at a gig that you don't know, it's something that we're testing.
We're also quite keen to experiment with the DJ side of things. I don't think we'll stay traditional DJ's for very long. I think we'll move on and embrace a bit of live music.Tom: We wanna work with a string of damn fine vocalists too.Pete: We've done a few festivals this year, but we wanna be on the map for next year, so we hit the ground running, and get a whole load of summer dates. And the planning starts really soon for that.Tom: If half of that comes off, we'll be happy.So a busy year ahead for DEVolution?Pete: hopefully.Transition EP is out now.
Catch DEVolution at the following below
25th Sept 13 - Plug SheffieldFri 27 Sep 13 - Manchester RitzFri 4th Oct 13 - Liverpool O2 Academy 1Fri 11 Oct 13 - Birmingham InstituteSat 12th Oct 13 - London Warehouse ShowFri 18th Oct 13 - Aberystwyth UniSat 19th Oct 13 - Northampton RoadmenderFollow the guys on Twitter @wearedevolution | Soundcloud.com/weareDEVolution