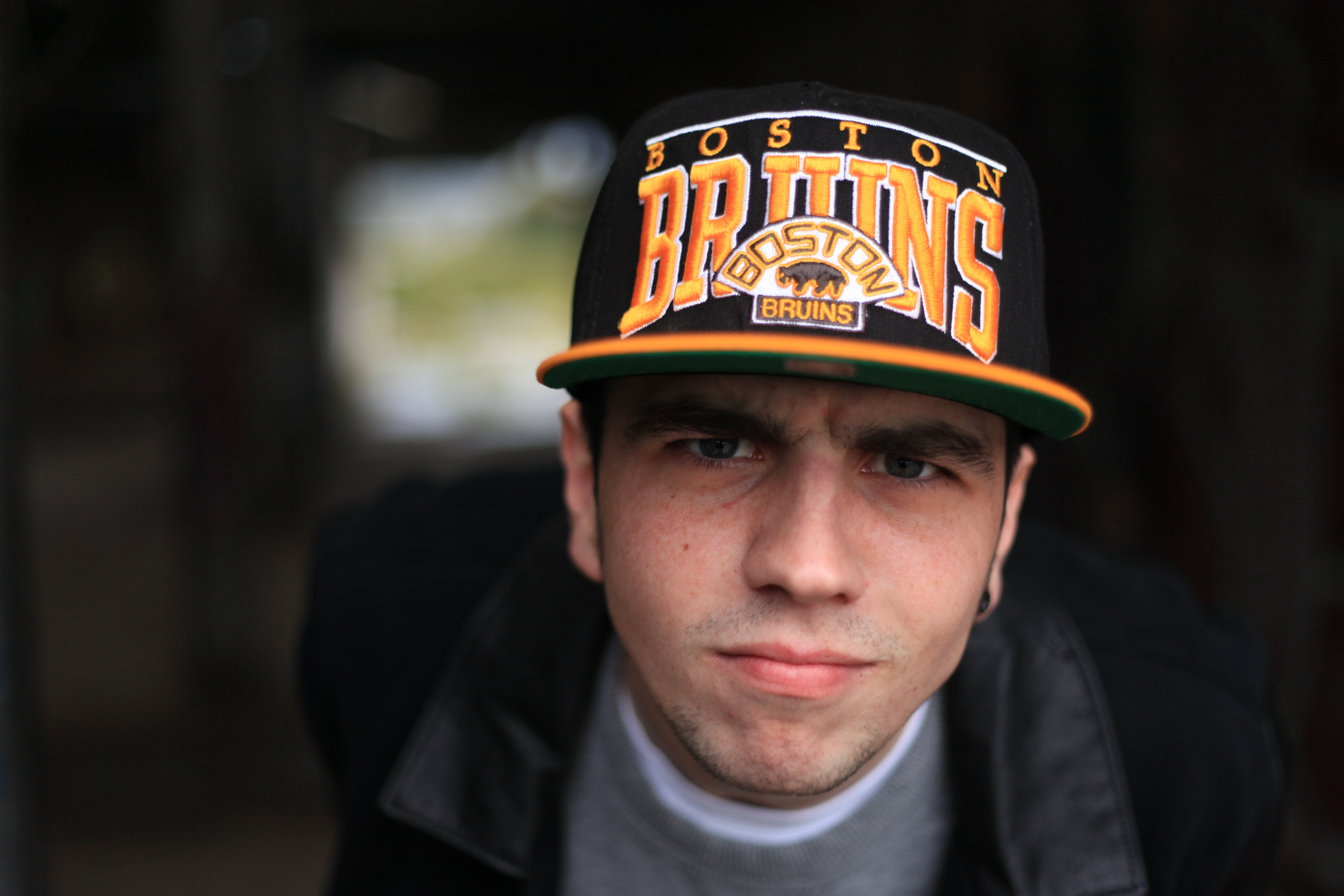 Luna C
, the young celebrated UK battle emcee, who has done away with many of his opponents with his lyrical prowness, humourous delivery and downright hurtful bars, steps into a new realm of music with the release of his anticipated EP,
Good Times And Dead Brain Cells
. I went toe-to-toe to find out more about the microphone meddler.
How did you get into battle rap?
I've always been into it, I've been into it since I was 15/16 when I use to watch Jump Off battles I started watching like Stig Of The Dump, Archaic, Pro Green, they were like the dudes that got me into it and Thesaurus from America and Illmuculate they got me into it but yeah from watching them every night after school and work, I just got hooked on it and ended up wanting to do it myself. At the time I was doing music so I just did it for promo and obviously for fun because it was pretty easy I just hollered Earl, (
DontFlop
) he got me a try out and it went from there, blew up a bit bigger than I expected it to.

Of the countless rap battles you've had, which has been your best?
My most fond battle and probably my most favourite was the two on two, me and Matter Vs Eddie P and Frisco just because of how funny it was and the reception it got like that was my most viewed battle people don't realise that; it got deleted off the page, now it would have over 2 million views by now it was heading towards a million over a year ago. It just got deleted and we don't know why, it was something to do with a privacy law and YouTube. It's still on YouTube just not on the original account and it still has loads of views but it's just a shame I don't have all the views in the same place,.
How influential were/are DON'T FLOP in your career?
In my career it was probably the turning point to be honest, it did a lot for me, it made people listen to me and give me other opportunities with my music, it made people check my music so I'm very grateful for that, to Earl and Kruggar and Chronical who got me my first battle so, yeah it was definitely a massive part of my career other than the music I'm working with James Arthur and Labrinth other than that, that's probably the biggest part of what I've done in my career so far.
In rap battles your often criticised about your allegedly altered YouTube views, are there some truths or is it jealousy?
It's definitely jealousy, I'm surprised I'm still getting asked that if I'm honest! like that was a rumour that went round because of a bar Mickey Worthless (Rap battle opponent) said, go ask Mickey Worthless anyway, that was just a malicious lie. Go look at my other videos man I get views so I don't have to pay for views.

You supported Eminem, one of the most successful Hip Hop artist in the world, at Leeds & Reading festival, how did that feel? 
Yeah, that was amazing to be honest because it was a festival and I wasn't on the same stage as him like I did my gig and it was amazing like played on the stage as Action Bronson and Chance the rapper that was amazing but I was more there as a fan as far as Eminem goes, just watching his show on the main stage that was amazing, it was crazy to see him so close to home.
You've worked with chart topper Labrinth on his Atomic EP, how different an experience was that compared to working with other rappers?
It was very different in the sense I've worked with pretty much big well known artists already like Dot Rotten and JME and some pretty well respected UK names but this was the first time I had gone to a high quality studio and worked with him on a beat, it was just incredible that so much got done in one day. Working with other rappers like Maxsta and meeting those guys it was just a new experience and to just be thrown into that it was good and that was very early for me as far as my music career goes so it was definitely an eye opening experience.
As a rap artist, your mixtape, SewerSideSex, features alot of big names in the Grime scene, did you feel the Hip Hop scene was not as healthy?
Yeah definitely a bit funny, about the Hip Hop scene especially when I brought that mixtape out like Hip Hop in the UK was at a big turning point like, people weren't listening to that UK sound that I was making and a lot of the dudes who were raw UK Hip Hop guys they're not the most hardworking in terms of putting in the work compared to the grime artists they seem to be a lot more on their grind as far as the music goes and a lot of the dudes who I actually listen to and rate in the UK who do rap music who would probably be put in the same box as me I just don't rate what they're doing as far as pushing themselves for trying to make good projects or do anything with their music they're just lazy guys and I don't like reaching out to them because it feels like a waste of time. I do rate how they handle things, in terms of pushing forward with their music.

Which other artists would you like to collaborations with?
My main one at the moment is Alchemist he's my favourite producer maybe him and Premier. I met Alchemist the other day as well because he was DJ'ing for Eminem at Leeds and he knew who I was from my battles so that was a sick experience. Yeah I'm trying to send him my EP at the moment but he's not replying (laughs) but hopefully that goes through.
What can we expect from Lunar C in 2014?
In 2014 hopefully I will have my album out by then I'll be doing things on a bigger scale as far as my shows, doing bigger tours getting out to other countries, if it doesn't happen this year than it needs to happen in 2014 and I've got to get to Australia because I've got fans out there who I need to see, I seem to have a big following in Australia which I don't really understand but I'm really grateful for it.
Rap battle, Eminem or the old Cannabis?
Eminem all day, 'The Disaster' battle I don't even have to say anymore, if you've seen it then you know this conversation doesn't need to happen.
Good Times and Dead Brain Cells
EP is to be released on September 16th. Twitter:
@LunaCFT
 | Facebook:
LunaCOfficial
 | Soundcloud:
lunar-c-official