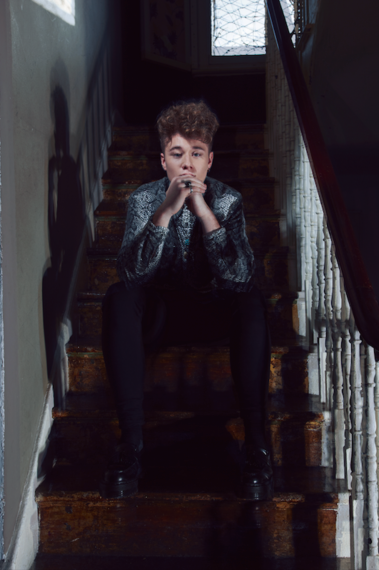 Ever wondered what it takes to write a killer hook for a song? The inspiration behind a chart smash or a ballad that becomes the standard wedding song? Matt Wills, an acoustic singer/song writer from East London spoke to me about his personal music journey so far, and just some of the unconventional ways, and places to pen an emotive, unique song that stays with you longer than its duration.Now Matt, one of the places you wrote your songs was in your nan's loft! Did you ever think from that, you would later be performing in front of thousands of people?
No, to be honest I thought it would be pretty much be me and my nan!
When you were growing up what did you listen to?
I was a confused kid and went through every phase possible. Grime was a really big thing to me and my friends when I was younger JME, Skepta and BBK all hit the scene also a lot of American hip hop. when i started playing guitar i became obsessed with indie music. Jamie T really hit the crossover for me. His lyricism and beats. I could connect to what he was singing about.
Are there any particular influences that have had an impact on your music?
Bombay Bicycle Club, Jamie T really influenced me growing up. The way they write songs .Both of their acoustic tracks are what really inspired my melodies. Hearing new artists like Jack Garret just opened my mind to production. I just love the sound of everything being a bit crazy and messy. I hate how everything is so clean right now.
You write your own records, do you find it easy to put pen to paper and what tips would you have for people wanting to start music writing?
Get drunk. Fall in love. Be upset. Write about it! Nah for me I wish I could give every kid a guitar, and tell them to write about anything and everything their going through. For me I have never sat and wrote lyrics. I just sit and mumble madness over chords until I find what I'm trying to sing about, because then I know I'm speaking about what subconsciously my emotions are going through. So yeah. Also don't be scared do what you want, don't let anyone tell you to fit a "scene" or "genre." People always box artists or say they "sound like." Just do what you want!
Having gained praise from Mistajam and Huw Stephens for your track 'Lights Out' are you happy with the direction that your career is going?
I'm doing what I love. I've done it since I was 12 years old, there's never been a plan B. I've got aspirations and goals, and for me, my first ever release getting praise from two radio 1 DJ's was indescribable.
'Let Love Lead' was played on BBC 1xtra's #onlinefind of the week by Sian Anderson, what has the reaction been following its airplay?
Yeah. I didn't expect that! My music's always been me and a guitar so for my first produced track, it was madness! I've always listened to 1xtra and never expected them to play something of mine. Mad love to Sian for that.
Your tracks leave a very distinct sound in your memory when you have listened to them, what impression do you want to leave when people listen to your music?
I just want my music to make you feel something. If something I write doesn't make you feel anything then I haven't done my job.
What sounds can we expect to hear on your EP, 'Chloe'?
I've tried to keep every song a different vibe. It's a mix between a sad kid with a guitar and a sad kid with a synth.
You have a headlining show at the end of May what can the crowd expect?