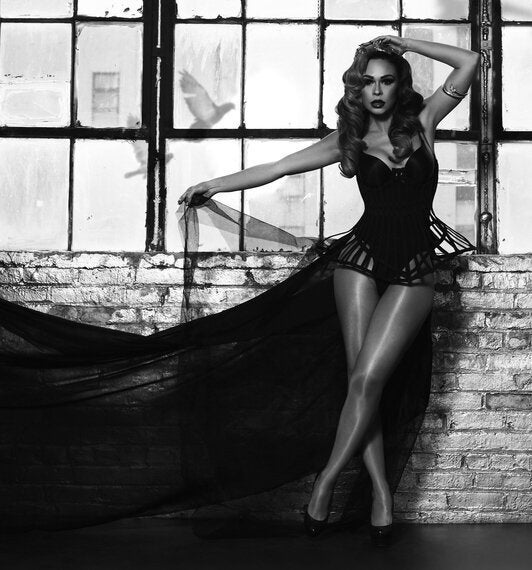 With the track premiering exclusively on Twit Music and the video premiering exclusively with MTV Wrap Up, "Hear Me Cry," is the latest single from Sky Heavens produced by Ced Solo of Ivy LeagueHits and written/co produced by Sky Heavens.
The track's pulsating beat and catchy hook make it a sure bet as a future club banger. Check out her new single "Hear Me Cry" now via YouTube and grab the single from iTunes.Congrats on release of your latest track you were quite hands on with it, explain the process.
I had gone through writers block for quite a while due to the stress of my my mom being ill. 'I think I had so many melodies, lyrics, and visuals bottled up that when it all came out again it just kept flowing non stop. 'Hear Me Cry' started out as a freestyle. I was actually playing around and freestyling a verse and a hook and the melodies of how I wanted the track to move was instantly painted in my head, along with the visuals. As far as the video, I wrote my treatment and looked for inspirational pictures that matched my ideas, so I could present it to the director Hezues R. I also edited my music video as well. Of course Hezues R added his final touches and made all the transitions look smooth and there you have it.
where is your background from?
I'm Puerto Rican and was born and raised in Brooklyn, New York. I grew up in Tompkins Housing to be exact.
Who are your musical influences?
I would say a mixture of my life experiences as well as a variety of different artist from Phil Collins, Cold Play, Sia, Santo Gold, Swedish Mafia, Bruno Mars, John Legend, Eminem, Mary J. Blige, and the list goes on.
What point did you want to take music as a career?
Music has always been a part of me, from me jumping on the bed as a toddler singing in the mirror with brushes , to singing on top of lunch tables, to singing in choirs and in church. Music just always been around even when I tried to runaway from it. Music always kept coming back to me, meaning a lot of amazing opportunities which always consist of singing and writing. I really feel like music choose me! Its all been extremely organic and I don't remember not ever living without it.Your the only artist to support Eminem on his UK tour dates how was that experience?
Yes, I've been his only female tour vocalist, I've always been a fan of Eminem so I'm definitely humbled and grateful of the amazing experience.Do you plan on working together on your project?
That would be epic.Whats next for you music wise? Working on my EP, shows, more touring, and in the process of starting my foundation S.H.E. (bringing awareness to mental illness)And finally, what makes you cry?
I'm actually super sensitive I cry over Disney Movies. Don't tell anyone though.Follow Sky Heavens on twitter @SkyHeavensXo
Pic credit: Sky Heavens management
Popular in the Community