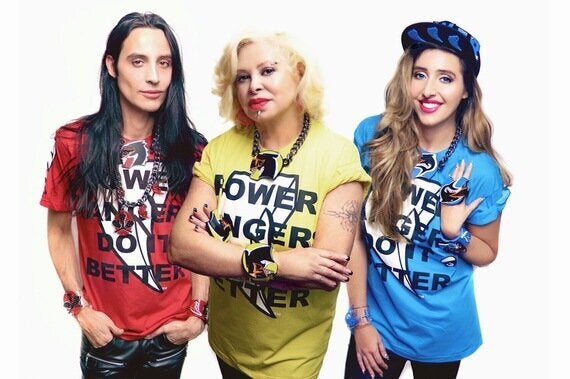 Year Zero London are set to launch the highly anticipated Power Rangers Lux Collection exclusively to their boutique off Carnaby Street, W1.
The fashion family store,located at 37 Beak St, W1F 9RZ, will be rolling out the Red, Yellow, Blue, Black and Pink carpet this Wednesday (19th Nov 2014) for the premiere launch to an invite only crowd of fashionistas, press and famous friends of the brand before unleashing the colourful collection of T-shirts, snapbacks and acrylic accessories to the masses the following day.The brand, owned by Louise, Rocky and Tatum Mazzilli, has an array of heavyweight A list clientele constantly popping in and out of the 'museum of fashion' store. Beyonce, Black Eyed Peas, Ludacris and Jessie J to name but a few have all been wowed by the Mazzilli's take on urban street fashion mixed with a dash of haute couture.
The use of synthetic fabrics, different finishing methods on garments as well as their wide range of colour, enough to equal that of a Dulux palette board, has put Year Zero London at the forefront of the capital's trendsetting names.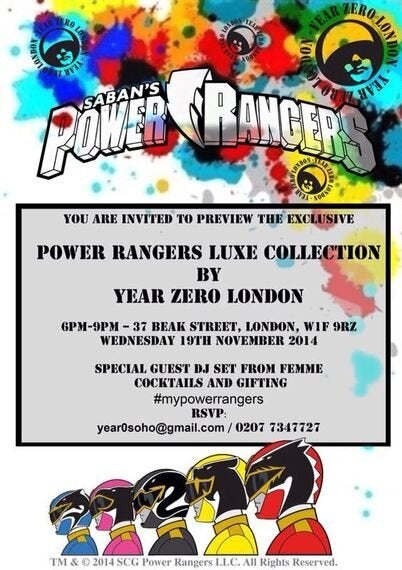 The new Power Rangers collection will bring back memories of the 90's childhood live action Saban TV series where we all wanted to be one of the Power Rangers! Expect kick ass cuffs, bold neck chains from in-house creator FunkyBling and headwear all inspired by the colourful action heros.
The night will also include music, cocktails and if you get there early enough, free goodies courtesy of Year Zero London.Year Zero London is located on 37 Beak St London, W1F 9RZ
open Mon-Sat 11-7pm, Sun 12-6pm.