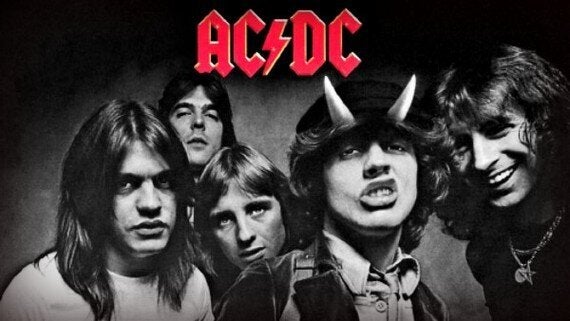 FOREWORD: These two short stories were written by Ron Hailes who was heavily involved in the mid 70's music scene in Australia when AC/DC were perfecting their craft and gigging relentlessly.
I managed the bass player in AC/DC. Pity he wasn't in the band at the time
On my first day of high school in 1968 I met a short, long haired kid who would go on to be one of Prahran High School's (Melbourne, Australia) most famous students. Mark Evans was a mad Carlton Australian rules football supporter and had an out there attitude to life. Even in the very early days when we were 13 or 14, he was a big hit with the girls who were clearly attracted to the kid with more hair than them.
He hailed from the infamous commission flats where men were men and boys grew up fast. As the years passed his Mother started to go away at weekends and parties of legendary proportions were held at flat 56 - otherwise know as the Prahran Hilton. He got into music and, because I had no talent at all, I was the Manager. He was joined by guitarist Graham Kennedy, drummer Lincoln Judd and "Judd" was formed. Vocalist Paul Edwards joined later.
The band was getting a few gigs but not exactly reaching for the stars. I always wanted to manage bands so I was having a great time. At this time we were all out of school and all had various real jobs. He was working as a clerk and I was working in a bank.
In March 1975 I was living in Prahran around the corner from the house where AC/DC were based and Mark Evans knocked on my door and told me he was quitting the band because he was joining AC/DC.
So I guess for a few minutes I did manage the AC/DC bass player.
News Flash: AC/DC Earn $175 For Gig
Yes it's true. After working for peanuts, AC/DC hit the big time.
I guess you are now thinking I've got this wrong. Doesn't he mean their ticket price is now $175? It probably is. Well, the truth is this story is a little old. It's just that I recently found one of my prized possessions stored away.
I booked AC/DC to do a gig around 1975 and the contract, that I still have to this day, has them being paid $175 for a one hour show. At this gig they were the first band on and whoever headlined that night probably got paid around $600.
In those days, AC/DC were one of the hardest working bands in the country. They probably did an afternoon gig and one after my show. Gigs were about paying the bills and keeping the band in front of the punters who bought the albums.
The band members lived very frugally earning around $60 a week, living in a share house and staying in some pretty dodgy places on the road. Most bands worked at this level until their first big hit and a successful album. Then it all changed.
Around the same time I was paying Skyhooks up to $1500 a show after "Living in the 70's" came out. Of course history tells us that the hard slog paid off for AC/DC and now I can't even imagine how much they would earn from a gig. With around 40,000 people paying $100 to $150, granted the have a huge expenses bill, but somehow I think the bottom line is a little more than $175.
These stories were originally published on bytestories which is a blog 100% dedicated to sharing short, byte-sized stories from yesteryear (or yesterday). Here is an interactive map of where everything happened.