For two billion women and girls worldwide, menstruation is a monthly reality. Yet in many cultures, it is surrounded by stigma, shame and silence.
In low income countries, women and girls face serious challenges when it comes to managing their periods. They lack access to affordable hygienic menstrual products and are forced to use improvised materials, such as rags, that are uncomfortable and can lead to leaks and infections.
Many girls do not have access to clean, private, safe latrines. There is no clean water within or near toilets or bathrooms, which means there is nowhere to clean up and discreetly dispose of used menstrual products.
To make matters worse, women and girls often face harsh social taboos about menstruation which excludes them from certain activities, such as cooking or praying.
Understandably, this situation can have a detrimental impact on the lives of women and girls. Many women miss work because of cramps or the inability to manage their periods in the work environment.
This can lead to losing out on an income.
In some cases, girls skip school during their periods, while others drop out altogether as there are no facilities available for them to cope. This can have a detrimental impact on girls later down the line, as girls with fewer years of education earn less and are more likely to be married as a child.
The bottom line? Menstruation matters.
From providing hygiene kits to girls affected by disasters to constructing child-friendly toilets in schools, child rights organisation Plan International is working hard to break the taboos surrounding menstruation across Asia and Africa.
In Uganda, Plan has partnered with local social enterprise AFRIpads, to help Ugandan girls and women better manage their menstruation.
AFRIpads trains Ugandan women to manufacture reusable sanitary pads, then Plan purchases the pads and sells them to local vendors at a subsidised rate. This allows vendors to sell pads to girls and women in the surrounding areas for an affordable price and still make a profit. The project is improving access to sanitary pads, while providing vendors with a reliable source of income.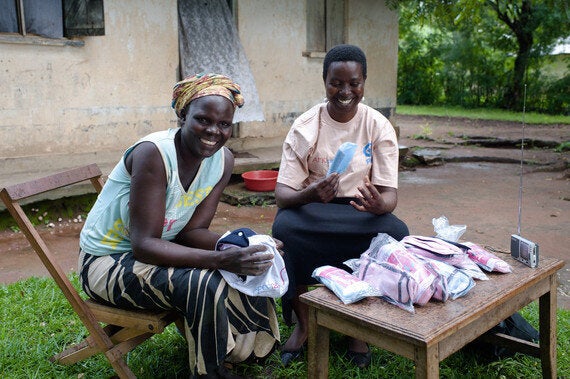 AFRIpads is a local social enterprise organisation and Plan partner that makes and supplies affordable and reusable sanitary pads. Photo credit: Plan International/Nyani Quarmyne
The AFRIpads partnership has been so successful, Plan is now developing other partnerships with social entrepreneurs, such as Be-Girl.
In contrast to AFRIpads, which is a standard reusable pad, Be-Girl combines the convenience and leak-proof performance of a disposable pad with the affordability of a reusable one. Essentially, it is a washable waterproof pair of knickers that has a pocket that can be filled with any available safe absorbent material.
Through its Because I am a Girl campaign, Plan and Be-Girl are seeking to improve the quality of primary school education in Ethiopia, as well as train girls and teachers on the topic of menstruation.
Through innovative projects such as these, Plan is committed to breaking the stigma around menstruation. It remains a topic that is grossly underfunded and often left off the global agenda despite its importance for many aspects of women and girls' lives.