It was just one of those routine conversations.
'And can I ask... what's in the parcel?'
'Ok, thanks. It's just, I have to check it's nothing dangerous...'
A question mark hovers in the Post Office clerk's voice.
'It's fine. It really isn't dangerous at all.'
You'd think a book would be the least dangerous thing you could send to your friend who's just begun their summer holiday. Nothing could be much safer, it might seem, than relaxing on a deckchair, in a peaceful garden or hotel poolside terrace, with a book and a cool drink. But this is Northern Ireland, and when we send parcels, we have to risk assess.
Several hundred metres later, I'm cast back a dozen years, bumping into a former student with his little son. They've been to the Library, and there's a new storybook to read. Appraising me from beneath a mop of golden curls, the child frowns. His blue eyes fill with tears and he buries his head in his father's shoulder. Amid screams and wails of protest I admit that small children always react like this to me. In vain are the reassurances that 'This lady was my teacher, and she loves Winnie the Pooh and Piglet, just like you do!' At the mention of a favourite story the blue eyes, tear-filled, appraise me again. He simply cannot believe that someone so scary could love his favourite book. We part ways, and I wonder: maybe books are dangerous after all? Maybe my Eeyore-like presence has ruined a little boy's storytime; maybe my friend will hate the book I've sent, and judge me for it, ruining a friendship and a peaceful afternoon?
When I was three years old and very shy, I met my Mum's best friend from her single days: a lady who'd become a nun, in an era when nuns wore full-scale battle dress. She terrified me; I cried. There's a photo, somewhere, of my mother and her friend, me on my mother's knee, red-faced, tearful, tense. She'd given me a book of fairy tales: I remember its red cover, and that I was always slightly scared of reading it...
A lifetime away, the universe of social media can be more frightening and dangerous than any encounter in real life, with the conviction it instills that you're no good, and that everyone's having a better life than you. My life is perfect: look, #nofilter! The monsters under the bed of childhood fears lurk in the status anxiety of messages and updates. You trust someone to be your friend, only to be cast aside when they realise you're just as dull as everybody else- oh dahling, so last year. You imagine that someone likes you for who you are, or for what you have in common. Small boy and ageing teacher, both love Winnie the Pooh, yet small boy remains terrified beyond reason... Friends with tremendous common history and context, yet calendar or inbox remain resolutely empty...
Is it like a politician's promise, I wonder later, thinking back to several days before when the Nick Clegg I'm Sorry song materialized on a shuffled playlist in the gym, my laughter almost causing me to lose my treadmill footing. Maybe the promises we make to garner votes of confidence from friends are just as illusory as election manifestos. Is it just as much a lie that if I work at this, I'll get fitter- younger- better? Is there danger in the promises that if I take this many steps, eat in these nutritional proportions, or get that much sleep, I'll live long enough that I'll inevitably forget it all? When you start to look, is there danger everywhere...?
Many libraries and schools are promoting 'extreme reading' challenges for teenagers, this summer: take a selfie reading in an unusual or dangerous location. It's not without risk: I've heard a story of an enterprising Dad who photographed his son reading on the roof, only for an accident and prosecution to ensue. Books make you think, wonder, and look for the shifting sands which lie beneath the sparkling summer sea. The intricate fiction of plot, character and motivation, the structural patterns reflecting the choreographed rituals of family and friendship... Immersing yourself in fiction casts your own world into relief like the strip of negatives which used to accompany the newly developed photographs, in the days when #nofilter was all we had.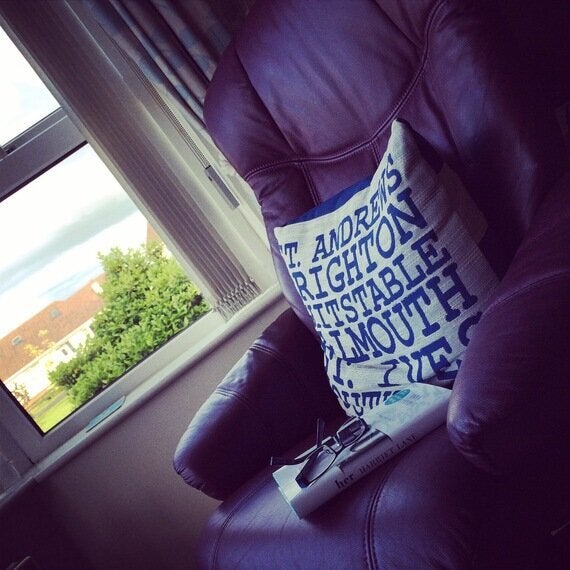 Really extreme reading can happen in a familiar armchair- in a café- on the beach- in bed. For reading to be truly extreme, you need to trust the writer, opening your mind and heart, and relating that new world to your own. Trusting like that, in a world where friendships die and promises shatter- is scarier and more dangerous than reading on a mountainside, by a cliff edge or on a roof.
Maybe my parcel was dangerous, after all.