Working around the clock in a large scale emergency response will do funny things to a person. The distinction between working days and weekends has gone completely. This doesn't mean that we don't take a break every now and then, it just means that regular patterns are abandoned.
Yesterday I caught myself asking my assistant probably for the fifth time that day: "What day is today, and what is the date?" I find myself double checking especially the dates, as I am signing off on contracts and procurement orders continuously and I am adamant that I sign things off correctly. But it does feel like I have a problem with my short term memory!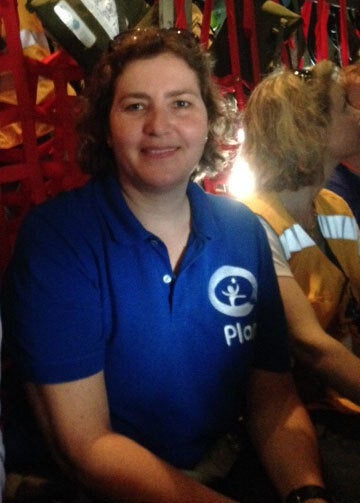 With meetings starting around 7.30 am everyday and finishing off very late, (because we work through different time zones) our sense of time also seems to be blurred.
Frequently we are reminded that it is lunchtime because our colleagues simply put food in front of us. We chew our way through dinner while on telecons (just mute the mike and you can eat that apple).
I have put my assistant in charge of watching the clock for me, to remind me of the next meeting, or the need for me to leave in order to make it to an external meeting. Sometimes it makes me feel like I am a teenager having to be reminded of her schedule!
Are you okay? A hug will do!
Fortunately Plan International puts a lot of emphasis on staff well being. We had our very own Doc Sandy doing nothing but taking care of staff wellbeing for the first couple of weeks. He would have quiet talks with anybody who showed signs of stress, remind people to drink water, organise sessions with our counselors and psychologist and refer people to medical services for sore throats, headaches and other minor inconveniences. I continuously hear my colleagues asking each other "Are you okay?". Everybody is keeping an eye on everybody, and that is good to see.
Working under this kind of pressure also requires that we overcome hurdles together and that we celebrate successes, big or small. It's amazing to see the group spontaneously applaud their colleague for getting a record number of concept notes in, for getting those airplanes to deliver the food to the far flung areas or for winning a big grant from an institutional donor.
We have a tremendous amount of surge capacity coming in: colleagues from all over the world who join our team to deliver our response. Where we previously would have greeted our international colleagues with a firm handshake, we have now become an office of huggers.
Doc Sandy approves of course, because hugging is a much more heartfelt and meaningful way of greeting and thanking each other than that handshake!
We are delivering a fantastic response with an amazing team and it is fantastic to see our One Plan, One Goal in action. This disaster has transformed all of us and although it is early days, I think it is fair to say that things will never be the same: they will be better.