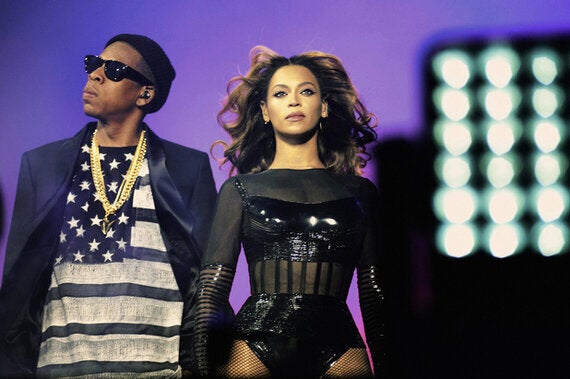 Two months ago whilst scrolling through Buzzfeed, I came across an article titled 'If you don't buy tickets to the 'On The Run' tour after watching this then there's something wrong with you'. Naturally, I clicked on the embedded video, (a trailer of the pair rehearsing) and within ten minutes I was purchasing tickets. The only catch being that the concert would take place in Paris. The next few weeks were spent listening to Beyoncé songs on repeat and attempting to learn the 'Single Ladies' dance.
The concert took place on September 12, at Paris' Stade de France to a crowd of 80,000 people. Looking around the intimidating space as the seats quickly filled up, it was difficult to imagine any other artists being able to fill such a large arena.
The words 'This is Not Real Life' were projected onto a giant white screen as we impatiently awaited the duos entrance. Premiering on stage to '03 Bonnie and Clyde', I have never witnessed such a scene of utter power. It was difficult to resist the urge to pledge allegiance and not bow down at their presence. There were a few moments where the couple remained standing in silence as if to bask in their own success; fully aware that thousands of people in the crowd were on the brink of heart attacks.
With reports that this tour has earned the couple £80 million, the concert was three hours in length, and comprised of over forty tracks. With such an impressive catalogue of songs between them, many had to be cut into bite-size chunks. Because of this, parts of the show appeared quite rushed. There was very little audience interaction from the couple; with the music being the real focus.
Half way through the show, Beyoncé introduced Nicki Minaj on stage for a surprise performance of 'Flawless'. Naturally not being able to understand a single word that Nicki said, I still enjoyed her performance, even if she does rap at the speed of light and even if I was paying more attention to her cat suit.
What I have concluded from the show is nothing new; Beyoncé is arguably the best entertainer in the world. I've decided that she is a robot, created by a higher being and designed to make women around the world feel inferior.
Appearing as absolute-airbrushed perfection, not a single bead of sweat escaped from her body during the entire show. As well as this, her legs don't move, as though carved out of rock and moulded by God himself. Her hair; long and golden, remained in tact throughout the night no matter how much she shook it around. Her voice didn't falter once and I could've sworn she didn't take a single breath in three hours. This woman is not human.
Also a great actress, there was a section of the show where she appeared to be on the brink of tears. Performing in a wedding dress and singing the lyrics 'Now she has half of me but she will never be half of me', followed by 'We were together for twelve years, how could you do that?' She took time to pause as if trying not to cry, before carrying on with the performance like the poster woman for Feminism that she is.
The show came to an abrupt end after a performance of 'Forever Young' and 'Halo', as we watched a video montage of their relationship, comprising of clips from their daughter's first birthday and their wedding. And, just like that, the pair walked off stage hand in hand as the words 'This is Not Real Life' once again appeared on screen. Was it all for show? We'll know in a few months when they file for divorce...or not.
HBO is set to release a film documenting the Paris leg of their tour, for release later this month. Filmed by Grammy award-winning director Jonas Åkerlund, I'll definitely be watching. I was so far away from the stage that it'll probably be like watching the show for the very first time.