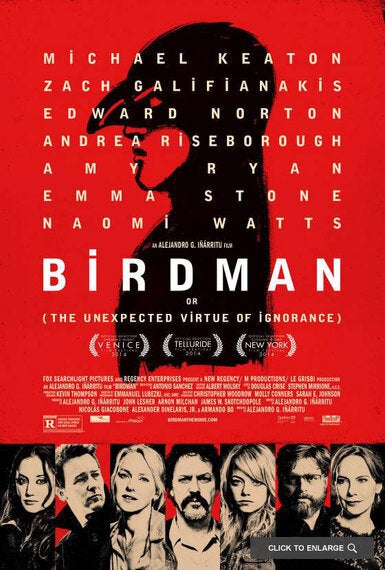 I judge how good a film is by the length of time it takes me to write the review. I saw Birdman a few weeks ago and have returned to my laptop several times in a frustrated attempt to write something good enough to do it justice. It's been a while that I've experienced such a severe case of cinematic writer's block. It's only the beginning of the year and yet we have already been inundated with enough spectacular films to make up for last year's lack of.
Birdman is a spectacular, intelligent, visually stunning and impressive work of cinema. It's both sad and hilarious. Thanks to the acting, the script, the lighting, the editing; it is an all encompassing and overwhelming cinematic experience that I cannot fault. It's a reassuring reminder of what greatness Cinema is capable of. With the help of academy-award winning cinematographer Emmanual Lubezki, (Gravity) Birdman was sure to be a visual masterpiece. It truly is a work of modern art.
Directed by Alejandro Gonzalez Inarritu (Babel) and starring Michael Keaton; Birdman is a black comedy that tells the story of a man's battle with his ego, and his quest for acceptance and notoriety. It explores the fragility of one's mind, and the idea of 'celebrity' and Hollywood, and the significance that each play in today's fame-obsessed society.
Keaton plays Riggan; an actor once famous for playing the iconic 'Birdman; a superhero in a trilogy of successful films. After rejecting the fourth instalment of the film franchise, Riggan's career goes down the drain (as well as his questionable mental state). In a bid to regain the public's interest in his dismal career, Riggan writes and directs (and stars) in a play on Broadway. As we follow him struggling to clutch at the handles of fame, there's a great line in it, delivered by a theatre critic to Riggan on the opening night of his play; "You're not an actor, you're a Celebrity." The line being so poignant you almost wish you could have paused the screen to allow it to sink in a bit longer.
Birdman consists of numerous continuous shots, many lasting up to ten minutes long. Scenes taking place on the theatre stage are filmed as if it were a play itself, with one camera shifting back and forth from actor to actor, making use of all the space on stage. It's moments like this that make Birdman a truly submersive film.
Supported by Edward Norton, Emma Stone and Naomi Watts; the cast is a force of its own. Stone is especially brilliant in a particular monologue, which she delivers towards the end of the film. Norton never fails to disappoint.
In short, I might have to see it again. It was so slick a film that I'm too scared I might have missed something so perfectly subtle.