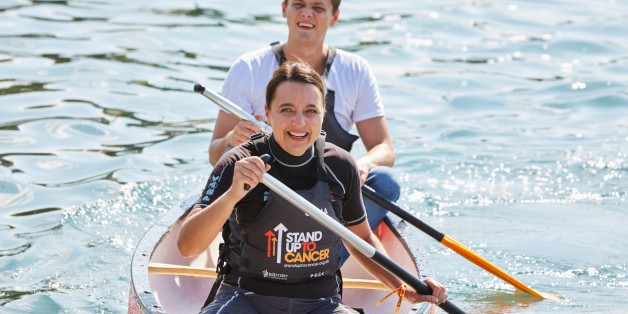 Stand Up To Cancer
When I was 41, I started to get abdominal pains. I was also having abnormal periods, which I put down to age. But after a couple of months the pain got worse, so I went to my GP who referred me for further assessments. After a few tests and meetings with various doctors, I was diagnosed with cervical cancer in October 2012.
The cancer was a grade 2 squamous cell carcinoma of the cervix staged at 3b. The consultant told me it was inoperable because it was attached to my pelvic wall. A nurse gave me a box of tissues, but I didn't cry - I just wanted to know what we were going to do to get rid of it.
I went through the worst time of my life, but also the most positive because I'd never felt more determined and focused. I had chemotherapy and radiotherapy which made me really sick. I had CT scans, two blood transfusions and a platelet transfusion. One day that particularly stands out was when I went through the excruciating pain of having internal radiotherapy. That was my worst day. But, strangely, it was also my best. My consultant had received my MRI scan results, she came into my hospital room grinning like the Cheshire Cat. "We've done it, it's gone!", she said, grabbing my hand. I'll never forget that moment.
I got the official all clear in March 2013 and a few weeks later I entered into a civil partnership with my partner of 20 years - another once in a lifetime moment.
I was fit and healthy before being diagnosed but during treatment I couldn't do any exercise, I couldn't even stand up in the shower. It took quite a while to build up my strength once I finished my treatment. I lost a massive amount of weight. But I've been determined to get fit again ever since and I finally feel strong. I try and exercise whenever I can. We have a dog walking business and I regularly walk 5-10 miles a day. I also have a treadmill, exercise bike, cross trainer and rowing machine at home and I use them as often as possible.
With my renewed fitness, focus and determination, I'm feeling ready to take on a new challenge, which is why I've signed up to take on Stand Up To Cancer's Great Canoe Challenge. I've recently lost two friends to cancer, including the person I went through my treatment with. She died this July and it's hard to describe how I feel. I know I'm lucky to be here and that's why I feel so passionate about doing something positive to make a difference.
The challenge kicks off next week. I'll be canoeing or paddling a marathon a day for five days. Some people might think I'm crazy but I can't wait.
This is a nerve-racking but exciting time for me. My five year appointment with my oncologist is on the Monday after we finish our final marathon and I'm hoping to get the all clear. All being well, I'm planning on getting a tattoo to mark the moment and celebrate.
Carla is taking part in Stand Up To Cancer's Great Canoe Challenge. Stand Up To Cancer is a joint national fundraising campaign from Cancer Research UK and Channel 4.The challenge is taking place from Monday 25 September - Friday 29 September. For more information visit: standuptocancer.org.uk/canoe, to support the Paddlers and donate £5 or £10 text CANOE5 or CANOE10 to 70404*, or donate online at standuptocancer.org.uk/canoe