"What is this, Pimp My Milkshake? Put a milkshake in your milkshake?" said a UK-based friend as she saw the pictures I was about to include in this article. The milkshake frenzy might have started gaining ground in London, but the Capital still has a long way to match Sydney's freakshake epidemic. Here's what milkshake fans can look forward to on a trip down under.
The baked one - Brewristas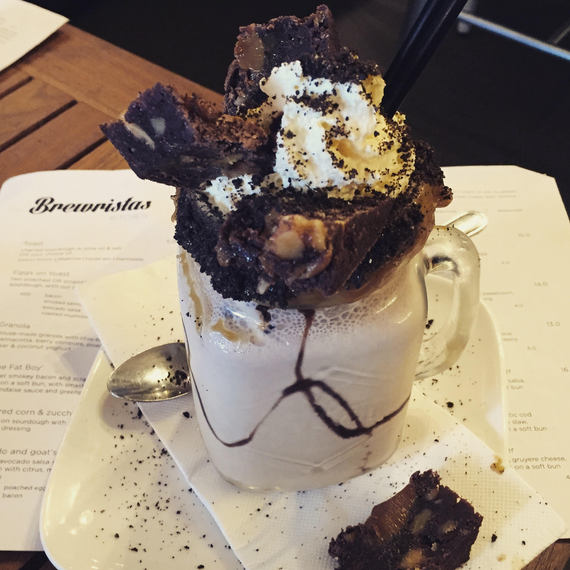 Created in partnership with baker Birgitta's Kitchen, the shakes in this experimental café known for its flawless coffee are a real treat. The Dulce Brownie Shake is made of dulce de leche, brownie chunks and loads of whipped cream. It's delicious and manages to be filling but not nauseating.
73 Glebe Point Road
Glebe
NSW 2037
Picture: Hannah Craft
The deadly one - The Pie Tin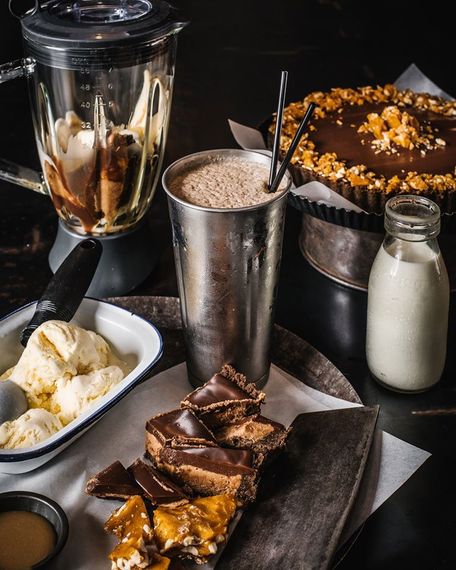 Imagine eating a huge, creamy, yummy cake. Now imagine crushing that cake, mixing it with milk and ice cream and turning it into a milkshake. This is what the folks at The Pie Tin in Newtown have thought of: The Slice of Pie is as delicious and deadly as it sounds and it includes your choice of cake from The Pie Tin. To die for - literally.
1° Brown Street
Newtown
NSW 2042
Picture: The Pie Tin
The pretty one - The Vogue Café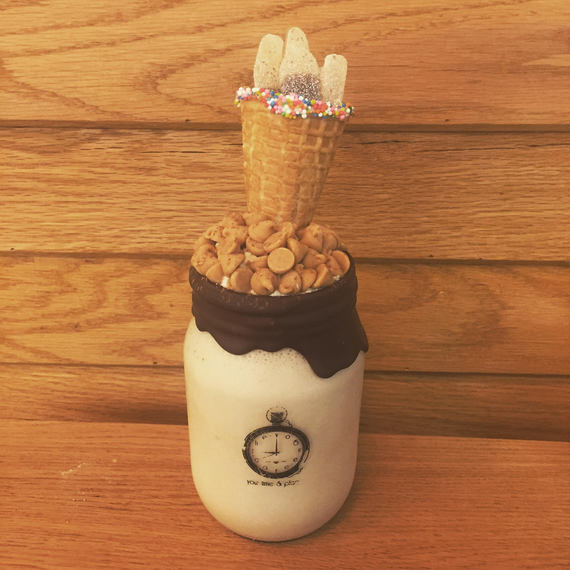 Before I even moved to Sydney I became acquainted with this tiny Macquarie Park café and its Instagram famous shakes. Don't be fooled by the weekend mall horde - these shakes are worth it. The Vogue Café does its own thing in a huge shopping centre, with its great staff and great ambience, all crafted to look cute and polished. Its classic peanut butter killer shake, served in a pretty jar and topped with cones, peanut butter choc and candy, is filling but not over-powering and fits perfectly with the carefully designed space.
Corner of Herring And Waterloo Roads,
North Ryde
NSW 2113
Picture: Carolina Are
The vegan one - Soul Burger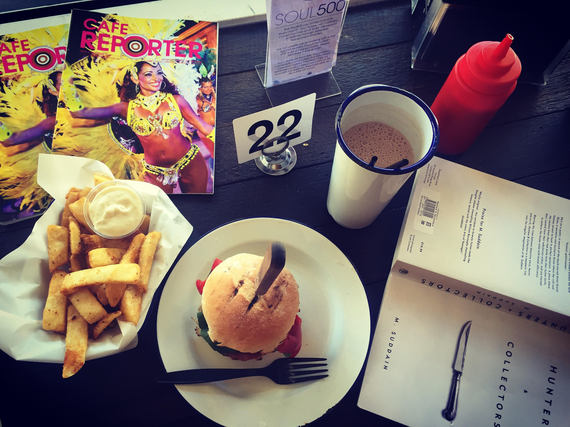 If you're sick of all this dairy madness, Soul Burger is the best alternative for you. Its vegan shakes are as delicious as its plant-based, meat-free burgers. Made with coconut ice cream, the Soul Burger chocolate milkshake has a lovely coconut after taste and won't weigh as much on your conscience.
49 Perouse Road
Sydney
NSW 2031
Picture: Carolina Are
The carby one - Foodcraft Espresso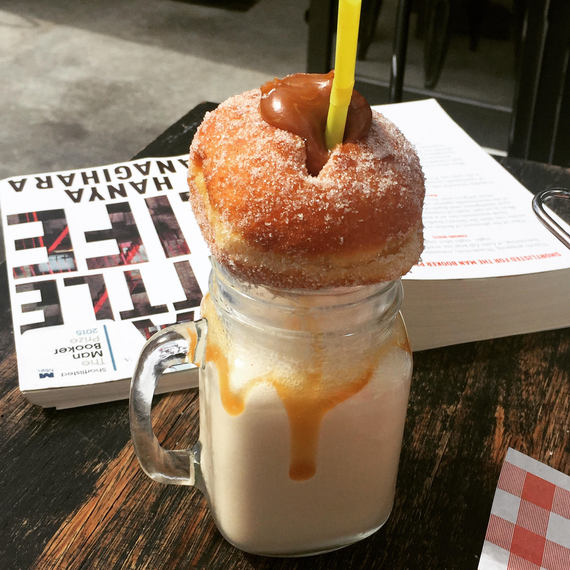 If a milkshake is not enough, just top it up with a doughnut. Foodcraft Espresso does it brilliantly with its world-famous "Tella Shakes", traditional milkshakes served in a jar with one of its home-made bakery doughnuts. Try their salted caramel Tella Shake for a sweetness overdose.
33 Bridge Street
Erskineville
NSW 2043
Picture: Carolina Are
The 50s one - Daisy's Milkbar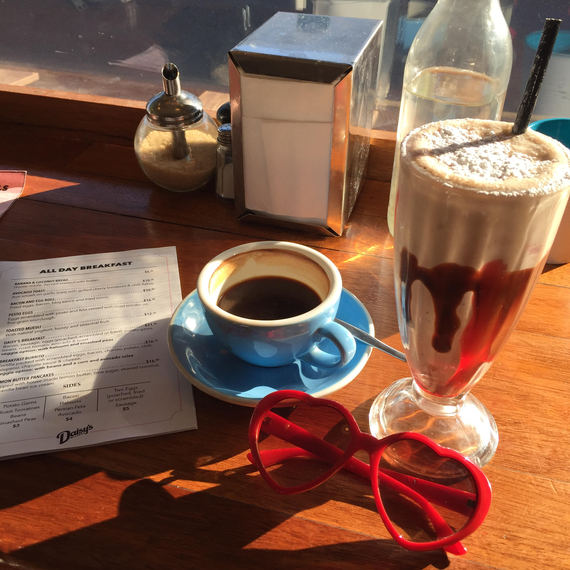 Inspired by traditional Australian milkbars, Daisy's features an original "Milkbar" sign from an old Petersham shop and has an impressive menu of baked goods and deluxe milkshakes. I had the Turkish Delight shake, a refreshing and different twist on your average milkshake, made with rose water and Daisy's own home-made fudge to make you feel like you're sipping an actual crushed Turkish delight. The place itself is a gem that seems to be jumping out of a 50s movie, with a pink door, checked curtains, cute drawings on the walls and lovely props such as a giant ice cream hanging in front of the window. Go in to get much more than just killer shakes.
340 Stanmore Road
Petersham, Sydney
NSW 2049
Picture: Carolina Are
The indulgent one - Paramount Coffee Project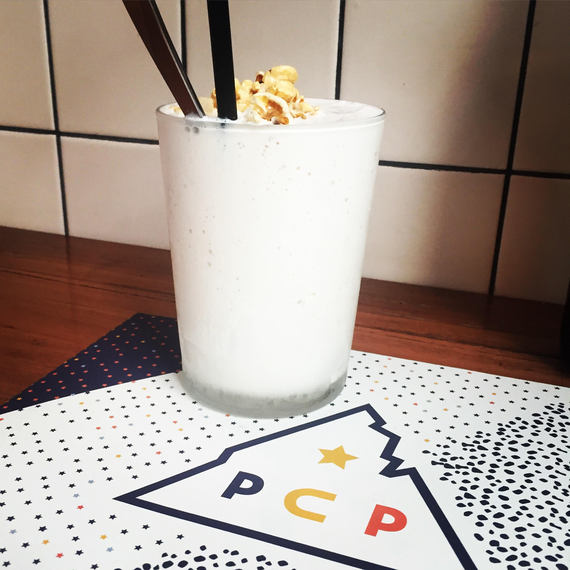 It would be reductive to limit your visit to Paramount Coffee Project to a milkshake, what with the café's stylish decor, ever-changing menu and exciting list of overseas café residencies - even Square Mile from London ended up taking over the old Paramount building's space for a week! However, it's milkshakes we're talking about here. The best café of the year according to the Sydney Good Food Guide constantly mocks up new shakes to get creative and break out of the brewrista grind, with stars like the signature PCP Coffee Shake and the incredibly indulgent, smooth yet not over-powering Caramel Popcorn shake. The shakes are all made with Merrickville's Serendipity Ice Cream Factory, which inspires the team to create each new flavour. Now the PCP team has even bought an ice cream maker and sets to take over the world - so more milkshakes to come!
80 Commonwealth Street
Surry Hills
NSW 2010
Picture: Carolina Are
The everything one - Milky Lane Bondi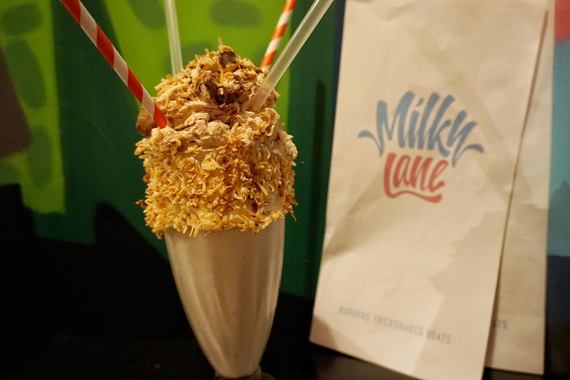 Every week the team behind this 'gangsta' joint in Bondi - featuring a rap-inspired mural of The Last Supper switching Jesus and the apostles with Tupac and other rappers - think up a different shake to fill you up with. The Mega Smash on last week's menu was an explosion of cream, chocolate and a Bounty bar, for a deadly yet tasty dose of coconut.
41 Curlewis Street
Bondi Beach
NSW 2026
Picture: Charlotte Howells from The Fashion Division
The kiddies' one - The Grounds of Alexandria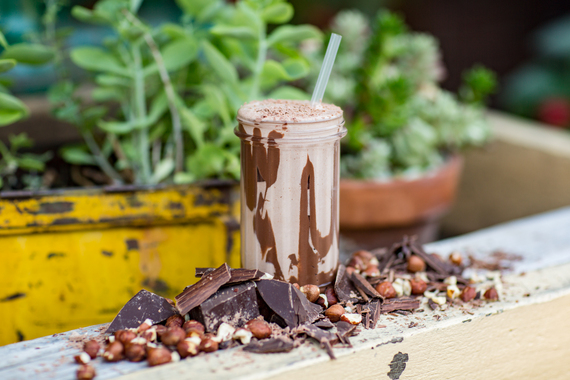 Everything at The Grounds of Alexandria is a gentle reminder that life doesn't have to be fast, that it's ok to take a break and reminisce about your childhood and the pleasure to sit down in a beautiful garden, surrounded by the people you love. It's this idea of family and lost childhood that inspires the Café's menu, with its Choccy & hazelnut shake being a reminder of founder Ramsey Choker's years as a kid. A gorgeous sight in itself, the shake is as 'choccy' as it gets, almost like drinking thick Nutella with chocolate chunks: a must-have, just like everything that comes out of The Grounds.
7°, 2 Huntley St,
Alexandria
NSW 2015
Picture: The Grounds of Alexandria