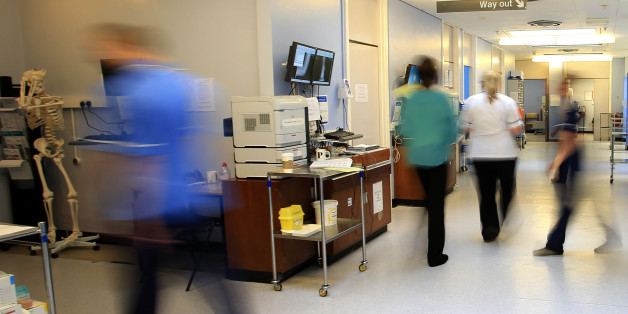 PA Wire/PA Images
For many midwives working on the front line, the latest figures revealing that maternity wards in England were forced to close 382 times in 2016 will come as no surprise. During the 33 years that I was a midwife, sadly, I also saw many maternity units close and it's extremely worrying to see that it's still happening.
A closed unit is a very busy unit and for both the pregnant women in the ward and the nurses, it can be an extremely stressful time. Once a ward is closed, many pregnant women can be pulled from pillar to post and forced to go to alternative hospitals, which can cause added stress at a time that is already quite daunting for them. This uncertainty around where mothers will be able to give birth is leaving some in fear that they could be caught out, and won't have the time to reach the nearest ward that is open.
Women need to know they are in safe hands when they are giving birth. But to arrive at their maternity unit to find it is too busy and they have to be turned away disrupts the whole ethos of antenatal care. The point of antenatal care is to provide woman with the knowledge and ability to be calm and in control when their labour starts - yet for some, the calm birth they have been promised is not mirrored in the services provided when a unit is closed or is short of staff.
In the serious medical negligence cases we've seen at Fletchers Solicitors, women have been left in labour for lengthy periods of time without a midwife with them, or the midwife has been expected to care for two women at the same time. There have also been instances where women have had to wait to be induced as staff were not available to start the procedure.
But perhaps the most concerning consequence of the staff shortages has been delays in operations taking place. We recently handled a case where a client was left waiting for a tear to be repaired for three and a half hours following a traumatic birth. As a result, she suffered excessive blood loss and needed an urgent blood transfusion.
From these figures, it's clear that our maternity services are suffering a severe staffing crisis. We are now at a crucial point where staffing and capacity issues must be addressed as a matter of urgency to improve the safety of maternity services. We must work to prevent more women from being turned away from the hospital where they had planned to give birth. It's up to the Government to start investing in the future of our NHS to alleviate the pressures on already overworked staff, otherwise resources are only going to become more stretched and unsustainable.