Kate Bush's announcement that she is returning to the stage for her first tour in 35 years is being greeted rapturously in quarters far and wide. The sound of the anticipation and interest has already prompted her to add another seven dates to the 15 originally scheduled, and the unknown ticket price is stopping nobody in their tracks. A gentleman I know in Melbourne is consulting international flight timetables as we speak.
Memories of the tousle-haired, physically graceful, uniquely expressive star's passionate stage presence are obviously as powerful as they ever were. This is not just nostalgia for good songs in times past, but something even more enduring - recognition of a rare talent, tucked away but, wonderfully, ready to treasure again.
Along the way, we've enjoyed a handful of successful female singer-songwriters too, the likes of Martha Wainwright, Tori Amos, Sinead O'Connor. Adele and Ellie Goulding have proved it is possible to be both popular and credible. And, more recently, Alison Moyet and Lisa Stansfield have thrown their respective hats back in the ring, encouraged by this reborn appreciation for the female voice and viewpoint.
The mainstream media, though, appears to regard them with, at best, a grudging respect, and the implication that they may be talented but can be a bit 'difficult'. Their physical changes are paraded for inspection, while their idiosyncrasies become more identifiable than their tunes.
Try Googling Sinead O'Connor, and the words 'divorce' and 'Miley Cyrus' (her recent open letter warning the young star of pop's pitfalls) appear as often as her songs. This is a woman who interpreted Prince's heartbroken ballad for a generation. And wore her raw heart even more trustingly on her sleeve with the beyond-anguished Three Babies. Where is the respect?
That same media is happier promoting the efforts on a group of ersatz 'powerful' women happy to hand over their look, their sound, their 'brand' to a group of almost all male producers, collaborators, money men, while they do the other bit - ie get their bodies into sculpted tip-top condition, camera-friendly from every angle, including obviously their own phone for the 'selfie' that has crept like moss into centre-stage position in pop culture.
Kate Bush could easily have gone down this road, in fact, she could have been the pioneer for it. Long before Madonna took advantage of Jellybean and co, Kate Bush was the young, female prodigy of Dave Gilmour. She was that young girl sitting in a studio with the looks, the sounds, the tireless enthusiasm, while older, wiser men deliberated around her.
She was, and remains, sexy in a way that few girls on today's pop catwalk might properly understand. Hers is a power that comes from within, based on self-belief, power of vocal expression, and an internal keg of passion almost mystical in its creation. With the word bandied around these days to describe anyone who looks half-decent on Instagram, Kate Bush really is a living, breathing goddess.
She had the talent to match, heard on songs from Man With the Child in His Eyes to Babooshka, from the soft lullaby of And Dream of Sheep to the anthemic march of Running Up That Hill. Musically, she can do anything she likes.
And, what did she do with all that power? She had the intelligence to realise how her talent could only be diluted by over-exposure, and the self-belief to opt for a quiet family life over the clamour of fans and follow-ups. She simply picked up her ball and took it away.
And now, she's back. And we know that it'll be because she wants it, not because she needs it, not because she can't think of anything else to do. But because she's got enough stored up in her creative tank to want to share it again. And that, to borrow from Robert Frost, has made all the difference.
So when someone of Kate Bush's calibre, and let's face it, there are very, very few about whom this can be said, says she's stepping back up to the plate, it's a day of celebration. Of nostalgia. Of getting back to what should matter in the music industry - the music.
But it's more than that. It's a call to arms to all those female artists who think a selfie is the only means of self-expression.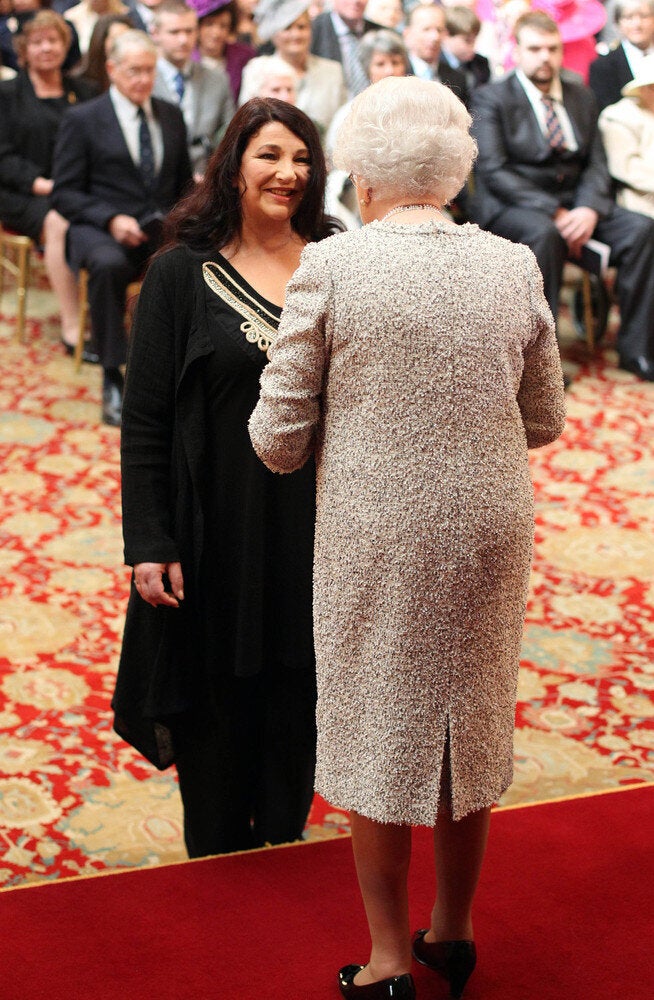 Kate Bush through the years
Related