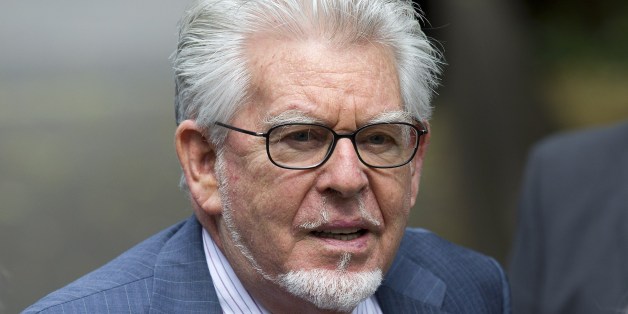 JUSTIN TALLIS via Getty Images
Back in 2008, I was working for an Australian newspaper and was sent to interview the special guests turning up to perform at the ARIA Hall of Fame Awards, where the Australian Recording Industry honours its own. The recipient of that year's gong? Rolf Harris.
I was always happy to meet any British favourites when they turned up Down Under, and - as for any British child of the 1970s and 80s - here was a particular gem.
In the sea of unknown Aussie rock royalty that greeted me in the hall where they were all rehearsing, I spotted his familiar face. Complete with a jaunty coloured blazer, Mr Whippy hair and a big grin, Rolf was a welcome sight in that intimidating environment.
And when we were introduced and he heard my English accent, he was friendly, giggly, conspiratorial, exactly what you would hope for in a television hero from your childhood. We linked arms for the customary photo opportunity and fixed our grins in unison. My colleague and I sniggered about the ewww factor that always accompanied such encounters - I don't do PDAs - but there wasn't any told-you-so weirdness about this one. That came later.
So, the big evening came and went. After a catalogue of the country's biggest bands doing their thing, Rolf Harris came on and performed Tie Me Kangaroo Down, Sport to polite applause, then came the Jake the Peg routine. And then he dropped some tears on stage as he was presented with his award, and there was a bit more polite applause.
I had a little room set aside back stage, where I was video-interviewing all the winners on camera as they came off. Rolf was the very last one, and I was pleased to see him come through, sit down and mop his eyes.
But the tears would not stop. He was utterly inconsolable, one minute overwhelmed by receiving a prestigious gong from the country of his birth, the next how much he loved Australia, and the next regaling me with how hard he'd worked to little reward here. The tissues came out, the tears would not stop coming. I was helpless, and should have been moved by the palpable nostalgia, and obvious regrets, of an emotional old man wallowing in an audience's warmth and reliving the highs and lows of his career.
And yet... the journalist in me squirmed. Hadn't I seen these same tears pouring forth back in England, when he'd had the chance to paint HM The Queen and it was voted one of her best ever portraits? And hadn't Rolf left Australia without a backward glance more than half a century before, first to attend art school and then to grab the many opportunities he had in the UK, both as an artist and one of TV's most popular children's entertainers? Why all the regret? And... hang on a minute... why was he sneaking a peek to check I was still watching him between his sniffles? It all felt most peculiar.
Most of the interview was unusable, I decided, as I threw it in the bin on the way home. But that wasn't the only reason. There's been much description of Rolf Harris's Jekyll and Hyde character in the past couple of days and I wouldn't presume to know anything about that. But I did see him in action - a man who turned on the sentimental tap when it suited him, and then checked to see the effect it was having.
I didn't suffer anything like the horrors of those girls who've bravely come forward over the last few months. I just had the slightly unsettling experience of spending a few strange minutes in the presence of an entertainer considered a national treasure on two continents, but who proved ultimately a complete phoney in a jaunty blazer.
PS Rolf Harris was today stripped of his induction into the ARIA Hall of Fame 2014 following his conviction for indecent assault.