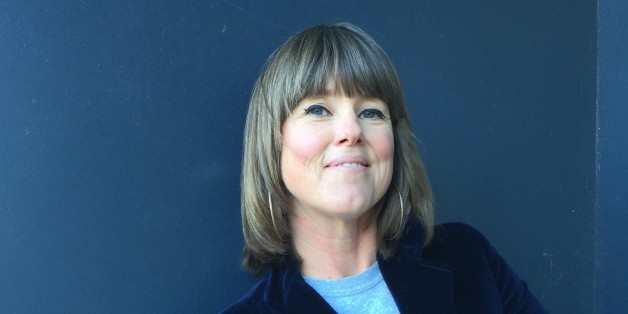 Knickers Models Own

I have always felt entirely comfortable wearing other people's unwanted clothes, mixed alongside those of my own. Inherited items, charity finds and brand new treat-to-self purchases, all blending together to make my tightly edited wardrobe 'sweat the asset'.
As a child of the 1970's, click and collect via the world wide web didn't factor, instead I relied on cousins' hand-me-downs for my fashion fix. The excitement of delving into a bin liner and pulling out cheese-cloth shirts, Wranglers, a worn pair of clogs and just occasionally, oh joy of joy, a bundle of well thumbed Jackie magazines. This was my ASOS fix, old skool. Growing up and into adulthood, wearing preloved (it's new, shinier handle) has enabled me to put my own spin on things: to stand out, to blend in, to hide, to be comforted, to be relevant.
Rather fittingly, fashion would become my cloak of protection in helping me to cope with my grief following the death of my mum Mary, to breast cancer. On 1st January 2015 I launched 'Knickers Model's Own' (my pants always my own, obvs), fundraising for Cancer Research UK. I set myself the challenge to source, style, to be photographed and to post 365 different daily preloved outfits across my social media channels. Duvet days were not an option.
With the support of followers, brands, the media and donors my campaign went on to raise £63,000 and become part of the slow fashion conversation.
In April 2016 my book, a style journey through my year: 'Knickers Model's Own - a year of frugal fashion' (all proceeds to CRUK) was published, with cover portraits by Rankin and foreword by designer Henry Holland.
It would be easy to say that my campaign was a distraction, a bit of charity fundraising-light ("no running or sweating involved" as I first joked to my close friends). Not so. The more eyes were on me, the more I pushed myself: in front of the camera; in my written word; speaking publicly; giving press interviews; trying to balance life broken down into 365 defined days. Family and friends were of course wonderfully supportive but I never expected strong colours, a powerful heel; an attitude lippy to be my shielding armour.
But set against those darker days came wonderful new learnings about myself.
I like who I am. I am my mother's daughter and I see flashes of her every time I look at my photographs. Yes I have inherited a wobble of the upper arm but I'm also blessed with strong, poker straight, natural coloured hair; trouble free skin and good teeth. I've learned that good posture, the art of bothering and wearing the right colours transform me. Some would say these are tricks of the eye - I would agree.
I don't think about my age, nor see it as a barrier to anything. The diversity of fashion bloggers (age; body shape; the variety of styling genres to name a few) shows how easy it is to fit in online and to be accepted. I surround myself in a thriving community of gorgeous; bright; articulate; thoughtful people. Age seems somewhat irrelevant and rather last century.
I strive to be myself putting my own styling spin on things, a meld of stuff I find, stuff I love and stuff I can't let go of, always with one eye on the passing seasonal trends and my memories of the eras that have influenced me. I'm old enough to know that fashion goes full circle, over and over, season by season, a reassuring repetitive pattern where preloved stands strong with new. As Alexandra Shulman (Vogue UK editor-in-chief) brilliantly puts it in her book 'Inside Vogue - A Diary of My 100th year' 'some vintage and some contemporary fashion is almost indiscernible' and of course she's right, there is no difference, just the blurring of hemlines.
As London Fashion Week draws to a close my lasting memory will be of Bay Garnett, contributing editor for Vogue UK opening with a beautifully edited preloved collection from Oxfam, which naturally the fashion press loved. It's official, preloved has gone FROW.
This February, HuffPost UK Style is running a month-long focus on our Fashion For All campaign, which aims to highlight moments of colour, size, gender and age diversity and disability inclusivity in the fashion and beauty world.
We will be sharing moments of diversity at London Fashion Week with the hashtag #LFW4All and we'd like to invite you to do the same. If you'd like to blog about diversity or get involved, email us here.