27th November or Black Friday is almost upon us. That recently popularised annual event when retailers slash their prices in anticipation of a buying frenzy like no other. Last year there were arrests, injuries and probably a fair obscenities muttered as shoppers grabbed and grasped at electricals and other non essentials (that they possibly didn't need or even want) like their lives depended on it.
What I really despise about Black Friday, apart from the rampant consumerism that it represents, is the loss of manners, concern for others and sense of civilised society that it seems to engender.
So this year (and every year) I am shunning Black Friday in favour of #GreenFriday!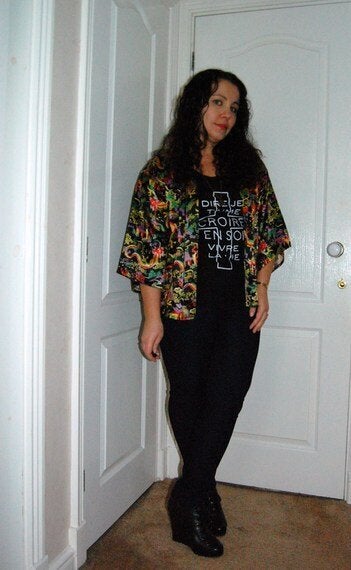 I will be wearing secondhand kimono jacket upcycled from a dressing gown, staying at home in the warm, away from the craziness and queues of Black Friday and well away from any online stores, except perhaps some of my favourite online second hand clothes stores.
For those looking for a get out of Black Friday, there plenty things happening next week, which also happens to be #secondhandfirst week, a decidedly more sustainable annual event organised by the charity TRAID. There will be late night charity shopping in TRAID stores around London, talks, upcycling workshops and lots more. If none of this takes your fancy, why not drop into your local charity shop to see what they have on offer, you might be surprised by what you find.
Join me by tweeting about your fun and eco friendly alternatives to Black Friday with the hashtag #GreenFriday. Wouldn't it be great if we could get it trending!