Comic Con is here once again! It's like Christmas and Halloween rolled into one and I've finally got my badge, thank the Old Gods and the New.
For three days, I'll witness bat shit crazy outfits, gawk at some of my favourite sci-fi/ fantasy stars (I'm looking at you Dominic Cooper), and enjoy free food! Ha! what's not to love?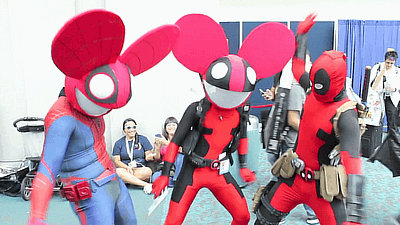 My AudioBoom squad will be there, too, giving out cool stickers and recording interviews with attendees, artists and vendors throughout the weekend.
For those of you who can't make it this year, catch some of the highlights and dark arts on AudioBoom's exclusive Comic Con MCM London channel right here!
And if you still want more geeky goodies for your ear hole check out my pop culture podcast recommendations below.
History of Batman with Londyn!
Duh-nuh-nuh-nuh-nuh-nuh-nuh-nuh, BATMAN! Part of the Meltdown podcast network, History of Batman with Londyn! revisits the defining moments of one of the most iconic figures in comic art and literature. Hosts Londyn and Adam go scary-deep into Dark Knight mythos and minutiae and they get the best guests. My favourite episodes include interviews with clinical psychologist Dr. Andrea Letamendi and comic book artist Kelley Jones!
Check out the episode where they match your favourite Batman with the relevant comic
Each week host Alice Taplin explores the hottest news from the world of gaming including very exciting previews, the latest game reviews and some pretty cool conversations with the industry leaders. I really love the special episodes exploring the everyday cultural impact games have on our lives.
Check out this episode with the voice crew of Mirror's Edge Catalyst
Comic Book Club is a LIVE weekly talk show about comic books and pop culture. Straight outta NYC, the show features an amazing range of of comic book creators and comedians. And they're not afraid to tackle politics: comedian Ben Kissel joined a recent show to look at which super-villain each 2016 Presidential candidate might be. Will make you LOL!
Check out the episode when the Daredevil writer, Charles Soule, takes a dare
The official podcast for Famous Monsters of Filmland magazine, this show goes behind the scenes of classic horror and sci-fi/fantasy films through the ages by interviewing top artists, stars, and filmmakers of the genre. Host David Weiner gets really interesting guests like X-Files writer/producer Glen Morgan and American Werewolf in London makeup effects maestro Rick Baker!
Check out their recent episode recorded live at WonderCon 2016
Created by Joel Meadows as an incidental fanzine, the Tripwire Magazine podcast evolved into an online source for news and commentary on comics, film, music and more! The show features recent interviews with the likes of artist Eddie Campbell and WETA's Richard Taylor and blows the dust off older interviews from the magazine's archive.
Check out Joel Meadows' transatlantic phoner with Harlan Ellison from 2013