Fashion's shows are like run ways for goddess giants from another planet. You get invited the view the latest collection, but you leave feeling ugly, fashion conscious, and scared you look a hobbit.
UNLIKE, a regular runway used for a plane to take off on, these runways have real life stick thin beautiful models charging down them. These glamorous girls are tall, leggy, and have immaculately airbrushed faces.
Lights, camera, music, action, and the show has began! Towering above you, the gallant giant girls strut their stuff down the brightly lit runway. As they walk, their golden locks bounce up and down and their toned legs shimmer in the light. Where have these gorgeous giants come from? Oh, and there is you, that small, rounded, dwarf who is sandwiched between people on the second row at the Peter Pilotto Fashion Show in London. Sporting the more conservative Eskimo look, you haven't even taken off your coat, which is so long it nearly covers your feet. " Are you not hot in that coat?" says the well-groomed Fashion buyer to my right. She is one of those really annoying pretty people; you know the type! Pearly white teeth, faultless skin, silky smooth hair to die for, and effortless dress sense. She is one of those, 'I just threw this on!' You're thinking to yourself, yes it is like a bloody sauna underneath here, but trust me, you would not want to see what I have thrown together underneath this coat. But in stead you say, " No, no, I am actually quite cold". She looks at you oddly, whilst pulling a very awkward sideways smile.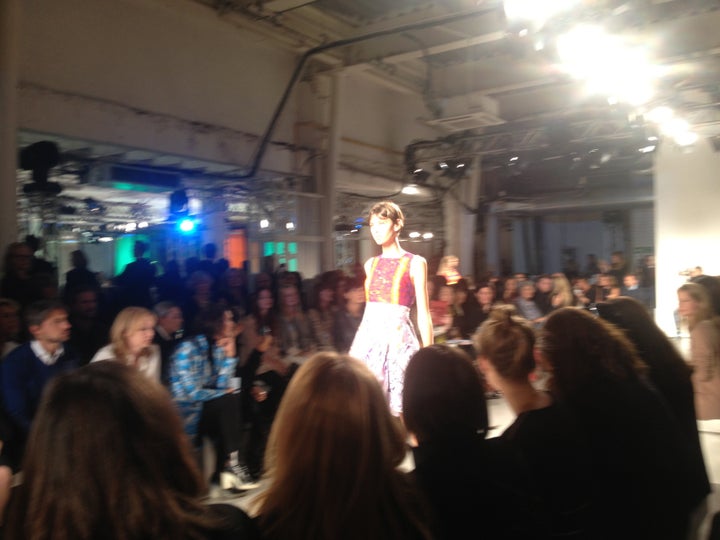 As you're sitting on the bench watching the show, you pear down to look at you're feet which don't even touch the ground. This is when you realise the extent of your dwarfness! You glance down both directions of the row your sitting on, and notice nearly everyone else's feet can touch the floor. And, I don't know entirely what urged you to do this, but you felt the need suddenly to swing your legs up and down like you were on a swing. Suddenly you were doing this fast now, quickly, up and down, up and down, and BANG, you did it. Yup. You kicked the person in front of you! The poor lady of course turned to look at you. Yes, you guessed it; she was flawless and just perfect in everyway. Her lips perfectly plumped up like Angelina Jolie's, and her skin like Miranda Kerr's. I mean, she was drop dead gorgeous! I think she was trying to frown or maybe look angry but she just looked pretty. " Honestly, I am so so sorry", I say beaming bright red ad sweating underneath my Eskimo coat. " Are you okay?" I say.
"I may be best to keep your feet down in future" the flawless lady says. You're thinking to yourself, Well... I would try this, if my feet actually touched the floor!
Related