Tight fitted mini skirts, hooker heels, leather pants, biker boots, even bridal dresses. You name it, London Fashion Week has certainly got every type of look you can imagine! What if you're not the sort of person who likes to stand out? Well, hang around a few shows at Fashion Week and, trust me, there are looks/outfits you did not even know you could create, being a human!
The pale ginger tall lanky girl greets you wearing a multi-coloured tie-dyed fluorescent sucky tight 'you-can't-breathe-dress'. She obviously hasn't eaten anything all day, hoping that the elastic round her stomach doesn't stretch too much. She tells you to wait till four to go in before the show starts. Of course you have got there too early; you want to lurk and see if you can spot any celebrities!
As more people flood in, you are now in a sea of Gucci, Chanel, Prada, Ray-Ban and more sunglasses. How are you supposed to spot anyone? And it is definitely not sunny in this room. You suddenly realise you're the only person here who's NOT wearing sunglasses. Great, now you feel like you're the centre of attention and everyone can see you!
Seated, lurking, you study your surrounding fellow fashion buddies still trying to spot the celeb. You notice a furry hovering creature being shown to his seat. This man is dressed in some sort of wader fur Eskimo coat. The colossal oversized garment is clearly too big for him, drowning his entire body and you can hardly see his neck. He must be bloody boiling in that! All you can see is his slick grey gel-like hair combed back so it appears permanently stuck to his head. Next, an oversized man dressed in some sort of tiger outfit tries to find his seat in the row in front of you. You did not realise it was fancy dress! And second of all, the super-sized man can't fit down the isle to his seat and decides it may be best to squeeze onto the end seat instead. The glamorous blonde-haired lady with black glasses moves up so tiger man can sit down. Not only does his outfit resemble a tiger, but he also has leopard print dots shaved into his hair. Of course he's wearing matching sunglasses. What a vision.
The music starts, the show begins. Three stragglers literally jump into your row whilst ducking down, supposedly trying to let people see the runway. One straggler awkwardly reverse back up slowly trying to confirm to himself and his fellow stragglers that there are no seats available. He manages to squash on the second row making the poor lady at the opposite end nearly fall off her seat.
Luckily, you do manage to spot a celeb. Alexa Chung! Of course she is sitting in the front row, I mean why wouldn't she be! She is gorgeously dressed in a puffy yellow skirt complemented by a wool-like baggy jumper. You also get super excited when you witness Cara Delevigne strutting her stuff down the catwalk. Amazing.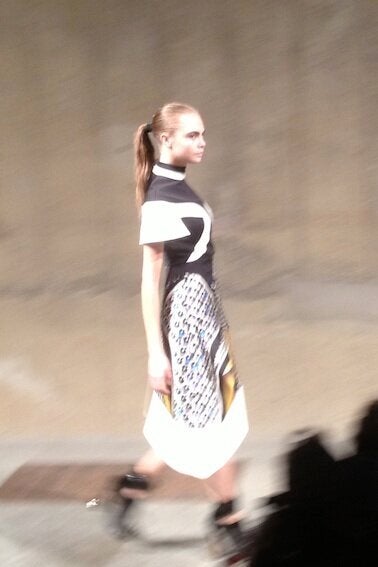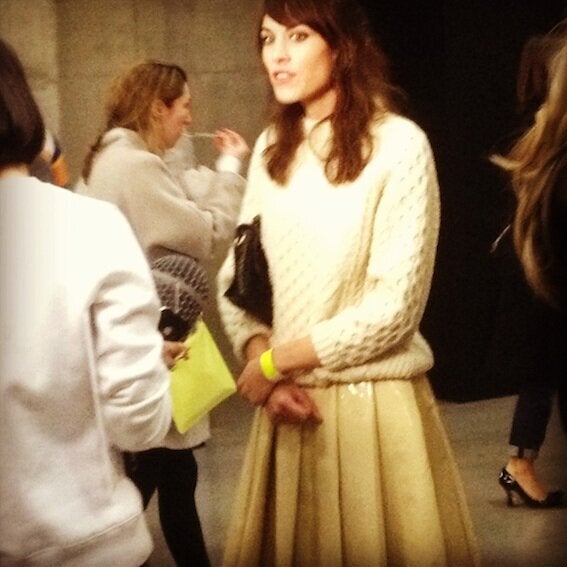 After the show you're walking out, and you notice another zoo-like character. Hanging from his nose is a metal ring. This is not a small accessory; he has got a whole bird-like creature dangling from nostril to nostril. The man has a mane of untamed wild hair with the appearance of not being washed or brushed for several years! His matted long tribal-like hair is definitely an interesting mental picture. If that is not odd enough, he is also wearing his top backwards. Now, correct me if I am wrong, but I was definitely taught to wear my shirt the right way round!
All in all, London Fashion Week is a circus of extravagant looks, with each caricature out to compete against the other. Next time you decide to make a trip, it may be a thought to check out your local fancy dress shop first. Who knows, you may decide to dress up as a zebra!