I love the online food community and one of my most recent finds was Sous Chef website specialising in hard to find ingredients. I've brought a couple things on there, but what caught my eye with my most recent purchase was the seasoned cassava flour (farofa pronta in Portugese).
You see I've had a long love affair with farofa when I visited Brazil almost 10 years ago. I love the flavoursome sand like ingredient which was served often with the national dish, fejoada, but also with chicken and fish. When I returned to the UK, I searched high and low for farofa, I even went as far to purchase the West African ingredient made with cassava tubers, Garri but as there is not a Brazillian community where I live, I wasn't successful. But as I love cassava and with many hard to find items available online, I knew it wouldn't be a long time before this was available online.
Instead of serving farofa as a side accompaniment, I decided to use this to create a coating for some chicken pieces which were crying out to be used. This makes a delightful change if you want to change up the mid-week chicken meal.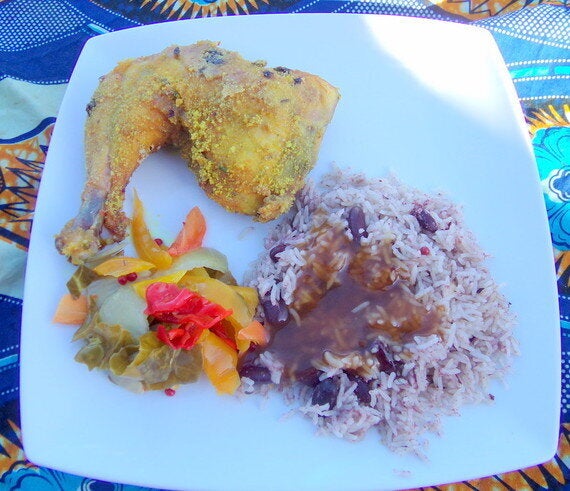 4 Chicken legs quarters, skin off and still jointed
1 spring onion, finely sliced
2 garlic cloves, finely chopped
1 teaspoon fresh chopped parsley
1/2 teaspoon pink peppercorns or black peppercorns
1/2 teaspoon garam masala
Start by marinading the chicken. Place the chicken in a large mixing bowl, season with spring onions, garlic cloves, parsley, pink peppercorns, salt, garam masala, cumin and turmeric. Mix well using your hands and leave to marinade for around 4 hours. Crack an egg yolk into a bowl and whisk. On a side plate add the seasoned farofa. When you are ready to cook the chicken, preheat the oven to gas mark 6, set up the convey belt ..... Dip each piece of chicken in the egg yolk, then coat with the farofa and place in a large oven dish (you may need two). Repeat until all the chicken pieces are coated. Place the oven dish on the top shelf of the oven and cook for 1 hour.