June, July and August are the best months to sample mangoes. They are much cheaper this year and with many exotic fruits more accessible in the Summer months, this is the best time to sample fruits from around the world. I love mangoes, they are very versatile and are great in both savoury and sweet dishes. For many years, I ate mangoes the Caribbean way which is to peel the skin and eat the flesh without slicing. It was a messy affair and I'm trying to be more adventurous in using mangoes. As I'm eating more fruits in savoury dishes, I've developed a craving for plump mangoes.
Near where I live there are stalls at my local market which sells a bowl of mangoes for a £1. Not wanting to waste several mangoes, I went ahead and made some mango jam. If you can't get your hands on mangoes, make pineapple jam or papaya jam. Just make some exotic jam. The heaped tablespoons of jam is a tropical burst in an otherwise ordinarily plain American pancakes.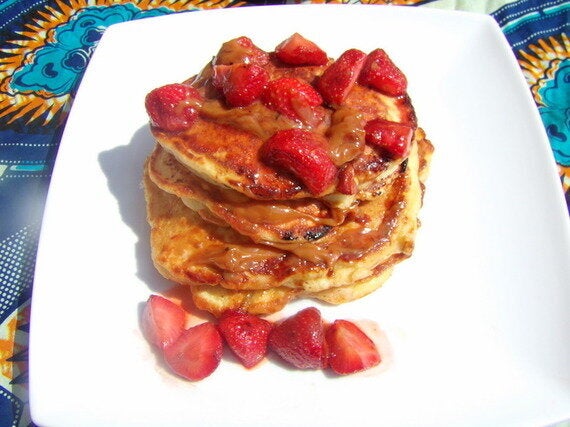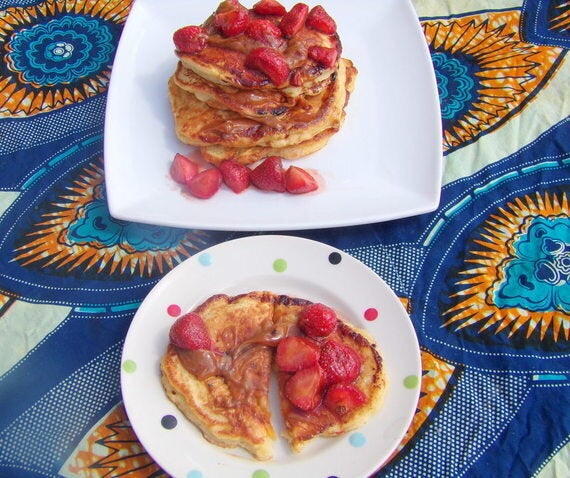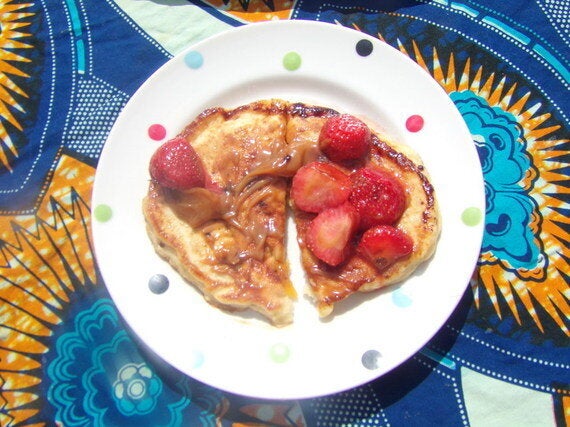 You will need a frying pan and mixing bowls
3 tablespoons of mango jam
2 tablespoons demerara sugar
3 tablespoon vegetable oil
In a mixing bowl, whisk the eggs, milk, mango jam and demerara sugar. In a separate bowl, mix the self-raising flour and baking powder, make a well in the middle. Pour the milk-egg mixture into the well and whisk until you have a smooth batter.
Pour the oil in the frying pan and using a soup ladle add the batter to the frying pan. When bubbles begin to form flip over and the underneath pancakes is a golden brown colour, flip over. This may take between 1 - 1.30 minutes. Transfer using a slotted spoon and place the cooked pancakes on a plate with kitchen paper. Top the pancakes with Summer berries and salted caramel.