One of the great things about living in a multi-cultural diverse city is that you can find readily available ingredients from all cultures within a few miles radius. I love Middle-Eastern food, I'm aware that it one of the current food trends, but I sampled Middle Eastern almost 14 years ago, as a teenager (one of my closest friends is half Jordanian). The spices commonly used in Middle Eastern cooking are full of flavour, but there is no heat. I love heat, but I do not want to necessarily want to eat spicy food every day (maybe every other day), but I always want flavour, lots of it.
I had a number of what I consider to Middle Eastern spices and condiments and wanted to perk up a Sunday roast chicken, with a combination of Preserved Lemon, Za'atar and Honey Roast Chicken. The honey was a last minute and yet wonderful addition to an impromptu rub; it helped to add a golden glaze and to crisp up the chicken. The roast chicken, took the normal to the extraordinary, the preserved lemon and it's juices helped to keep the chicken moist with a slight hint of citrus, the za'atar added an additional depth and the honey further flavour. You must give this a shot.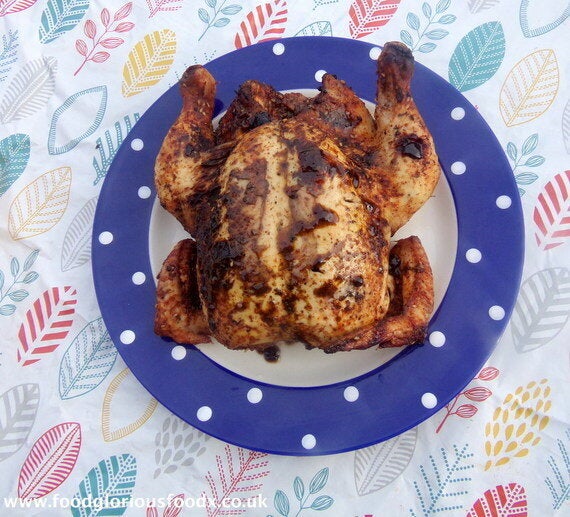 2 tablespoon preserved lemon juice
1/2 teaspoon cayene pepper
Preheat the oven to gas mark 5. Insert the preserved lemon in the chicken cavity. In a mug, add the preserved lemon juices, salt, black pepper, paprika, cayenne pepper, za'atar and honey and give this a good whisk until everything is mixed well. Using your hands, smoother the chicken all over with the marinade. Place the chicken in a large oven tray and cover with foil. Cook for 30 minutes, then remove the foil from the oven tray. Cook for additional 40 minutes, or until when a skewer enters the chicken thigh, the juices run clear.