Tucked away among the legends of Island Records in the 1970s was a songwriting teenager from Teeside called Claire Hamill. Thrust into the spotlight at a tender age, she may not have set the singles chart alight, but she's a survivor who's explored musical forms well beyond folk, rock and pop, from excursions into pre-rock styles to New Age experiments. As we talk on the eve of her 11th album release, When Daylight Arrives, she is charmingly candid about all the ups, downs and in-betweens of her five-decade career.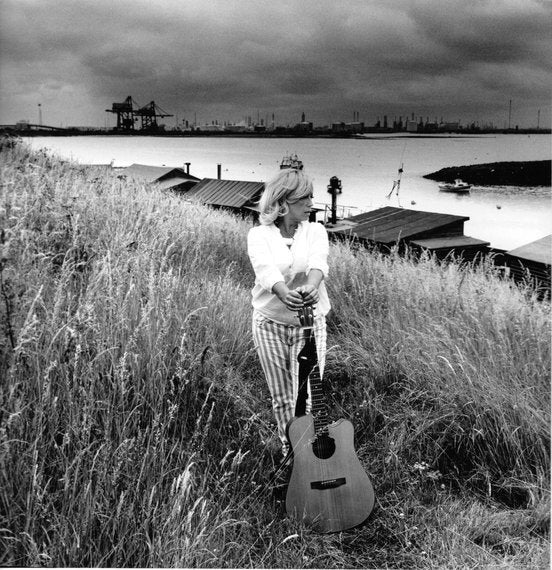 "I felt like I was walking on air. I had literally gone from the classroom to the recording studio," says Claire, recalling the moment in 1971 when, after auditioning for Chris Blackwell, she came to London and began work on her first album. "I was taken into a cavernous room and told to sing into 'this microphone'. I remember hearing my voice through a beautiful sound system for the first time. I felt that the world was mine to conquer - I was on my way to the top."
Musicians on Claire's first album included the late John Martyn. After a romantic liaison, they became friends. "I had a lot in common with him," she recalls. "He was younger than his contemporaries. He had a Glaswegian father, like me, and he was signed to a rock label but was essentially a folk artist".
The album, One House Left Standing, was a wintry-sounding collection, cloaked in pastoral arrangements, some by Paul Buckmaster, with Claire on acoustic guitar. In addition to Claire's material, it contained a Joni Mitchell song, 'Urge For Going', which had the cachet of not having appeared on any of Mitchell's albums. A promotional ad in Time Out, in what now seem like astonishingly sexist tones, read, "When most girls are frantically hunting husbands, starting work in Woolworths or learning to type, Claire has finished her first album".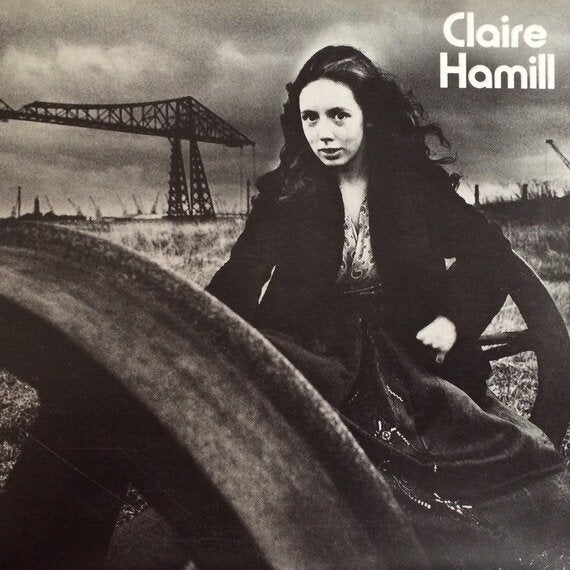 One House Left Standing, 1971. Photography: Visualeyes Agency
Claire jumped head-first into the louche rock 'n' roll capital. "I was exposed to everything the business had to offer," she confirms. "I spent my advance on rooms in the Portobello Hotel, Notting Hill and British Airways tickets to Teeside. Once, I left all my luggage behind when I flew home. When I collected it on my return, the receptionist told me that it was next to Alice Cooper's snake!"
As Chris Blackwell had feared, Claire was swiftly exposed to grown-up refreshments. "It certainly changed me," she confesses, "but I managed to escape drugs when I got married. I'd already booted cocaine into touch but I was smoking pot on a regular basis. I never touch it now - too addictive".
Next, she was dispatched to North America. "I opened for Jethro Tull. I had never even been to a football match or in front of an audience of more than 500. Here I was in front of over 20,000. I was blown away!". As a 17-year-old on the road, she had to grow up fast. "The world was extremely sexist in the 70s", she sighs. "During that tour, I overheard one DJ tell my minder, 'Hey man, what's wrong with that girl? She's not coming across, know what I mean?'. I was astonished." Ever the free-spirit, on occasion Claire resorted to drastic action to nip rumours in the bud: "My label manager let it be known that the crew thought I was gay because I hadn't pulled anyone on the tour. I promptly slept with the lighting guy to put that to rest. Yes, I did fancy him, but really!"
For Claire's second project, Island pulled out all the stops, hiring Paul Samwell-Smith, fresh off the back of his success with Carly Simon's Anticipation, to produce. Along with some of Cat Steven's band, she was ushered to Richard Branson's Oxfordshire studio, The Manor. "It cost a lot of money," says Claire. "£17,000 - quite a big bill in 1973." To this day, the album, October, is considered the pinnacle of her early output. It was a confident record and Claire's vocals exhibited a colloquial flair, looser and more relaxed. The album came in gatefold format; the cover a watercolour of the sky reflected in a puddle, the additional sides printed with Litchfield photographs of Claire frolicking in Richmond park and staring moodily through a rain-splashed window.
The record's centrepiece was 'Speedbreaker', a stroke of musical genius that not only fused folk with r'n'b rhythms in the manner of John Martyn, but was also about him. "It will always be in my heart," says Claire. "I wrote it for John, for whom I had the greatest respect and love. But it's also about another wonderful man in my life, on whom I also had a big crush, Alan White [drummer and percussionist on October]. I think the solo he played on the song is the greatest thing he's ever done." She remains proud of album's "exquisite sound and wonderful playing".
Next, Claire moved to Konk, the label owned by the Kinks, for Stage Door Johnnies (1974) and Abracadabra (1975), produced, respectively, by Ray Davies and Claire herself. The albums framed her writing in a folk-rock setting, with some tracks, such as 'Forbidden Fruit', evincing qualities of Maria Muldaur. "I had toured the USA twice and was really into being a rock diva. I was hanging out with Yes, pushing my voice to its limits, smoking pot and drinking. You can hear graininess in my voice. What a little madam I was! I was barely 21. I thought I knew it all. How wrong can you be?"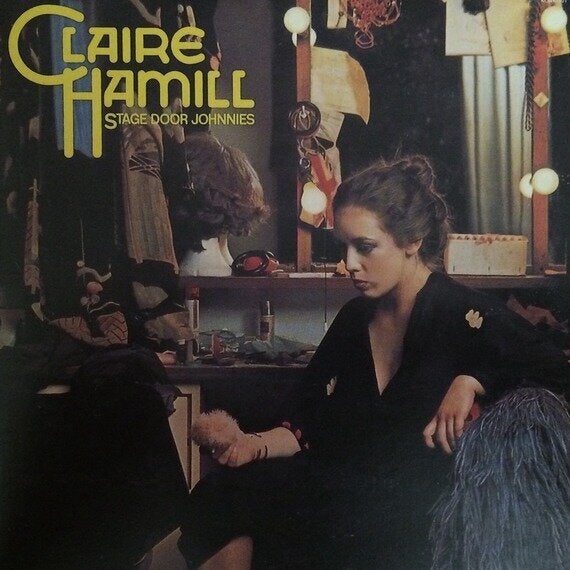 Stage Door Johnnies, 1974. Photography: Monty Coles
Wrong indeed. because Claire's solo career was about to falter. Konk wanted her to record covers, so she sought refuge in a guest slot with Wishbone Ash before going solo again with Touchpaper (1983), a foray into synthesised art-pop. Then came an unexpected transition to New Age. "My then-husband, Nick Austin, invited me to make an album just using my voice. At first, I was bemused but when the engineer told me how fantastic and unique it was, I started to love it. It happened at a sweet time in my life. I'd just had my first child, Tara, and was living in the country". Voices was the resulting album, created entirely by multi-tracking and sampling Claire's singing.
Since then, Claire has worked her way back to the singer/songwriter style with which she first made her name, but in an industry that has undergone massive change, she's had to conjure new ways of funding herself, reaching into her own pockets. "It was just time to sell my house anyway," she says. "The kids were all living in London. I'd been re-mortgaging every time I needed a new car or to send them off to university. I thought, what the hell - sell now."
Claire calls her new album "folk with a jazzy edge". It features, for the first time, Claire co-writing with her late sister, Louise. "She was so talented...musical, too. She played Bodhran in an Irish band. She showed me her poetry and I realised it would make great lyrics, so I offered to make it into songs and she was delighted. She heard me sing them many times before she died in 2010. It's a shame she never got to hear them recorded and put on an album. It was a long time before I could even sing them again - they brought back poignant memories".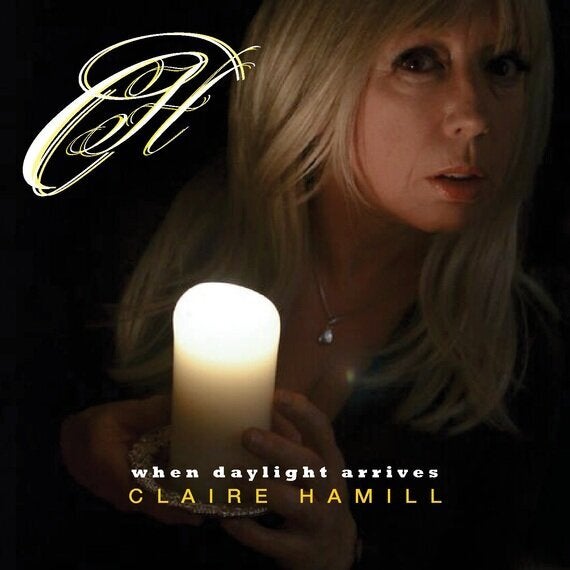 When Daylight Arrives, 2015. Photography: D.J. Brass
Next up is an autobiography. "I'm halfway through. I have promised myself I will finish by October". Considering the elements of Claire's life - the adventures, the songs, the famous names, friends, managers, lovers, thrills and spills - it is bound to be one of 2016's must-reads.
Related