As I exercise my way back to some form of good health, I switch between wheelchair and walking (my poor feet became bloated sacks of liquid and bone fragment when I landed on them from an unthinkable height - they can only bear me a few metres before they give up), grateful that I can do a tiny bit of the latter. In addition to the friends, therapists, relatives (I hear my lovely Godmother's voice correcting me, "it's relations, not relatives"), doctors and nurses, there are other healers - the composers in my life who are like rungs on a climbing wall, each of them helping me up a few feet. First Lori Lieberman, then Pamela Polland, and now...Harriet Schock.
There's a photograph of Harriet that captures her essence. It appears on the cover of her third album, You Don't Know What You're In For, from 1976, and was taken by Ethan Russell, noted for his dramatic shots of The Rolling Stones, The Who and The Beatles. Harriet appears to be gently staring down the photographer, fixing him with an exquisitely self-possessed gaze and a Mona Lisa smile. I am glad that it has been preserved because it helps me describe this complex and enigmatic songwriter. Her four most recent works are readily available, but the three albums that established her trademark witticisms, melodies and chord progressions are not. Many people enjoy 1970s production values - the string and horn arrangements that don't exist any longer in quite the same form, the vocals that aren't excessively treated, the prominence of the piano, the intimacy. Harriet comes from this golden age of singer/songwriters - an age that has never been surpassed. Cherry Red, Union Square and Beat Goes On are the powerhouses of the UK reissue industry, and I remain confident that someone there will hear what I hear. Talent and quality will out.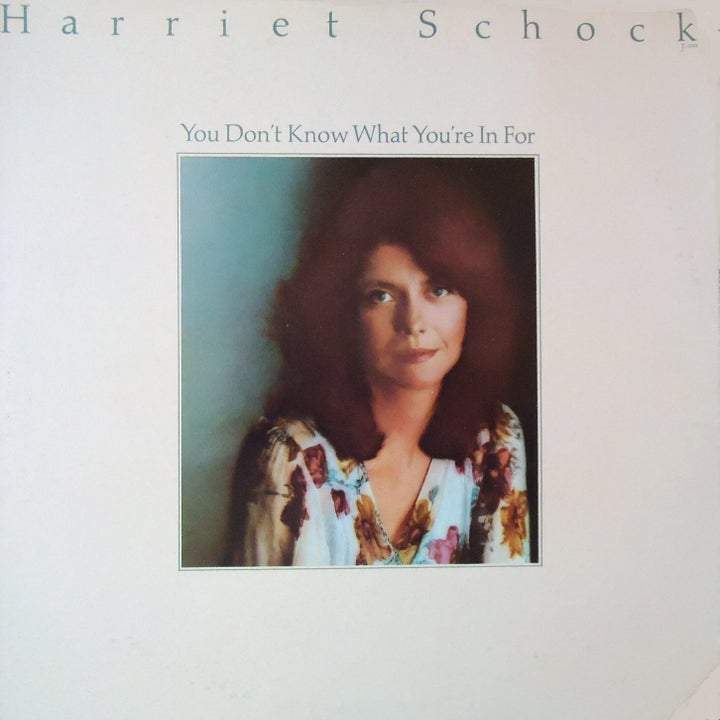 Harriet's third album, You Don't Know What You're In For (1976)
Until the 1980s, 20th Century Fox had its own record label, 20th Century Records. Among its extravagantly gifted stars-in-waiting was Harriet, along with Patti Dahlstrom and Rita Jean Bodine. Harriet had moved from Texas to Los Angeles in her early twenties and acquired a following playing the gay bar circuit, accompanying herself on the piano. "They were the only places I knew where a singer/songwriter could do original material, so I played them a lot". Word of her talent spread quickly and before long, 20th Century had snapped her up.
I first heard Harriet's music in 1998 after stumbling upon it at Music & Video Exchange, the second-hand outlet with the most surly and uncharismatic shop assistants in London. I knew I'd seen her name before, on albums by Syreeta, Smokey Robinson, Roberta Flack and Helen Reddy. I clutched all three records and rushed back to my flat near the Post Office Tower (like most native Londoners, I can't bring myself to call it 'BT Tower'). Minutes later, what emerged from my phonograph were nothing less than three-minute romantic masterpieces, filled with the kind of flourishes and subtle tricks that today can only be found in musical theatre; deft use of internal rhymes, gorgeously long melodic lines, sardonic humour. I noticed at least two Sondheim-esque traits running through the albums - Harriet never allowed the stress to fall lazily on the wrong syllable of a word, so her songs sounded uncontrived and intelligent, and she made only minimal use of melisma. Of course, melisma (when a series of notes is sung for one syllable of lyric) was practised masterfully by lots of 1970s soul artists, but is now so gaudily overused on TV talent shows that it has become embarrassing and passé.
If Carole King, Carly Simon, and Joni Mitchell (not to mention Buffy Saint Marie) formed the first wave of singer/songwriters, then Harriet led the second, which came a few years later and included Melissa Manchester, Wendy Waldman, Chi Coltrane and Karla Bonoff. Her first album was 1974's Hollywood Town, produced by Roger Gordon, and it thrust her straight into the spotlight.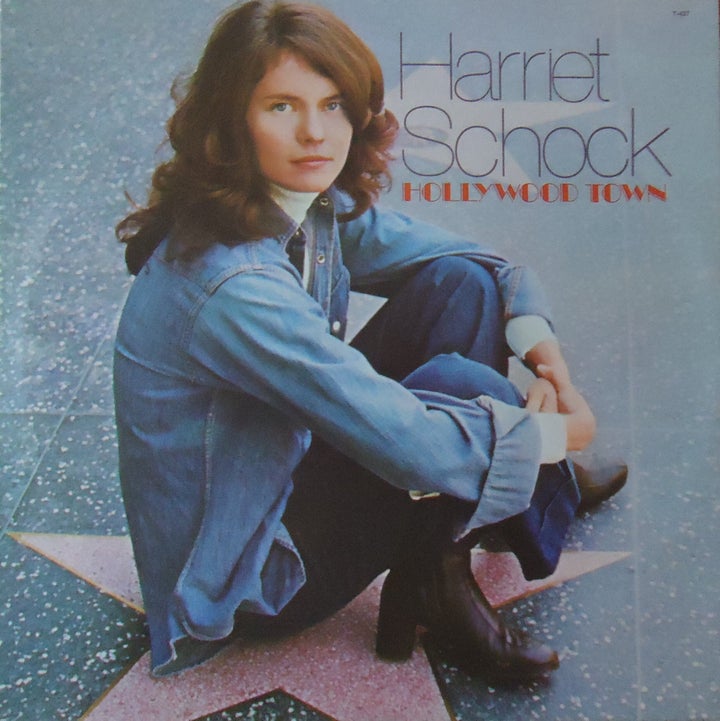 The album is a seamlessly cohesive statement in which the narrator goes through a number of social and romantic rites of passage and shares the experience with sometimes barbed, sometimes touching observations. It introduces Harriet's piano-playing style, which flows from the same influences of blues, classical and pop as Carole King. Supporting musicians are of the highest calibre - Leland Sklar, Larry Carlton, Russ Kunkel. These are the names you see stamped over the very finest offerings of the 1970s. 'Ain't No Way To Treat A Lady', which was to become Harriet's signature song, opens with a conversational line that neatly encapsulates her bracing and intelligent approach: "I guess it was yourself you were involved with/I would have sworn it was me". She manages to place a melodic and lyrical hook at the start of the song and it's not hard to imagine how this must have ensnared people hearing it on radio.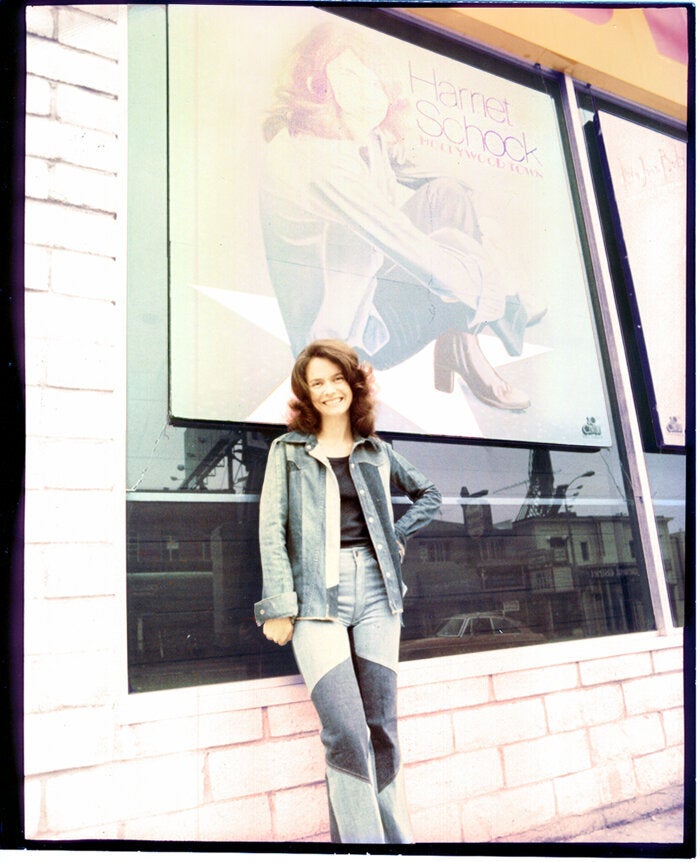 Harriet with her Tower Records billboard (1974)
Just as 'Ain't No Way...' was about to go stratospheric, events beyond Harriet's control conspired to hinder its progress. "I came very close to having a top forty hit. A music director of a major top forty station in L.A. was poised to start playing it but wanted it sped up. Russ Regan recalled the record, sped it up and reissued it. There was another station, in San Francisco, which promised to play the record if the L.A. station did. A few days before they were due to play me - which would have made it a hit because they were huge stations - the music director had a fight with the program director and quit. We lost the L.A. station which made the San Francisco station pull out. I didn't quite understand what a disaster this was when it happened. But decades later, when I heard them retell how close we were and how heartbroken the label was, the severity of it became even clearer."
Harriet had to adjust to success of a different kind; other artists and acts swiftly recorded their own versions of her songs. From Hollywood Town alone, her songs were covered by Manfred Mann, The Partridge Family and - most notably - Helen Reddy, who took 'Ain't No Way To Treat A Lady' well into the US Top Ten. "I was anonymous all the way to the bank," remarks Harriet drily.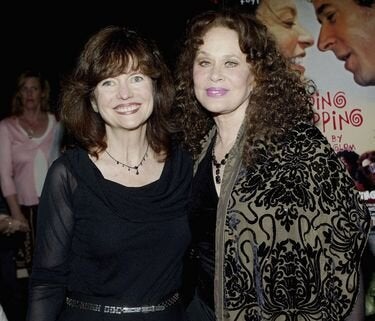 Harriet with the late Karen Black, one of the huge number of performers who have sung her songs and which includes Helen Reddy, Smokey Robinson, Manfred Mann, Syreeta and Nancy Wilson.
Photo: Andrea Ross-Greene
Two more brilliant albums, She's Low Clouds and You Don't Know What You're In For, followed. The considerable acclaim with which they were met was not enough to prevent the inevitable. "Disco came in and though I was still performing, I didn't know how to fit into what was happening without abandoning who I was completely."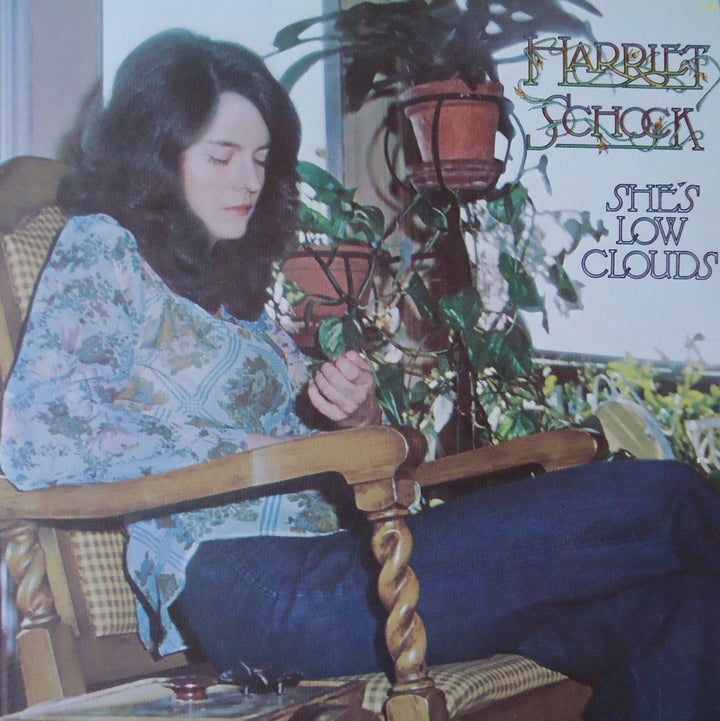 Second in the classic trilogy, She's Low Clouds (1974)
Harriet bid the seventies farewell, having bestowed the decade with a trilogy of albums whose sheer pulchritude still attracts listeners today. Harriet has been busy ever since - as a Motown songwriter, composer for TV and film, teacher, and, from the nineties, a recording artist once more (see the longer version of this piece to find out more). But from Japan to Sweden to America to Britain, there are legions and legions of us who consider the unavailability of her first three works to be nothing short of a crime.
Related