This 40-track compilation, a tie-in with Mick Houghton's well-received biography of the same name, presents the brilliant English singer/songwriter without the full bands, orchestrations and adornments of her studio recordings (all of which are already available in definitive, deluxe editions). It is the vision of Andrew Batt, compiler extraordinaire and producer of the 2012 commemorative tour, 'The Lady', who (along with Universal/Island and the Sandy Denny estate) has done so much in the last ten years to help put Denny on an even footing with contemporaries and label-mates like Nick Drake, to whom posterity had initially been kinder.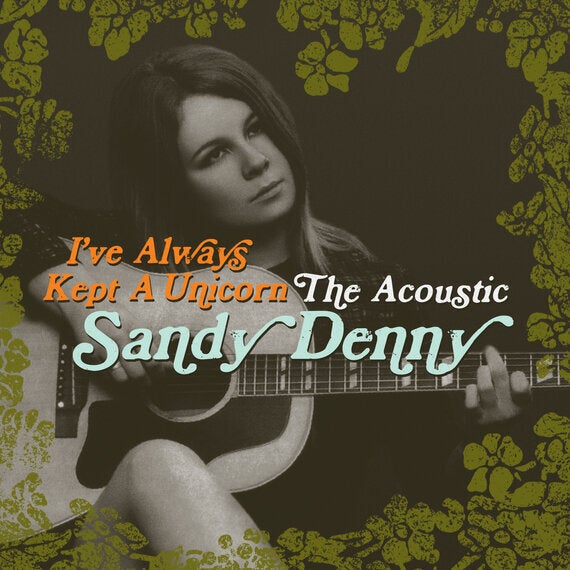 Photography: Maurice Kaye / Design: Phil Smee
Every Denny devotee is different; some prefer folk-Sandy, others are fonder of big-budget-singer/songwriter-Sandy. There are plenty who rate her work in Fairport Convention and Fotheringay over that which was issued under her own name and many for whom the opposite is true. I've Always Kept A Unicorn is compiled chronologically, tracing her incarnations from late 1960s folk chanteuse to middle-period songwriter at the peak of her powers, right up to the time of her last release, Rendezvous (1977). Her albums were sometimes maligned for their thick, intense, cinematic string arrangements, courtesy of Harry Robinson; Denny called them her 'fur coats' and insisted on their presence. Those who dislike them will delight in the stripped-down demos, live recordings and radio appearances that make up this compilation. I love the 'fur coat' formula, which to my ears only over-ripened on one or two tracks from Rendezvous, but Denny was such a stand-out, singular talent that even on her demos she sounds utterly committed, never like someone half-heartedly laying down guide vocals.
Although the condition of her voice deteriorated a little as various refreshments took their toll, her dexterity and judgment as a song stylist actually improved. Here, on her signature song, 'Who Knows Where The Time Goes', there's a lovely purity to the tone of her voice, but she makes the rookie singer's error of closing her vowels too quickly, so that, for example, when she reaches the word 'time', she ends up singing a long, consonant 'mmmmm' at the end instead of sustaining the 'i'. It's the kind of mistake she quickly corrected and by the time of her second album, 1972's Sandy, she'd been on top form for several years. Had she been just this good a singer, she'd have been a talent with few equals. But she was much more than that - accompanying herself on guitar and piano and composing enigmatic and sophisticated songs with fascinatingly coded, mystical lyrics.
Pete Townshend once remarked on her voice that it was quite without vibrato, which is almost true; she did use vibrato but very sparingly - there's certainly no mistaking her for Ethel Merman. Instead, she added colour to her melodies using technically impressive, birdlike trills and grace notes - a subtle form of melisma a world away from the aggressive showboating so in vogue that every new diva-of-the-week feels compelled to smear her songs with it. Her voice was dignified; never simpering, coy or ingratiating.
The lures for completists here are the duet with close friend and fellow star, Linda Thompson, 'When Will I Be Loved', plus two other demos from the same side-project (1972's The Bunch) - 'Love's Made A Fool Of You' and 'Learning The Game'. The other tracks have appeared before, spread over a number of deluxe reissues and box sets, which in no way nullifies this release - it's a kind of Greatest Hits unplugged that will satisfy newcomers and old hands alike. Some songs, in particular, are revelations in their denuded forms - the piano-and-voice versions of 'The Lady', 'One More Chance', 'Next Time Around', 'The Music Weaver', and 'Late November', five of her very best songs, demonstrate how she was every bit as musically intelligent as Joni Mitchell and Judee Sill in the way she built and sequenced chords, avoiding the glib and the obvious and creating subtle emotional shifts that still make their dramatic mark decades on.
It's a shame that Denny sometimes struggled with confidence and self-belief. By the time of her last album, she was said to be in crisis mode, second-guessing her audience by nudging some of her own vastly superior songs off the record to make room for unnecessary covers like 'Candle In The Wind' (yes, that one). Had there been the same team around her back in the seventies that there appears to be now, her second album might well have been the hoped-for, break-through sales hit, ushering her career to the elusive next level that remained so frustratingly out of reach in her lifetime. I've Always Kept A Unicorn, already widely garlanded with four- and five-star reviews, should help ensure that people continue catching on to her considerable charms for centuries to come.