For a few weeks now, as I wheel myself past Maplin on Edgware Road, a product jumps out at me. It is called Leap Motion and is packaged with the same, simple beauty of an Apple product, a style we've all come to love and to associate with quality. Doesn't it look gorgeous?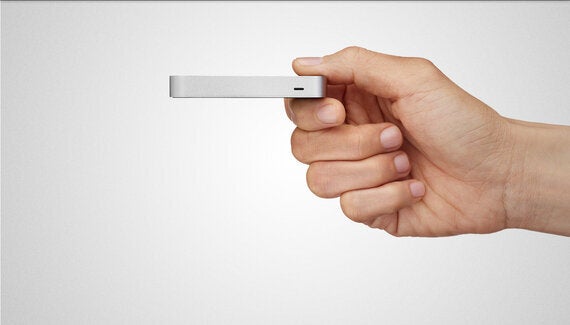 Yum! Who wouldn't want this product?
So...a couple of days after my father's funeral (more on that to come) and with the knowledge that one of my loveliest friends had died of lung cancer, I thought, 'I want a toy to cheer me up'. My father's funeral and the eulogy I gave there, had filled the atmosphere with joy and love and I had come home to London mildly euphoric. My uncle had told me interesting stories of Daddy growing up near Temple and Embankent tube stations; a real Londoner like me. I felt so full of love for him (as I still do) and a toy seemed the order of the day.
So, the Leap Motion it was. This is a usb, 'straight out of the box' device. It is a small, rectangular device that should allow you to control your desktop or pc easily with little recourse to the mouse or keyboard. 'What fun!' I thought. 'I need to buy myself a present, and at just below £70' this will do.
The reality is that you get taken to an app store. By the time I had bought GameWAVE, Airinput, Pointable, OS Conrol for Internet Explorer and OS Control for Chrome, I was over $20 worse off and no better at getting to grips with the strange way the device works. Different apps require you to memorise different sets of swipes and gestures, which you do above the rectangular box. The box is incredibly sensitive so the room for error is vast.
After 48 hours (not non-stop; I did go to sleep), I thought it would be fun to use Touchless (to be fair, a free app promising total control of one's computer without even having to press a button or make a click) to lie back in bed and select a film or TV show. After considerable frustration, I just used the Windows 8 tiles with my hands - the old-fashion way - and ten seconds later I was watching something fun on Netflx.
I gave the device a very fair 72 hours, despite having expected it to be an out-of-the-box, utterly intuitive piece of fun. And then I read the reviews. I was by no means alone. If only I'd read them in advance.
Techspot's Rick Burgess called it,"truly frustrating", adding '"there's no denying how difficult it is starting out". Still, he generously gave the device a 70/100 score.
Barry Collis at PC Pro was more strident, giving the device one out of five stars for every category. His review was typical of the dozens of others out there.
"Even if the hardware worked perfectly...the sheer arm-aching awkwardness of navigating your PC by gesture would still kill the idea. We've just about grown accustomed to swiping laptop screens, but dangling your arm in mid-air to select items and scroll through menus is tiring (at least, for unfit desk jockeys like us). We can imagine personal injury lawyers are licking their lips in anticipation of these things taking off in the workplace. And, with no Kinect-like option to switch off tracking with a voice command, we found ourselves often accidentally activating the gesture controls when we went to pick up the phone on our desk, for instance"
"The controller isn't solely intended for navigating Windows: it arrives with its own app store, offering a smallish selection of paid-for and free titles. Here too, though, we failed to find a single compelling demonstration of the usefulness of the device. The thin selection of games offers nothing remotely as satisfying as an Xbox Kinect title, proving more akin to the free games that used to ship with webcams. We couldn't make the Corel Painting app work on our test PC, and a selection of music samplers proved an entertaining distraction for five minutes or so, but nothing more.
In short, we could find nothing to do with the Leap Motion that we couldn't do more accurately, more conveniently and more comfortably with a mouse and keyboard. The best thing we can say about the Leap Motion Controller is that it isn't big enough to break the pane when the moment inevitably arrives to throw it out of the window."
There was more of the same wherever I looked. I love gadgets and I am happy to dedicate time getting to grips with them. I read manuals instead of expecting to know how something works automatically. I start to worry if after day 1, I can't do anything with any degree of ease or fun. By day three, I'm pretty much done.
The conclusion seems to be that the Leap Motion has been released before its time. It's a product that should still be in alpha or beta-testing.
In the end, as I believe all traumas and losses require you to go and get yourself a present, I went and found a beautiful Chinese shirt at Victory Vintage (first floor, Whiteleys, Queensway, Bayswater - best shop ever). It brought me instant delight and has continued to do so, softening the sharper, lonelier, more toxic aspects of grief. My Leap Motion is back at Maplin, whereas the money I spent at Leap Motion's Air Space store (like Apple, leap Motion wants to lock you into its ecosystem and hand over lots of cash), is still there, swelling someone's coffers and gathering interest. Maplin happily refunded my money but Leap Motion refused to reimburse me for the money I'd spend on its mandatory apps. That's what's called 'not being nice'.