On Friday 10th February, it will be exactly twenty years since Blur released their eponymous fifth album - a record that unapologetically tore up the floorboards of their stale Britpop past.
In 1996, the members of the band were in a bad way. Damon Albarn was suffering from panic attacks. Graham Coxon had grown to "loathe" their hit single 'Country House'. Alex James reflected at the time:
"I'm sure there are loads of people out there who've come to hate Blur because their little sister now likes them".
Coxon wrote a letter to Albarn saying that he "wanted to scare" people again.
Cue Blur. The album was a tour-de-force of lo-fi noise. It opened with five seconds of jarringly stifled guitar, it had a grandiose organ instrumental as its centerpiece, and it closed with a poem about Essex (featuring Alex James on the handheld hoover). Blur was a smack in the face for the band's younger pop fans, and it alienated some of them. It's hard to imagine that an album with 'Beetlebum' and 'Song 2', when presented to EMI, was at first greeted with the question "Where are the singles?". 'Song 2' in particular became the hammer with which Blur cracked America, being adopted by numerous hockey and football teams. Fans also enjoyed 'Song 2's two-ness: two minutes and two seconds long, two choruses and two verses, the album's second track and the album's second single.
This stylistic handbrake, initially perceived to be an act of commercial suicide, produced arguably Blur's greatest album. As John Peel said at the time: "I knew the blighters would get it right eventually".
I was only two years old when Blur was released. My father tells me I heard it umpteen times in the car when he played it on cassette, but naturally I didn't take much notice. I remember walking in to the living room in 2010 to find my father watching Glastonbury Festival on TV. He told me enthusiastically about the man on stage, about how he'd been part of one big band in the nineties and that now he was headlining Glastonbury with another. Again, I wasn't too interested. I remember a sweaty man playing melodica and little else.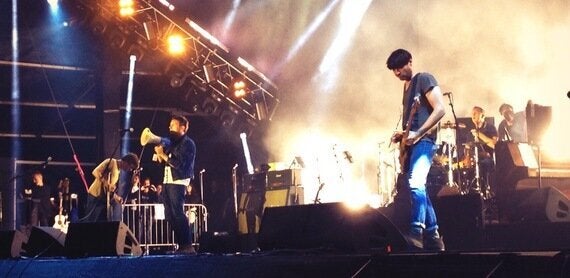 When I saw Blur play in Dublin, July 2013
It was the 2012 BRIT Awards that sparked my Blur obsession into life. I was watching it with a sort of 'love to hate' attitude. I remember some pretty dreary performances from Ed Sheeran and Coldplay. At the end, Blur took to the stage, launching into an unforgettable performance of 'Girls and Boys'. Sporting red Doc Marten boots, Albarn was clearly a bit tipsy. He regularly entangled himself in the microphone wire, and those high-pitched 'oh oh oh's were strained and out of tune. Albarn encouraged the crowd to sing along but he reacted with disappointment when the suited, seated celebrities and swathes of teenage spectators barely responded. My sisters were horrified, but the energy of Blur's performance and the charisma of Damon Albarn had me hooked. I bought The Best of Blur that night.
The next day at school, I learned that one of my best friends (with whom I shared a great love of Bowie) had hated the performance. He told me I'd become a fan of four middle-aged dads, which was true. I bought the Blur 21 boxset in July. I remember stacking crisps with such enthusiasm on my Saturday shift at a supermarket, knowing the box was waiting for me at home.
My obsession with Blur was still going strong by the time I finished secondary school, and a few months later it would help me form one of my best friendships at university. At a freshers party, I began chatting casually to a guy about Blur. Talking about one of your mega-interests with someone new is always tricky, because you never want to make things too intense. It demanded my oft-practiced obsession-hiding skills. However, it turned out that he loved Blur, and he'd even seen them live in Hyde Park a few years previously (which was one more Blur gig than I'd seen at that point). We each discovered how much the other loved the band, embarking on a long, nerdy conversation about one particular Coxon guitar solo from one particular concert. Damon Albarn's goofiness and inarticulacy in interviews was a long-running source of humour for the both of us throughout our time at university.
Of course, I welcomed a nineties-themed fancy dress party a few months later. Two friends and I chose to go dressed as our favourite Britpop frontmen. I was Damon Albarn while they were Jarvis Cocker and Liam Gallagher. People instantly recognised Gallagher, then Cocker, but I spent the evening having to explain who I was.
Sometimes even the name wasn't enough.
"You know, the woo-hoo guy?".
I had never realised how anonymous Albarn was amongst my peers in comparison to his nineties rivals. His image is certainly more difficult to capture than Liam Gallagher's sideburns and anorak or Jarvis Cocker's glasses and suit. In his youth, Albarn mostly went for just a t-shirt and jeans. Hence his frustration with the perennially leather-clad Will.i.am, whom he'd met at the 2012 BRITs and consequently described as a "miserable old sod". Albarn went on to say:
"[He is] never wearing anything other than this quasi-Star Trek, slightly rubbery bondage kind of stuff. Is there never a day when he wears an old T-shirt?".
When I was first discovering Blur, I had no idea about the empire of bands and side projects Albarn had gone on to create. It turns out Blur was just the first chapter. In 2001, Gorillaz appeared to be nothing more than an eccentric experiment, but the simian four-piece have grown bigger in America than Blur. In comparison, The Good, The Bad and the Queen are relatively obscure, but I think their one album, released in 2006, is better than anything else Albarn has done since the nineties. Alongside this, Albarn has found the time to record with African musicians (Mali Music, Africa Express) and write a gorgeous Renaissance folk-opera (Dr Dee). The list could go on. His restless work ethic, eclectic tastes and multi-instrumentalist talents are truly unrivalled in modern music.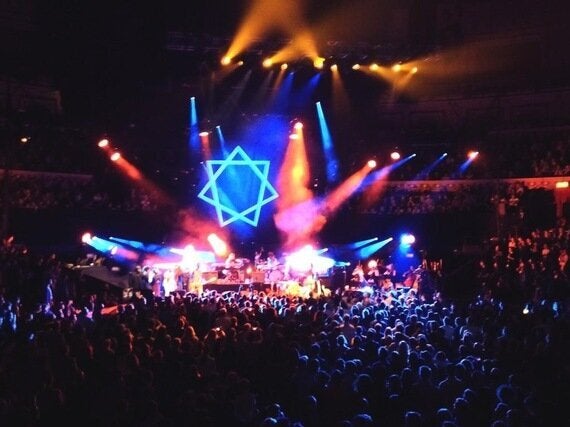 Damon Albarn playing at the Royal Albert Hall, November 2014
I saw Albarn perform at the Royal Albert Hall in 2014. The venue wouldn't have suited his hyper-energetic, water-chucking style from the nineties but two years ago it was perfect. You saw a very happy, relaxed man freely drawing from a dizzyingly diverse back-catalogue, stretching back over twenty years. As he flitted from introspective solo material, through beautiful Mali Music numbers, to electric Blur B-sides and rap-laden Gorillaz hits, leaping from piano to guitar to melodica, the knowledge that this was all the work of one man became difficult to comprehend.
It is indeed hard to think that this Renaissance man was once just 'Damon from Blur', the cheeky chappy who supported Chelsea FC. In hindsight, the dramatic stylistic shift of Blur gave us an indication of where Damon Albarn was heading: a post-nineties career of relentless change. But nobody could have known that at the time.