Three weeks ago, I wrote that the NFL needed to start handing London premier games if it wanted to maintain its growth in popularity in the UK. At the time I meant good games from good teams rather than barnstormers from mediocre teams - which was what Wembley was treated to on Sunday - but beggars can't be choosers.
The Jacksonville Jaguars rumbled to a stunning 27-3 half-time lead over the Buffalo Bills, threw it all away with minutes to spare, then took it all back with a last-ditch touchdown toss from Blake Bortles to win 34-31. One of the standout games of the NFL's International Series, this was a game that had everything. Here a few of those things.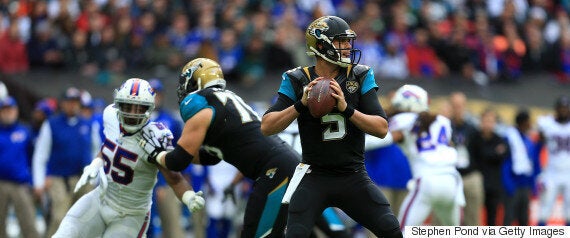 1) BLAKE BORTLES HAS A CHANCE TO BE REALLY GOOD
He was far from perfect in Sunday's game but the second-year quarterback was a damned sight better than in last year's drubbing against the Dallas Cowboys. It's clear Bortles has developed a lot since then: he's forcing fewer throws, taking his time and developing a rapport with receivers Allen Hurns and Allen Robinson - who will be one of the best receivers in the league next time the Jags are here.
Add in rookie running back TJ Yeldon - who Bortles said on Sunday is "the complete package" - and tight end Julius Thomas working his way back from an injury-blighted first season, and a Bortles-led Jacksonville offense should be something to be reckoned with in the near future. That is, if the coaching can learn to call a game...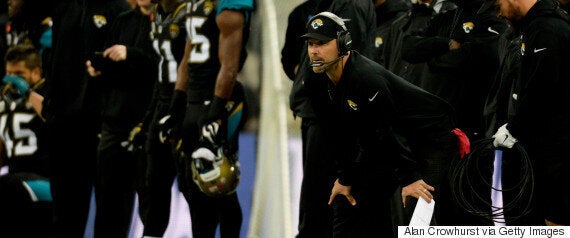 2) GUS BRADLEY IS A POOR GAME MANAGER
Okay, so this isn't brand new information but nearly blowing a hefty early lead crystallises the point. After two quick defensive touchdowns and a 28-yard scamper from Yeldon - all in the space of four minutes - saw Jacksonville surge to a 28-3 lead with 8:34 left in the first half, Jacksonville had no excuse letting their opponents back into the game, especially with them missing starting quarterback Tyrod Taylor and starting wide receivers Sammy Watkins and Percy Harvin. Somehow, they did.
Bortles told reporters on Sunday that the Jaguars are unfamiliar with playing from a winning position. It's no excuse. In the fourth quarter, with a significant lead and Yeldon running well, Bradley and offensive coordinator Greg Olson should have emphasised the run - yet they continued to pass, consistently giving the Bills the ball, good field position and time to mount its improbable comeback.
Their greatest mistake, however, may have been botching an opportunity to close the game out early in the third. After a 14-play, 79-yard drive gave the Jaguars four opportunities to score inside the one-yard line, Bradley and Olson inexplicably turned to backup running back Toby Gerhart - the logic being Gerhart's 6'0", 235lb frame gave him a chance to power over the line. What they forgot is that he's really bad at football.
Four plays and zero yards later, Jacksonville turned the ball over on downs. Yeldon was running excellently. Allen Robinson and Allen Hurns are both excellent goalline targets. You just invested $24million guaranteed to tight end Julius Thomas... and you turn to Gerhart? Indefensible.
Oh, and on a late third-and-short, Olson called for the ball to be handed to backup defensive tackle Tyson Alualu, in at fullback. I can't explain it either.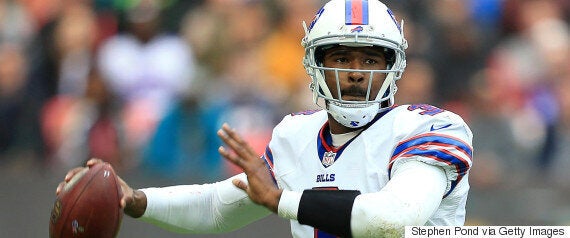 3) REX RYAN TEAMS SIMPLY DON'T DO GOOD QUARTERBACKING
Buffalo head coach Rex Ryan told reporters he was wholly comfortable with EJ Manuel as his quarterback until starter Tyrod Taylor returns from a minor knee injury. However, it's clear that with Manuel under center, this team is going nowhere.
Ryan inherited a dominant defensive line, a strong secondary and a solid receiving core. After trading for LeSean McCoy and bringing Taylor over from the Baltimore Ravens, Buffalo looked like a team with a great chance at making a deep playoff run.
Now, after what Rex described as an "extremely painful loss", sitting at 3-4 and a number of games behind the division-leading New England Patriots, the Bills will likely miss the playoffs entirely. That leaves the rest of this season to see if Tyrod Taylor can recover and prove he's worth handing the starting job to, or prove that Buffalo needs a long-term solution in next May's draft.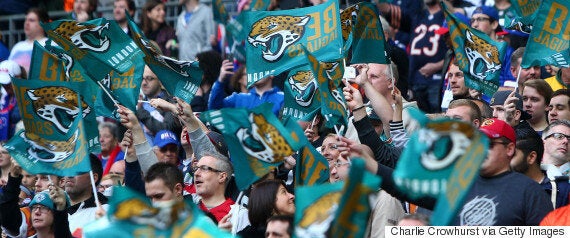 4) JACKSONVILLE COULD BECOME LONDON'S TEAM AFTER ALL
For the past two years the Jaguars have been pushed as the team for new fans in Britain. This week owner Shad Khan signed a new five-year deal tying the Jaguars to at least one UK game a year. Their enthusiasm and commitment to growing the game here is admirable, but trying to persuade Britain's burgeoning football fanbase to support a dire team with no stars and no future is a hard sell.
However, Jacksonville might be on the verge of relevance. They're sat in a worsening division with no clear cut leader. They have a quarterback who they believe can lead the team long-term. In fact, they're a young team with potential in every position group - but it remains to be seen whether head coach Gus Bradley and his coaches are the crew to make this team a true contender. Heroic, thrilling wins like this won't hurt. Fans will see great plays from the likes of Bortles, Yeldon, Robinson, Hurns, cornerback Aaron Colvin, linebacker Telvin Smith and safety Johnathan Cyprien and think "these upstarts are guys I can get behind".
If the Jags can show improvement every year and grow up as overseas supports grows too, there's no reason they can't be London's team of choice.