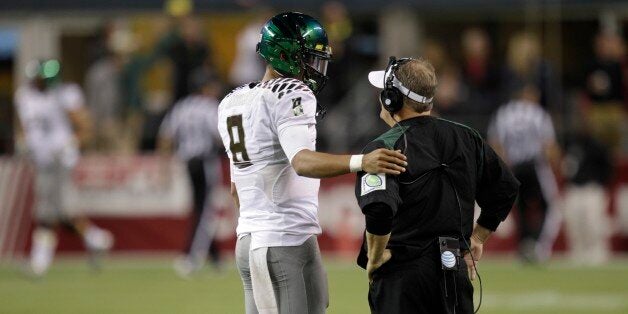 With Jameis Winston as good as locked in as the first overall pick in the 2015 NFL Draft, attention turns to the most divisive quarterback prospect we've seen since, er... that Johnny Manziel guy from last year.
Oregon's Marcus Mariota is an undeniable talent. He has the combination of arm, size and athleticism it takes to succeed in the NFL and, perhaps more importantly, the mental makeup. He's driven, universally loved by his teammates and coaches, and has calmly lead the most dangerous, fleet-footed and prolific offense of the 2010s to a 36-5 record as starter in one of the toughest divisions in college football. He sets the tone as a leader with his work ethic and dedication, and he's clean as can be off the field.. His only baggage is that he has no baggage.
He's pretty good, basically.
So it's no surprise consensus is building among NFL media that Mariota will be picked with the second overall selection, at present held by the Tennessee Titans. While Mariota's likely not the pure second best player in this draft - that honour falls to USC's Leonard Williams, Alabama's Amari Cooper, WVU's Kevin White or even Florida's Dante Fowler Jr, depending who you ask - the importance of his position elevates the urgency to pick him.
Quarterbacks are the most pivotal players in any professional sports. If you don't have one, you need one. Your team is going nowhere without a quality player under center. Whether it's the Titans that pick him or another from a group of prospective suitors, including the San Diego Chargers and Cleveland Browns, Mariota seems destined to the second guy picked this Thursday night.
Since declaring for the draft at the end of this Heisman-winning season, Mariota has been constantly linked to the Philadelphia Eagles, run by his old college coach Chip Kelly. It makes perfect sense. In fact, it almost makes too much sense. He knows the offensive philosophy, the coaching staff knows more about him than anyone else, and he would give Kelly the key piece necessary to finally craft the Eagles in his vision.
The Eagles need a solution at QB. Sam Bradford, acquired in a trade with St Louis, seems to go against everything we think we know about what Chip Kelly wants in a quarterback. He's injury prone, not a gifted athlete, and has had little consistent success as a pro. There's a lot of variables. Eagles receiver (and former Oregon Duck) Josh Huff told NFL Media's Daniel Jeremiah that Nick Foles, last year's starter, did not fit what Kelly wants in a quarterback (skip to around 35:00). Huff said:
"Nick Foles is a great quarterback, a great pocket passer, but the zone read and all that stuff comes into effect when you're playing in Coach Kelly's offense and when you're able to have a young mobile quarterback that understands his offense, that understands everything that goes on in the offense and understands what Coach Kelly wants, then you have to take that into account... that if we are able to get Marcus Mariota then that's gonna take it to the next level."
Reading Huff's words, Bradford falls into the same category. Why trade and unreliable, imperfect quarterback in Foles for an unreliable, imperfect quarterback with two torn knee ligaments in Bradford? Add in the almost constant buzz that Bradford would be used as a makeweight in a move up for Mariota, and you just can't help but shake the former Oklahoma stud is not the endgame.
So instead, let's assume that Kelly has his heart set on reacquiring the best player he's ever coached, whose mind he once compared to Peyton Manning. What would it cost to leap up to grab him? A lot, obviously. You're looking at least the 20th overall pick this year, where Philly currently sits, plus probably next year's first, and the year after, and some other mid-round picks just for fun. One recent report claims the Eagles may even throw in emergent defensive end Fletcher Cox, the Eagles' best defender, and speedy linebacker Mychal Kendricks, another top prospect in the defensive front seven.
Over the past two offseasons, Kelly's orchestrated mass roster turnover and traded the two most potent players the team has had in years. It would hurt the team and fans alike to see Cox and/or Kendricks moved, but you can't eliminate anything with Kelly.
Look at it this way - the Houston Texans have the most dominant defensive player for a generation, JJ Watt, but he won't take them to a Super Bowl until the team has an answer at quarterback. The Detroit Lions have the most uncoverable, undefeatable receiver for a generation in Calvin Johnson, but they'd be screwed without Matthew Stafford. Cox and Kendricks are terrific players, but ultimately far more replaceable than a franchise QB.
Since taking the Eagles job in 2014, Chip Kelly's offense has been wildly productive, despite being run by quarterbacks he doesn't want. Nick Foles threw 27 touchdowns and only two picks in 2014, yet had next to no value on the trade market. Michael Vick played ok in 2014 before breaking down. Even Mark Sanchez looked capable. Imagine how good they could be with a bonafide star.
It's also clear that Kelly is too good a coach for this team to be picking in the top five the next few years. Drafting a mid-round prospect to develop is not a reliable or sensible plan. Russell Wilson and Tom Brady are once in a decade players. If anyone anticipated them being as good as they became, they'd have been drafted way earlier.
The only way they'll get 'The Guy' is if they make a blockbuster move to grab him. If that's a move you're going to need to make, you need to make it on Mariota, who was basically put on this Earth to play in Chip Kelly's offense.
The system is more important than any one player, true, and proven to be adaptable. But it undoubtedly needs a dynamic, intelligent, athletic, decisive presence at quarterback to hum at it's best. Mariota can be all of those things.
Again, if you have no quarterback, you have no shot at being a great team. Eagles owner Jeffrey Lurie said this summer that Kelly is the man to get Philadelphia "from good to great". Sam Bradford is unlikely to take this team from good to great. If the Eagles stick with him and he fails to impress, Kelly will be entering his fourth season as head coach and still without an answer at the most important position. He cannot afford that.
Moving up for Mariota would be a massive, costly step towards accomplishing that "good to great" process. It's a step the Eagles can't afford not to take.