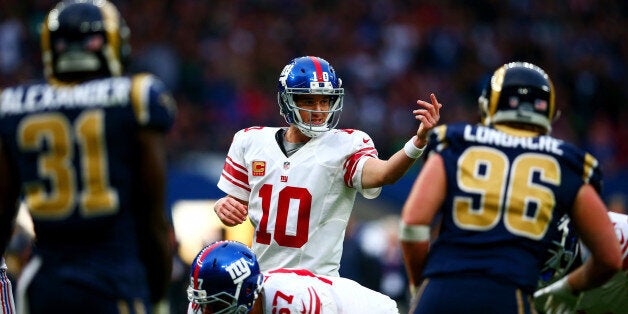 The Los Angeles Rams (3-4) and New York Giants (4-3) played something resembling a game of American football at Twickenham on Sunday. The Giants eked out a 17-10 victory in a contest of incompetence, which featured just two offensive touchdowns, five awful turnovers, and fifteen punts. Here's the four key things to take away from the game.
1. The Rams can't wait any longer for Jared Goff
Case Keenum, the Rams' current quarterback keeping the seat warm for May's number one overall draft pick Jared Goff, had a torrid game. Keenum threw four interceptions, including an embarrassing game-ending lob to nothingness with one minute to go, and a measly 5.5 yards per attempt.
Following the game, head coach Jeff Fisher told reporters the team will stick with Keenum and that "Jared is going to play when we feel Jared is ready". While number two overall pick Carson Wentz appears every bit the real deal in Philadelphia and Dak Prescott overachieves under center in Dallas, does it not concern Los Angeles that Goff, who they traded a number of draft picks to take, isn't yet ready to play? Apparently not.
The bye week would be the ideal time to make the switch and give the Rams a chance to breathe life into a so-so season, but Fisher sounded intent on starting Keenum in Week Eight against the Carolina Panthers. That's not promising.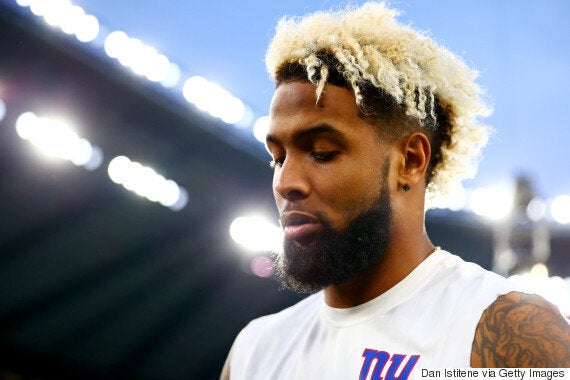 2. The Giants might be a one-man offense
Odell Beckham Jr, limited all week with a hip injury, took a while to get started in this game, ending with five receptions for 49 yards. More worryingly, it's clear that the Giants offense lacks explosion outside of Beckham.
Victor Cruz has been surprisingly reliable after a major injury cost him almost two years of his career, and rookie Sterling Shepard is already a great third option, but the Giants rely on Beckham's game-breaking ability to win games. Without his deep catch to set up the game-winning score in the fourth quarter, New York may not have won.
Head coach Ben McAdoo's praised his star's "gutsy" performance, but strung together an uncreative gameplan - the Giants failed to muster a single first down until the second quarter against what is an admittedly strong Los Angeles defense. Beckham going off would have a fantastic advert for the game and a deserved reward for the 80,000 crowd making their way out to Twickenham, but it wasn't to be.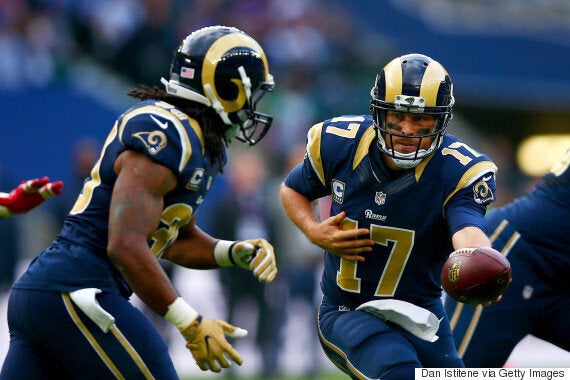 3. Todd Gurley II deserves better
The Rams star running back was introduced to ovations before the game, but was largely absent in the contest itself, mustering just 57 yards on 15 carries. LA's offensive line ranks amongst the worst in the league in the run game, 31st in Football Outsiders' DVOA metric, and it's hard to remember even a single good lane created for Gurley. A few stretch runs to get Gurley outside seemed to work, but he was never able to build up a rhythm.
At various points in the game the Rams used short throws to shifty receiver Tavon Austin as a running game by proxy and lined up Gurley in the Wildcat, to no avail. It's impossible that Gurley has regressed from the unstoppable back we saw in his rookie year, and Fisher and offensive coordinator Rob Boras have to do a better job of unleashing him. When Gurley has just 15 rushes and your below-average quarterback throws 53 passes, something is deeply, deeply wrong.
4. Landon Collins' interception return was one of the plays of the year
The standout play of the game (not that there were many others to choose from), Collins' return touchdown was a thing of beauty. I can't do it justice with words, just take a look: