To close out the 2017 slate of NFL International Series games in London, the surging Minnesota Vikings vanquished the still-winless Cleveland Browns in somewhat sloppy fashion at Twickenham. It was expected, to say the least, but that's not to say we come away having learned a lot about each team's chances the rest of the way.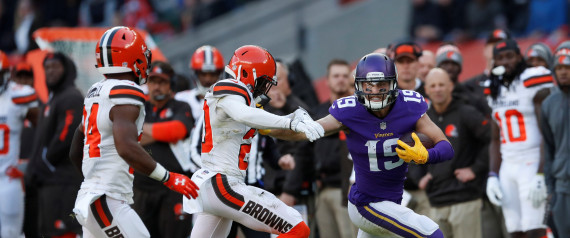 Minnesota might have the best receiver duo in the league
A nagging thigh injury has limited Stefon Diggs to this point in the season, but he and teammate Adam Thielen caused havoc all day against what is an admittedly dire Cleveland secondary. Despite a muted stat line, Diggs drew attention and a key pass interference penalty.
Thielen, by comparison, ate. He racked up 98 yards on five catches, had a big catch and run negated by a flag, and also drew a pass interference penalty in the endzone to set up Jerick McKinnon's go-ahead touchdown. He also added a Premier League-level knee slide celebration on his second quarter score.
Diggs is a known quantity legitimate number one receiver but Thielen's emergence in his absence has been a core part of the Vikings' offensive success. Coming into this game, Thielen quietly ranked 4th in yards, 4th in targets and 5th in catches in the league.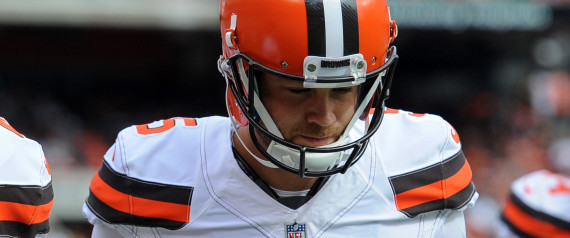 Kickers are football players too
It's actually quite appropriate that a game at Twickenham, the home of rugby, was for a long time dominated by the kicking game. Both Cleveland and Minnesota missed extra points, and Browns kicker Zane Gonzalez added insult to injury with a botched 35-yard field goal.
Kickers and media alike supposed Twickenham would make for a better field for kicking because of the rugby, but if that is true we didn't see it in this game. Missed kicks have their own drama and add to a game, but it also makes for a sloppy product and advert for the game still trying to attract new fans to the game.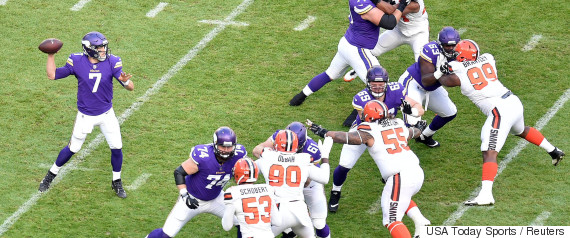 The Vikings have a shot to go far in a weakened NFC
The Vikes now sit at a healthy 6-2 with a clear run at winning the NFC North, and face a generous upcoming schedule over the next few weeks to boot - they've got Washington, Detroit, the Rams, Atlanta and Carolina, each with significant flaws.
Beat most of those teams and stay healthy, and there's no reason the Vikings won't be planning on playoff football. They have game-changing talent in the front seven with Everson Griffin, Linval Joseph, Danielle Hunter and Eric Kendricks, and their secondary is no slouch either - both Xavier Rhodes and Harrison Smith can flip games on any given play.
Combine that with an efficient run game and a (currently) steady Case Keenum at quarterback and, outside of the Eagles, are there any teams we know are definitely better than the Vikings in the NFC?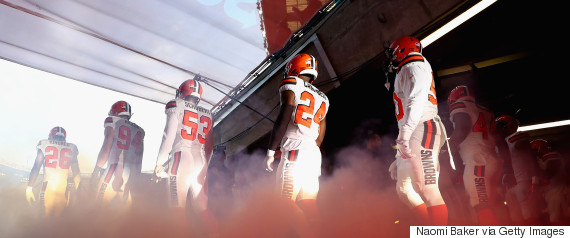 Two years into their rebuild, Cleveland are no better
This loss brought Cleveland to 0-8, exactly the same record they had at this point last year. Under Hue Jackson, this team has won exactly one game in the past two seasons, losing 23 in that span.
Last season they traded out of drafting quarterback Carson Wentz, who has won more games this week than Cleveland have in the past two seasons, and this year twice passed up on picking Deshaun Watson, already one of the most exciting quarterbacks in the league.
Pundits have argued that it's not worth drafting a prized young quarterback and potentially ruining him by surrounding him with poor talent, but this is a shaky argument. Good teams are almost never in a position to draft great quarterback prospects because, you know, they're good.
Cleveland will be bad for as long as they don't find a quarterback and build around him. Deshone Kizer has shown he has a long way to go to even being close to being that guy, and it's clear that the Browns coaching staff don't trust him enough to open up the playbook.
Even outside of the quarterback position, you can count the truly gifted players on the Browns roster on one hand. They've done a terrible job of scouting talent, coaching talent, or both. Cleveland ranked a lowly 31st in DVOA last season, and thus far this year sit at 31st one again. have given us no reason to believe they'll get better any time soon.
Frankly, their long-suffering fanbase deserve better.