Sure you can buy a version of these fiery bites from the supermarket and stick them in the oven, but seriously, these are so much better, cheaper and you'll know exactly what's in them. This recipe makes 18, which would be just enough for me on my own - they're really that good.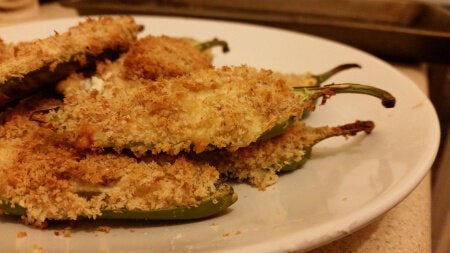 9 fresh jalapeno peppers
2 big tablespoons cream cheese
1 tablespoon grated parmesan (about 25g)
1 teaspoon smoked paprika
1 slice of dry bread (I always save the crusts of a loaf for stuff like this)
Salt and fresh black pepper
Pre-heat your oven to 200 degrees or gas mark 6.
Half the peppers lengthways and scrape out the seeds and white pith. Leave the stems on (for decoration and eating apparatus).
In a small bowl, beat the cream cheese with the paprika, salt and pepper. It should loosen up quickly to make it easier to spoon.
Using a teaspoon, push the cream cheese mixture in to the hollow of the peppers until you've filled them all generously.
Blitz the bread and parmesan in the food processor.
Tip the breadcrumbs out on to a plate then one by one, push the peppers (cheese side down) in to the breadcrumbs.
Place the peppers on a baking tray and cook in the oven for 10-12 minutes.
Leave to cool for about 5 minutes before serving unless you want third degree burns of the mouth.
If you're looking to go a bit further with the flavours you could try a creamy blue in place of regular cream cheese or perhaps add in some lime juice or chopped coriander to the filling. Modifications are cool but I love them just like this, and frankly I'm getting a little bit tired of social media showing me photos of things wrapped in bacon.
Warning: the heat of the peppers can be unpredictable so grab some water or beer to put the fire out if necessary.