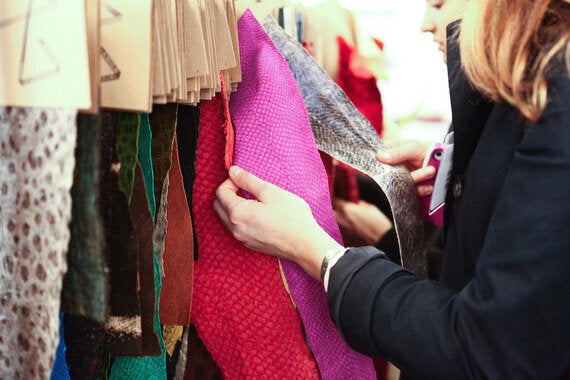 Future Fabrics Expo, Photography by Zephie Begolo
During the upcoming United Nations Conference on Climate Change, COP21, Paris will play host to some of the most influential and powerful people in the world, just some of the individuals and groups who have the power to help move us towards meeting the UN's Sustainable Development Goals.
Countries around the world have been invited to adopt this set of goals to 'end poverty, protect the planet, and ensure prosperity for all as part of a new sustainable development agenda'. Each goal has set targets to achieve over the next 15 years, with goals ranging from ending poverty and hunger and ensuring education is available to all, to promoting sustainable agriculture, ending biodiversity loss and ensuring sustainable consumption and production patterns.
These goals have been formulated to guide people in repairing, caring for and creating a better, more resilient world to live in for generations to come, and they require the input and cooperation of everyone if we're to come close to achieving them - these goals aren't just for politicians and governments, but for communities and individuals too.
Significantly, any and all of these goals can be applied to the fashion industry; as one of the biggest employers, producers, and polluters of any global industry, fashion touches everyone - from those who make it to those who wear it. As such, we all have a part to play in ensuring it becomes a fairer, cleaner industry.
With this in mind, of particular interest to us at The Sustainable Angle are the goals to 'promote sustainable agriculture', and to 'protect, restore and promote sustainable use of terrestrial ecosystems, sustainably manage forests, combat desertification, and halt and reverse land degradation and halt biodiversity loss.'
These particularly concern us because with cotton and polyester accounting for over 80% of global textile production annually, we're at a critical point of dwindling natural resources, water depletion and contamination, loss of soil fertility, a morbidly excessive use of synthetic pesticides and fertilisers, and an over dependency on oil from the creation of plastics, synthetic fibres and more. This is affecting communities and economies as well as our planet and resources.
It is possible to contribute to change though. Via the Future Fabrics Expo, we have spent years researching, exploring and showcasing some of the most exciting, and some of the most humble sustainable alternatives to cotton and polyester. We have curated a growing collection of beautiful fabrics from around the world that have been created with respect for people and planet, from organic cotton grown without the use of chemicals, to bast fibres like hemp and linen which can be grown with little or no chemical or water input, and innovations including recycled polyester and leather alternatives made from bi-product pineapple leaf fibre.
There are so many wonderful material alternatives available which could help move us towards these goals, so we're encouraging designers and makers to shoppers and sellers to find out about the way the materials they choose have been made, and to ask how can they be made more sustainably? Instead of buying a standard cotton garment, look for GOTS or Soil Association certified organic cotton to ensure the cleanest production standards possible, or seek out recycled or Fairtrade materials to support reuse of waste and fair trading standards for global communities respectively. There are dozens of ways to make a positive impact, and you can find out even more about sustainability, certifications and material choices on www.futurefabricsvirtualexpo.com.
Next time you're thinking of designing, making, buying or using something, you absolutely have the power to help contribute to these goals.
Related