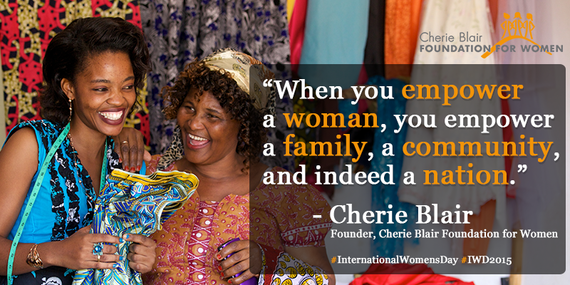 I firmly believe that women possess a wonderful ability to get things done, which is why the theme of this year's International Women's Day - 'Make It Happen' - feels so fitting.
I set up my Foundation for women in 2008, with a focus on empowering women in developing and emerging economies to create and grow their own businesses. I settled on this particular issue because I believe that economic security unlocks huge opportunities for women, enabling them to make positive choices over their own lives and the lives of their children.
The women my foundation works with are ambitious and determined. They 'make it happen' for themselves, against the odds. Take Gladys, for example, who is part of a national network of women entrepreneurs which we set up in Sierra Leone in 2012, in partnership with the African Foundation for Development, the COMO Foundation, GE and the Pratt Foundation. Last year Gladys' guesthouse ran into difficulties following the tragic outbreak of ebola, and she had to make a number of her employees redundant. But, with the support of the network, Gladys was able to put in place a risk management plan and get vital information to her remaining staff on how to protect themselves against the deadly disease. She told us that being part of the network gave her a "lifeline" throughout the crisis.
All women have the right to financial independence. And so, in the spirit of this year's International Women's Day theme, I would like to highlight three changes that I believe need to happen in order to 'make it happen' for women entrepreneurs.
1. Women must be able to access financial services.
Across the world, hundreds of thousands of women do not have access to basic financial services - things that most of us take for granted, like bank accounts, insurance and loans. This means that they struggle to put their businesses on a stable footing, or even start businesses at all.
My foundation takes a two-pronged approach to tackling this challenge: not only do we work with the women themselves by providing training to increase their financial literacy skills, we also work with banks and financial institutions, encouraging them to provide tailored services and products for women entrepreneurs. Last year, for example, we launched an exciting project in the UAE, in partnership with J.P. Morgan and PlaNet Finance, to support 100 women entrepreneurs operating micro, small and medium sized businesses. Alongside providing these women with training in core business skills, the project is also forging strong links with key financial institutions and banks, encouraging them to extend their services to women.
2. Men must join the fight too.
There is a growing realisation in the development sector that men have a significant role to play in advancing so-called 'women's issues'. UN Women, for example, are leading an inspiring campaign called HeForShe, which aims to bring men into the fight for gender equality.
Men can also get involved in the work of my foundation, and I would urge them to do so! We run a Mentoring Women in Business Programme which recruits both men and women mentors from across the world, pairing them with women mentees from developing countries. Together, these pairs work together over the course of a year, meeting online each month to work on specific goals.
Our male mentors tell us that the mentoring relationship opens their eyes to new ways of doing business. And for some women mentees, the opportunity to work with a male mentor also offers a unique experience. Nehaya, for example, is restaurant owner in Palestine who worked with a male mentor from the UK, Giles - something that would have been frowned upon in her community had they been meeting in 'real life'. Using technology allowed her to forge a powerful cross-cultural connection: with Giles' support she won a small start-up grant and developed a robust business strategy for her company.
3. Public and private sector players must take up their share of the responsibility.
Just as men have a role to play in advancing women's empowerment, so too do stakeholders across the private-public divide. 'Collaboration' has become a buzzword in the discourse on international development, but there is a reason for that. Delivering change for women on a grand, global scale will only happen if we work together - and by 'we', I mean businesses, governments, financial institutions and NGOs.
This model of working is enshrined in every project my foundation runs. We partner with businesses like ExxonMobil, Visa, Bank of America, Qualcomm Wireless Reach and Accenture, utilising their expertise and their reach to shape projects that make a real difference to women entrepreneurs across the world, from Malaysia to Nigeria to Rwanda. We also work closely with local NGOs on the ground, to ensure that we are tailoring our work to meet the specific needs of local communities.
Governments also have a role to play. They can create policies that enable women to take their rightful place in the labour market, whether by focusing on maternity leave or quotas for women on boards, or by removing some of the legal restrictions around land and property ownership that make it difficult for women in some parts of the world to produce the collateral needed to secure bank loans.
'Making it happen' for women will not be an easy task. There are no magic bullets or simple solutions, as gender inequality remains deeply entrenched in countries across the globe, including our own.
But change is possible. In my own lifetime I have seen women's rights ascend the social and political agenda, thanks to the tireless efforts of dedicated campaigners and leaders. This International Women's Day, let's renew our efforts to continue this fight.
Related