On Sunday 5th July 2015 the USA Women's Football (Soccer) Team won the FIFA Women's World Cup after beating Japan 5-2.The team were awe-inspiringly INCREDIBLE, scoring their first two goals within a few minutes and 4 goals by half time (including a cracking strike by Carli Lloyd from the half way line to give her a hatrick).
But why are the US female soccer team so awesome? Well, as well as being amazing athletes in their own right, it's thanks in part to the high profile of women's football in the States where it is as big as the men's game. As little girls their dreams to become footballers are fostered and encouraged and supported. Consequently the female soccer players are superstars - household names; garnering huge sponsorship deals, just like the men.
Football in America is just not seen as a man's game. This enables the players to focus 100 per cent on the football and on becoming the best team in the world.
Meanwhile, England's Lionesses came a pride-inducing third in the world taking home bronze medals. They made history for England as the best senior result in a World Cup since 1966, the first team to beat Germany in 21 matches and they even beat the hosts. England's Lionesses are now ranked 3rd in the world and 1st in Europe and they've utterly inspired a nation. But did you know, Claire Rafferty, one of their top players, still has a job as a financial analyst for Deutsche Bank? Just imagine how well they could do in the future if they had the same support and opportunities (and pay) as their male counterparts or as their female counterparts in the States?
However, regardless of the level of support and mainstream media coverage (for which there is a campaign to improve), the English team impressed and captured the hearts of a nation with their skill level, strength and resilience. But also, what was notable across ALL teams in this tournament was the level of kinship and camaraderie. The teams supported each other through thick and thin, encouraging and praising and protecting each other throughout. Consequently, it was not just their immense talent which has inspired a nation and new generation of #Lionesses, it was their attitude and courage and kindness.
The USA deserved to win the tournament (scoring three times in 16 minutes against reigning champions was some of the most entertaining football I've seen). But, as we celebrate with pride the achievements of these awe-inspiring athletes, we should note the hurdles overcome by the England Women's Football team in their journey to third place in the World Cup (which is perfectly summarised by this newspaper advert ).
I'm so grateful that my 7 year old was able to see women playing football - the game she LOVES to play - at this level. She already knew football wasn't 'just for boys' but now she REALLY knows. Our women's team did better in their world cup effort than the men's team has done in five decades! I'm going to take her along to her first ever live football match on 1st August and I'm pleased to say it's a women's match - and not just any match... My daughter and I will be travelling up to Wembley Stadium to watch Chelsea Ladies play Notts County in the FA Women's Cup Final!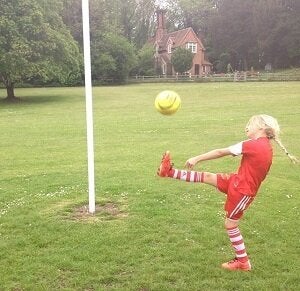 After this epic World Cup tournament there are many parents and football-loving-daughters thankful to every single Women's Football team player for inspiring her and the future generation of top notch sportswomen who would join the call for more mainstream coverage for Women's Football (c'mon BBC, buy the rights from BT). Personally, I also hope the incredible show of sisterhood, kinship and camaraderie will inspire women and girls in general to support and encourage and uplift other women rather than knocking them down.
Let's use this tournament as a platform from which to grow! And follow in the footsteps of the US team who have so clearly benefitted from the mainstream media coverage, investment and support.
Now we just need mainstream media to cover women's football more readily and more widely; for people to attend women's super league matches (see below for fixtures/dates) and for more to be invested into the women's game - they have, thanks to our Lionesses - proved once and for all that they are as deserving as the men to gain mainstream media coverage, investment and support.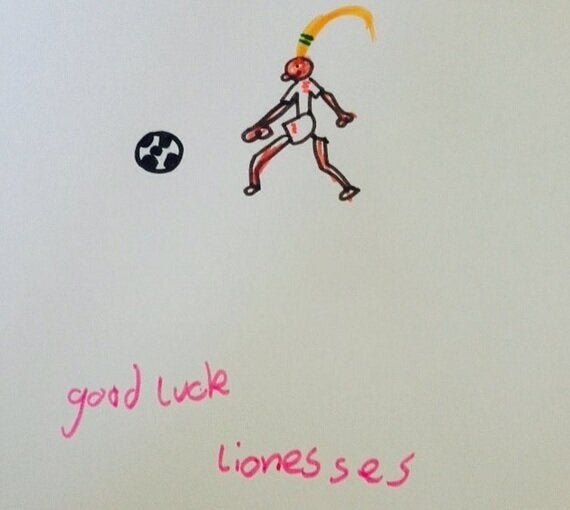 The Women's World Cup has taught us that the TIME IS NOW for Women's Football in the UK to gain as broad exposure, investment and support as the man's game. It has also taught our daughters the importance of sportsmanship, resilience (whenever we get knocked down, we can get back up) and the value of camaraderie.
Reading Women v Durham Women, 11 July at 6PM
Chelsea Ladies v Bristol Academy, 12 July at 2PM
Manchester City Women v Birmingham City Ladies, 12 July at 2PM
Sunderland AFC Women v Notts County Ladies, 12 July at 2PM
Arsenal Ladies v Liverpool Ladies, 12 July at 6PM
Tickets to all FA WSL matches can be bought HERE