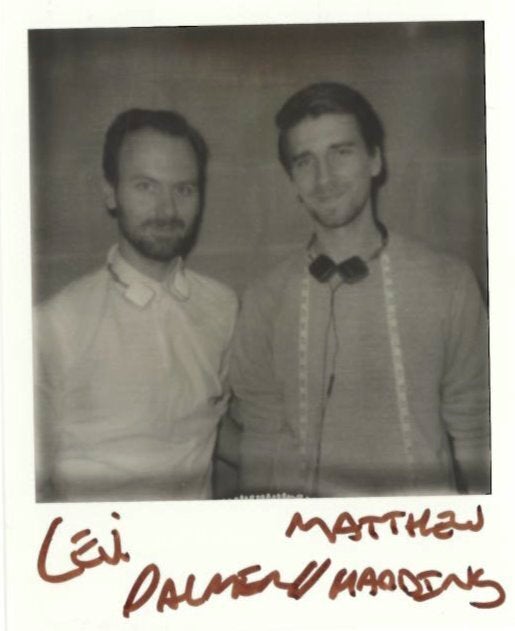 Palmer//Harding is an "anomaly" on the London fashion scene.
Up until last season the London based brand - founded by Levi Palmer and Matthew Harding and named "one to watch" by a multitude of media - only did shirts. This season, the duo have decided to expand their shirt-based label into one with full collections - trousers, skirts, shorts and jackets included.
The first time I meet Levi and Matthew is in the lobby of their old stomping ground, Central Saint Martins (well, the Kings Cross campus); they are in a group of six and it's casting day. With all the controversy surrounding a lack of diversity on the runway, I am nervous about being present at their casting. How will I react to a white wash cast? Will snide comments (if any) rub me the wrong way? Why are they casting so late? (It's 5 days to show day.) All these questions run through my mind as I walk into CSM.
Within moments of settling in, my earlier worries are laid to rest. First, casting less than a week to the show is a norm, second, the boys are literally the nicest people to cast for and last, they are looking for a "diverse cast". "We are innovators of beauty and we feel like there is beauty in everyone, so why choose only one?" A diverse cast appears to be something they've given much thought to, they've assigned different looks to different races because they know everyone's shaped differently - "an Oriental girl has less hips, a black girl has longer legs...you know" and it's also something they feel personally about. (In particular, Levi, who began to notice these things not just in female models but in men too. "As I got older (he's 32 now) and my hair began to thin, I started looking for male models I could identify with but there aren't many.")
Before the models begin to arrive, Levi talks me through the show production. Inspired by soft sculpture and wanting to "inject a casual attitude into the formal shirt", Malcolm Pate, their art director, has created a concept that encompasses their vision and stresses the importance of fine details to the Palmer//Harding brand.
So come Saturday when their 300+ guests arrive at the CSM theatre they will experience the Palmer//Harding vision for SS'14 in its entirety. They want you to recall those "times where you were caught in the rain but not trying to escape it" so have recreated a rainy summer's day complete with industrial metallic rain made from 21 feet scaffolding poles, the smell of rain hitting the concrete (courtesy Demeter's thunderstorm fragrance) and a soundtrack featuring Ann Peebles' 'I can't stand the rain' (iconic) and Blood Orange's 'Champagne Life' infused with the sounds of rain and thunder. The sound of heels clicking and clacking in the corridor takes Levi away, leaving me alone listening to Missy Elliot's version of 'I can't stand the rain'.
Matthew and Levi met at a club in 2007 while both studying at Central Saint Martins -Matthew studying for his BA in women's wear and Levi studying for his MA in men's wear. They instantly hit it off and later found out they lived only a stone's throw away from each other and studied at the same university. In 2011, they started up Palmer//Harding on the back of Matthew's graduation collection, fast forward two years, a NewGen award and several international stockists later and they are about to make their first on schedule catwalk debut.
They have succeeded, though only a fraction of their aspirations, "we want to be an all-encompassing lifestyle brand" -one that makes clothes to actually sell them, not as a marketing ploy to publicise their perfume or handbag lines. They are on the right track it seems, as actually having sales was one the reasons (amongst many) that Cotton USA decided to back them for the third season.
They are removed from the fashion bubble, aesthetically and physically -their studio is based on the outskirts of London, in Rickmansworth -though the latter wasn't an intentional creative move, "It just makes sense financially [to be outside East London]". This makes Palmer//Harding an "anomaly" (as they put it), that and the fact that they work within a very small team (compared with other designers.)-they have two interns, Jackie and Manon - and carry a lot of the workload on their own. Levi has produced the whole show while Matthew has done the styling. They "believe in giving large responsibilities so that everyone is actually doing something and doesn't get bored", besides they're "anal" or "maybe just stubborn" or maybe it's that they are "cheapskates".
On paper (and sometimes in person) they are a contrast, Matthew is less of a talker, more cautious; "he likes to think things through" as Levi puts it, while Levi is more of an "okay let's do it" type. Without even going too deep the difference in their cultural background is evidence enough, Levi is American and Matthew is English. But the pair work so brilliantly together. Mainly because they share far more similarities than are obvious at first -they are both from similar social standings -"not silver spoon kids"- and both aren't interested in making "kooky bonkers shit [read: clothes]" -but mostly because they communicate -sometimes even over communicate. "I got that the first two times." Matthew tells Levi when he repeats information.
They have their tense moments but it's obvious this isn't just any old fashion partnership; it is a real friendship (a rarity in their industry).
I arrive at CSM three hours before the show, and, everything and everyone is exceptionally calm, the hair and make up teams are all set up, the models are yet to arrive, the space is almost all sorted and there is a room full of interns and dressers waiting to be given tasks.
Levi and Matt are finalizing everything, hemming bits and bobs, double checking the stock of Snow Queen vodka, making sure the theatre gets sprayed at the right time, generally ensuring everything is in order. I ask each of them about their nerves, and they both shrug off the idea of nervousness and give me a "No, not really" response. They mean it; their (read: Levi's) obsessive planning has paid off. Everything is going according to schedule -Levi's colour coded, by the minute schedule.
"Walk like you are going on your first date." Lee (Lapthorne) says to the models doing the run through. "You've all been on a first date, right?"
"I haven't" Trissan says, shyly putting up her hand.
"I'll take you out after the show" he jokes.
The mood is still very light, there isn't much of a rush until the models get into their first look, that moment seems to have a real make or break resonance with everyone as they begin scrambling to fix the last bits, tucking away out of place hairs, touching up faces and straightening clothes as the models get in line and wait for their cue to strut.
We can hear the mumbles fading as the "sultry" show music comes on. It's time. Finally, for the who's who of fashion to see what Palmer//Harding are serving up for Spring-Summer 2014.
The first look -an all white ensemble -goes out, and before long all the models leave us. At that moment I can tell -from Matthew' sigh and the sparkle in Levi's eyes -that all the hard work over the last seven months was well worth it. They've pulled off their debut show with such finesse.
15 impeccably dressed models are stood in industrial rain, guests are drinking cocktails and fawning over the collection and there is a Vogue writer in the corner instagramming.
It is really over -well until next season or at least until Paris where they hope to see the success of the collection translate into sales.
Click here to see more behind the scenes photos